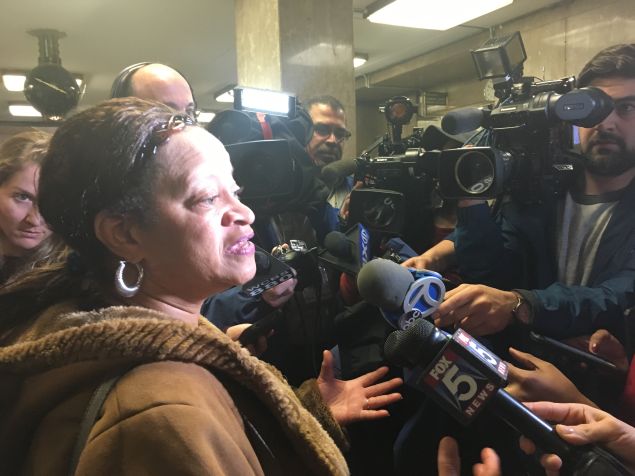 Manhattan District Attorney Cyrus Vance today announced the indictment of a white supremacist on murder, hate crime and terrorism charges for killing a 66-year-old black man in Midtown Manhattan last Monday—and activists called for the assassin to suffer "a slow death."
Baltimore resident James Harris Jackson faces charges of first- and second-degree murder as an act of terrorism, second-degree murder as a hate crime and three counts of criminal possession of a weapon, according to the judge at the New York Criminal Court at 100 Centre Street this afternoon. Jackson stabbed Queens native Timothy Caughman to death with a sword on 36th Street and 9th Avenue on March 20, according to the New York Times.
Jackson, who turned himself in two days later, said he traveled from Maryland to New York City specifically to commit a highly publicized murder of a black man, in hopes of scaring people out of interracial relationships.
"We need to wake up. This isn't an isolated incident, this is black genocide," Kimberly Ortiz, of the group NYC Shut It Down, told reporters after the court appearance. "He legit said that he came here with the intent to kill black people."
Last week, Bronx Councilman Andy King called for Jackson to receive the death penalty for his crime—even though the state's highest court abolished the practice more than a decade ago.
But Gem Isaac, of the group Why Accountability, for her part, did not advocate for his death at the hands of the state—she said that he just simply deserves death.
"When we react against the violence that's been launched against us, we'll end up in handcuffs," Isaac said outside the building. "When we fight back against white supremacy, we always have to do it in a way that is deemed as being appropriate. The only thing appropriate for what that man did to Mr. Caughman is death, okay? A slow death."
Isaac, whose group started in the aftermath of the 2014 death of Staten Islander Eric Garner at the hands of an NYPD officer, also seemed to echo Black Lives Matter's urging that the black community enroll in self-defense classes. She also joined other advocates in blaming Caughman's murder, and the outbreak of hate crimes across the city and the nation, on "shitty-ass" President Donald Trump.
"An attack on our people is happening now, so the response is now," Isaac said. "We're here in order to show that the community is rallying around one of our own."
"We view this as an act of terrorism against the black community as a whole," she continued.
Portia Clarke, who grew up with Caughman, said her late friend was a "really good guy" and wanted to "snatch" Jackson when she saw him.
"Tim Caughman did not deserve, did not deserve to die like that—I mean, nobody does," Clarke told reporters in the lobby. "I mean, common, we're black, white, yellow, brown, that's ridiculous. We're trying to get along. I mean, common, get a grip, get a grip James Jackson. You're out of your mind."