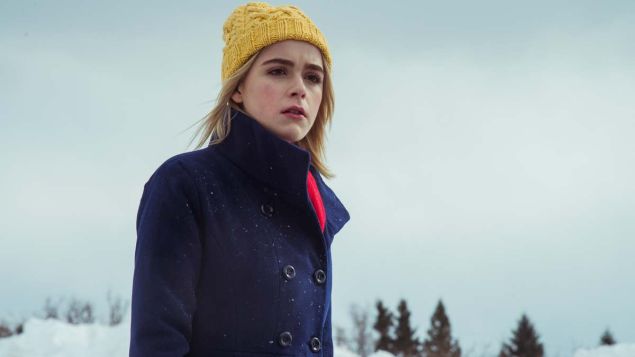 Billed as a first effort by Osgood ("Oz") Perkins, son of the late actor Tony Perkins, this misguided and lethargic horror movie about two girls left alone in a boarding school to experience endless splicing and dicing during the dreary winter holidays was unveiled to a chorus of boos two years ago at the Toronto International Film Festival under the title February. For some inexplicable reason, it is finally arriving on American screens with the equally inexplicable new title The Blackcoat's Daughter. It stinks both ways.
---

THE BLACKCOAT'S DAUGHTER 

(0/4 stars)

Written and directed by: Oz Perkins

Starring: Kiernan Shipka, Emma Roberts and Lauren Holly

Running time: 95 mins.

---
To be honest, this is not Mr. Perkins' debut. An equally disastrous second feature called I Am the Pretty Thing That Lives in the House premiered first although it was filmed later —all of which is as confusing as the two films themselves. This one concerns two students (Kiernan Shipka and Lucy Boynton) deserted under the supervision of two stern disciplinarians with lesbian tendencies in an isolated boarding school after their parents fail to show up to escort them home during the cold, dreary semester break. (This would never happen in real life, but neither would anything else in this head-scratching fiasco.) It begins when the stranded girls are set upon by a ghost who emerges from the forest to haunt them. As the apparition, who may or may not be an actual escapee from an asylum, gets closer, one girl is plagued by increasingly creepy visions, and the other one looks on in stultifying terror as her younger schoolmate becomes possessed by unseen evil forces. For the next hour and a half, enough blood splashes across the walls to stock a plasma bank in Afghanistan.
None of it makes one lick of sense and it quickly becomes clear that Mr. Perkins couldn't care less. He's after effects, not the kind of logic that makes the best fright flicks memorable. What seems at first like a routine spook story right-turns into a coming-of-age allegory about strictly raised Catholic girls enslaved by religious superstitions and dogma, shattered by the shock and loss encountered in childhood nightmares. Cryptic beyond annoyance, and accompanied by eerie Twilight Zone music composed by Oz's brother Elvis, The Blackcoat's Daughter offers no proof that the Perkins boys have ever learned anything about making coherent horror movies beyond watching their father in Psycho more times than I consider healthy.