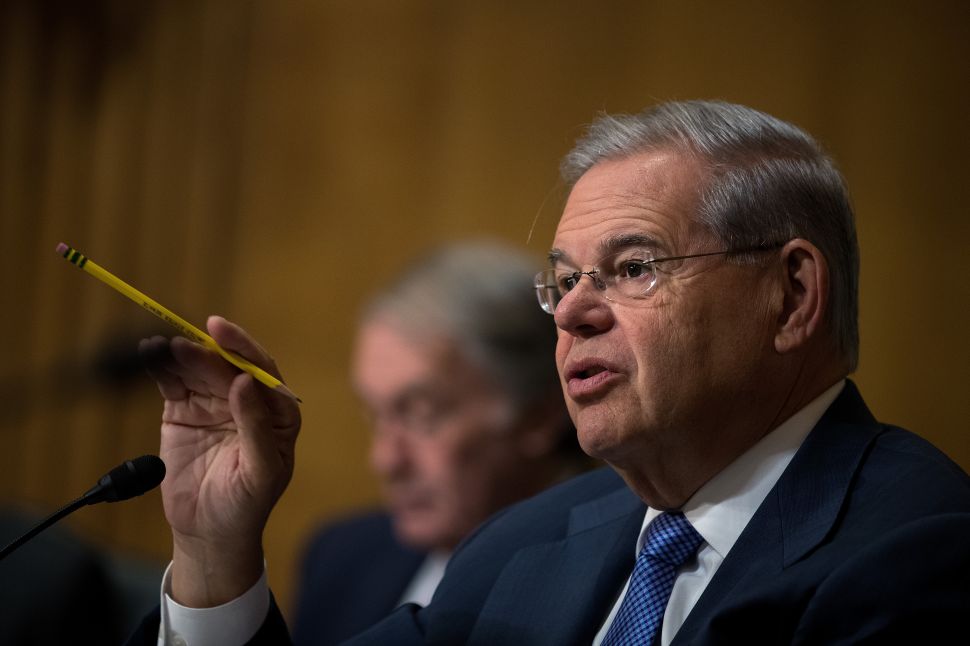 Republicans have not won a U.S. Senate race in New Jersey since 1972—only Hawaii Democrats (1970) can claim a longer winning streak—and most pundits rightfully put the NJ seat in the Safe Democratic column for 2018. But on a national map that is already daunting for Democrats, there is a huge asterisk by the name of the incumbent Senator, Bob Menendez.
Menendez was indicted nearly two years ago on federal corruption charges. In New Jersey, the allegations against him have hardly damaged is political standing. A January 31 Quinnipiac University poll has Menendez at a 51 percent to 32 percent approval rating—not far off Sen. Cory Booker (58 percent to 31 percent), and substantially better than Gov. Chris Christie (17 percent to 78 percent). Few Democratic insiders believe Menendez is at risk of losing a primary. A former Hudson County Democratic Chairman, Menendez is about the best there is when it comes to strategic political planning. Democratic County Chairs and members of the congressional delegation are all publicly in Menendez's corner as he prepares to seek re-election next year.
The Menendez trial appears to be on hold, as both sides await a decision by the U.S. Supreme Court on Menendez's request that they hear his appeal, which seeks to have the charges against him dismissed. A District Court Judge has already dismissed some of the original counts.
For Democrats, the critical issue here is the timing of the trial.  If Menendez is tried and acquitted before the campaign gets underway, or if the charges are dismissed by the judiciary, he seeks re-election with full party support and is still favored to win, although he'll need to expend resources to rehabilitate himself following a potentially messy and extended legal battle. If he is convicted, he will surely resign his seat and Democrats move on.
The tricky part is if the trial begins after the campaign begins (i.e. the filing deadline in April 2018). Under that scenario, Democrats—meaning national guys Minority Leader Chuck Schumer and DSCC Chairman Chris Van Hollen, not local party leaders—could push Menendez to not seek re-election so as not to risk the seat. That's what happened in 2002, after the Senate admonished Bob Torricelli on a series of ethical violations. Republican Doug Forrester was leading Torricelli in a few polls, and Tom Daschle became nervous that the New Jersey seat would be lost. In October, Democrats made a last-minute substitution for Torch, offering up Frank Lautenberg, who won easily.
(Longtime readers of this site may recall that Jamestown Associates scorched the D's for that post-deadline maneuver and produced the spot that put the firm on the national map. The ad depicts a driveway basketball hoop where one player drives past another for an easy layup. "Aw, I'm losing. I quit. Let Frank Lautenberg play for me." The kid who says that line is Greg Weitzner, son of Jamestown head honcho Larry Weitzner; the "set" is the Weitzner home in Skillman, NJ and the voiceover features the late, great Peter Thomas of "Forensic Files" and ESPN.)
THE DEMOCRATIC FIELD
So far, one lesson of the 2017 gubernatorial campaign is that the Democratic Party hierarchy has the ability to clear the field—and there is little reason to believe that a U.S. Senate primary would be much different. Menendez could be problematic for front-runner Phil Murphy, who would play an outsized role in picking Menendez's replacement—through a Senate appointment (if the incumbent was forced to leave early) and by picking a candidate to back in the general election. Murphy may be new to public office (if he gets there at all), but he surely understands the process by which a field of candidates is essentially cleared.
It's no secret that Torricelli, now a millionaire real estate developer and consultant, wants to return to the Senate seat he was forced to give up long before he was ready to go. The Torch has stepped up his public profile and is a constant presence at Democratic events. The question is will the Democrats—in Trenton and in Washington—want to replace Menendez with a candidate who has his own history of ethical issues. Three weeks before he dropped out, a Quinnipiac University poll had Torricelli with an upside-down 14 percent to 34 percent approval rating. That was 15 years ago.
Many Democratic insiders believe a likely Senate candidate would be Rep. Donald Norcross (D-1), a former labor leader and the brother of the state's most powerful Democratic insider. Unlike Torricelli, Donald and George Norcross have allied themselves with Menendez, and accordingly, have not offended Menendez's closest supporters.
As an added bonus, Democrats suggest that Norcross' 1st District House seat could go to Steve Sweeney, perhaps a consolation prize for being pushed out of the race for Governor. That move would then trigger an insider contest for Senate President.
Another big name in the Democratic Senate sweepstakes—if there is one at all—is freshman Rep. Josh Gottheimer, who ousted seven-term Republican Scott Garrett last fall. Gottheimer is expected to face a tough race to hold the seat in 2018 in a district that was drawn to favor Republicans. He might actually find it easier to run statewide and has already revealed himself to be a formidable fundraiser with a national money base.
(If there is speculation of a Gottheimer for U.S. Senate 2018 campaign, it's only fair to wonder how that might affect the 5th district House race. It could set up a game of political dominos, especially if Bergen County Executive Jim Tedesco ran for the open seat.)
Some insiders have touted Jeh Johnson, a Montclair resident who served as President Obama's Secretary of Homeland Security. Publicly, Johnson has not shown any interest in running for public office. But his past Senate confirmation—and his selection by President Trump as the so-called "Designated Survivor" on Inauguration Day—means that he has been fully vetted and would be a popular pick by a Democratic governor for appointment to the Senate. Johnson was in the U.K. this week to deliver a big speech at the prestigious Oxford Union.
One last note on the Democratic short list: Rep. Frank Pallone is no longer on it. He's now the Ranking Democrat on the House Energy and Commerce Committee, which is at the forefront of the move by the White House to repeal and replace the Affordable Care Act. Pallone is now 65, he's been in the House for nearly thirty years, he had a clear shot at the Senate in 2002 (he passed, that's when the Democrats turned to Lautenberg), and he lost a special primary to Cory Booker in 2013.
THE REPUBLICAN FIELD
Republicans need a perfect storm to compete for the Senate seat. First, they need a top-tier candidate. Second, they would need to convince national GOP fundraisers that New Jersey is really in play (campaigns are much, much cheaper in Montana and North Dakota, which are among the states where the Republicans have a legitimate shot to flip a seat.) Third, and most importantly, they will need to face a badly wounded Menendez (that means the incumbent did not get convicted, but instead took some major body blows), rather than Norcross, Gottheimer or Johnson.
If national Republicans even care about New Jersey (there are about a dozen seats ahead of it on the target list), the top recruit could be two-term Rep. Tom MacArthur. With a political base in Oceana and Burlington counties (and in Morris, where he served as mayor of Randolph), he has the personal wealth at least to jumpstart a statewide campaign if not self-finance.
If MacArthur doesn't run, the GOP might look to Senate Minority Leader Thomas Kean, Jr. The son of the former governor ran strong against Menendez in 2006 and lost 53 percent to 45 percent in a year where anti-Bush sentiment peaked. Kean allies say the Republican legislative leader, now 48 years old and the survivor of a Chris Christie-led effort to depose him the day after the 2013 election, has been itching for the chance to make his next move.
The party could also turn to retiring State Sen. Joe Kyrillos, who mounted a strong campaign against Menendez in 2012. Despite unovercomeable headwinds—literally, since Hurricane Sandy badly depressed the vote on the ravaged shore, which is Kyrillos' base—Kyrillos attracted national support and forced Menendez to work in a presidential year that favored the D's.
Let's say Kim Guadagno wins the 2017 gubernatorial race, and let's say that Menendez leaves early. Such a scenario could give the Republicans an incumbent in the race, although there is little history to suggest that to be the case. Rather than choose between one of the two 1982 Senate candidates, Gov. Tom Kean appointed a caretaker to replace Harrison Williams instead. That set up the chain of events that led to Lautenberg's self-financed win. Christie did the same thing when Lautenberg died in 2013, selecting Jeff Chiesa to fill the remainder of the term. Still, Guadagno could appoint someone who would lead a strong campaign in 2018, and benefit from running as an incumbent.