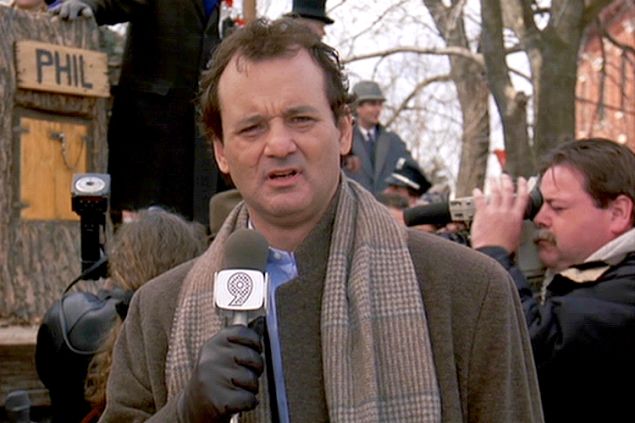 Broadway has a spotty history when it comes to viral online marketing—most shows' attempts to stay hip and relevant just come off as sad.  Grumpy Cat starring in Cats, anyone?
But when an online troll tried to scam a Broadway message board into buying exorbitantly priced tickets for the new musical Groundhog Day, the show itself fought back—and it was glorious.
Yesterday afternoon, a user identified only as Actor2 posted on the chat boards at BroadwayWorld.com, a popular theater fan site. He offered two orchestra tickets to the first preview of Groundhog Day on Thursday for $159 each (that's $318 total).
There was only one problem, which users instantly pointed out: the producers of Groundhog Day gave away all the tickets to the first preview performance for free last month, as part of a promotion on February 2 (the real Groundhog Day).
Not surprisingly, people weren't keen to pay over $300 for tickets the original poster had gotten for nothing.
"I'd be more than happy to take these from you, for free, as I wasn't as fortunate as you to win,"  user Hairspray0901 wrote.
"Damn, this is some tomfoolery," GreasedLightning added.
Eventually Jujamcyn (the production company behind Groundhog Day) got clued in to the controversy, and commented on the thread with a withering reply to Actor2:
"Thanks for conveniently including the seat locs of these FREE tickets that you received through our fan giveaway.  Since the rules of the contest explicitly state that they may NOT be sold to a third party, we have done you the favor of voiding them so that you don't have to worry about finding someone to "take them off your hands." If anyone shows up with these tickets, they will be denied admission—so we suggest that no one purchase them."
This sassy, perfect response was of course a hit among BroadwayWorld.com users—responses included "Oh snap" and "This is the greatest thing I have ever seen."
Whether Jujamcyn intended it this way or not, the comment was also an effective marketing tool: the fact the Groundhog Day producers stood up for fair ticket prices convinced some users to buy tickets to the show.
"HELL YES. I now am dying to see Groundhog Day," n2nbaby wrote.
"Whomever is the Jujamcyn rep who reads the boards, please know that your action on this issue caused me to purchase full price tickets to the show instead of waiting for discounts. Content based marketing WORKS," tobiasragg added.
There you have it—instead of giving a viral celebrity a walk-on role, just stand up for what's right, and positive audience response (and ticket sales) will follow.