Today, Calvin Klein's social media channels have been infiltrated by artwork from Sterling Ruby. On the brand's Instagram stories, white font on a yellow background begs the question: "Is this what the inside of your head looks like? 'Probably,' shrugs Ruby Sterling."
A handful of colorful, mixed media sculptures by the artist follows, along with a black and white portrait of Ruby. The brand's Instagram feed is also covered in creations by Ruby, including the various bits and bobs that dangled above models at the February fashion show, held at the company's Garment District HQ. That hanging installation included baseball bats, mufflers, flags, that iconic Calvin Klein underwear elastic and, apparently, a bra or two. The account also included a slideshow of pictures that provide a few angles of how he redesigned the brand's showroom on the 12th floor of the same building, at 205 West 39th Street. He apparently redid the walls, produced a mini-scale hanging installation and introduced some colorful, geometric display tables.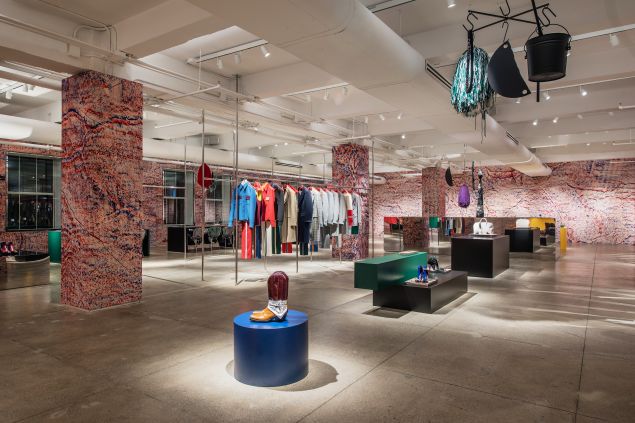 "Calvin Klein is an American platform, and I wanted to treat this company as an American brand, almost pitted against these big luxury houses," Ruby explained in a blog post on the Calvin Klein site. "It has interesting combinations that luxury companies do not usually have; there are opportunities to have highs and lows. There's a behavior and an attitude related to it, it's dirty gossip and hot sex!" The last part, the site points out, is a joke. However, the rest seems to be a view that the artist must surely share with Raf Simons. He happens to be his close friend, his frequent collaborator, former creative director at Dior and the current chief creative officer at Calvin Klein (which you surely already knew).
Calvin Klein, the iconic Americana brand, has become one of Ruby's biggest supporters. It's obvious that they've garnered that status due to Simons' pre-existing relationship with the American artist. The fashion designer was a collector of Ruby's work first, then a friendship followed; they've been pals for over 10 years at this point. Their first fashion collaboration took place in January 2014, when Ruby put his collaborative touch on Simons' namesake brand. In fact, both of their names appeared on the tags of the heavily collaged clothing. And some of the American flag motifs that adorned that men's runway show echoed the tasseled flags seen decorating this season's multi-gender Calvin runway.
"When we worked together, it was almost like being married," Simons told W about that first partnership. "The collection grew out of years of talking—so many similarities between us, so many shared interests. It was a really natural thing to do."
The timing of Calvin Klein's Ruby push just happens to coincide with the artist's two-week exhibit at Gagosian, which just opened on March 1. However, it looks like his work with Calvin Klein is far from over. According to a release from the brand, the second part of his artwork series will be revealed later this year. Lest you forget, Ruby's work was also included in the first ad campaign produced under Simons' discerning eye.
"It is an acknowledgment of the incredible work of Sterling, both for Calvin Klein and in general," Simons said. "He is always surprising, always exhilarating, and always moving forward—and yet he is always, ultimately, himself."