Courtesy Carolina Santo Domingo
Courtesy Carolina Santo Domingo
Courtesy Carolina Santo Domingo
Courtesy Carolina Santo Domingo
Courtesy Carolina Santo Domingo
Courtesy Carolina Santo Domingo
Courtesy Carolina Santo Domingo
Courtesy Carolina Santo Domingo
Courtesy Carolina Santo Domingo
Courtesy Carolina Santo Domingo
Handbag designer Carolina Santo Domingo knows a thing or two about creating accessories that turn into Instagram sensations. She's responsible for the creation of Staud's Bissett bucket bag, which is not only a practical carryall, but also a bonafide social media hit. Now she's stepping out of the shadows of that one-off bag, to reveal her own line of totes and crossbodies.
Santo Domingo, who happens to be a member of a rather fashionable family (she's the niece of Moda Operandi's Lauren Santo Domingo) has put her name on a slew of clean cut designs, often in sharp geometric shapes, with a minimal sprinkling of hardware. The  designer maintains that these are classic, timeless designs, but they're still bound to be embraced by the snap-happy fashion pack. Get a buck on the trend by pre-ordering a miniature boxy tote or a sweet raffia top handle from Moda Operandi now; the styles will ship in May, which coincides perfectly with the start of summer getaway plans. If you'd prefer to check out these babies in person, they will be arriving in Moda Operandi's Madison Avenue location, on March 27.
Though Santo Domingo's design operation is based in Los Angeles, each of her hand-crafted in Italy from the finest materials and they're all rather affordable, with prices below $1,000. For now, she's sticking with the three style for this spring launch, but the designer told WWD that she will be introducing another bag for fall.
Now that you know all the details, are you wondering how you should Instagram your new bag (once it ships, of course)? Here are some suggestions: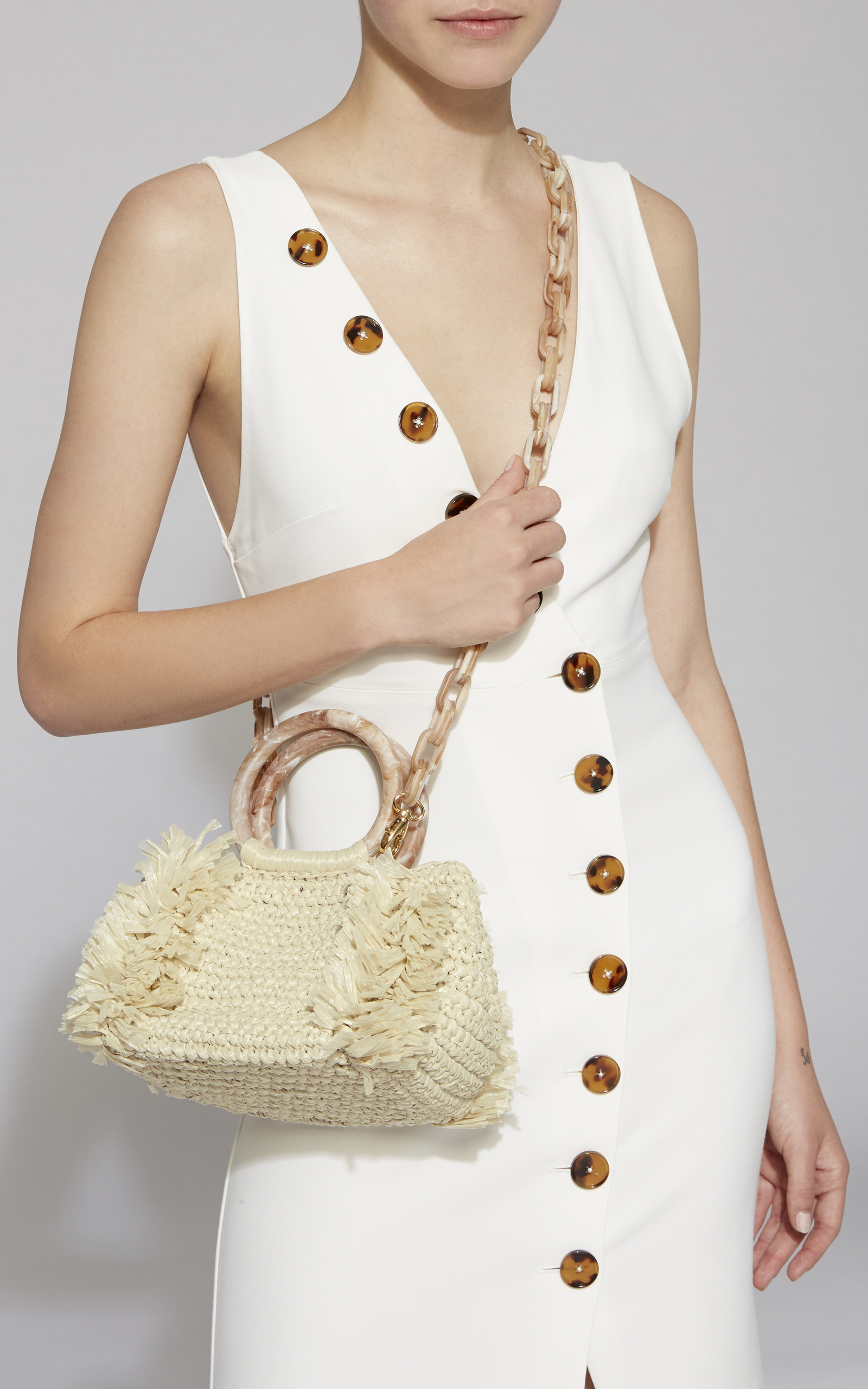 Photograph the Corallina Raffia Tote, which comes with a faux marble handle made from lucite, alongside a chilled glass of rosé, which is precariously balanced atop an Hermès towel. The location is a private beach in Montauk. Don't forget to include a pair of Dior shades in that shot.
Meanwhile, the v-shaped Amphora Leather Top Handle is begging to be worn out to brunch in Brooklyn, followed by an impromptu (or planned) photoshoot in front of one of those graphic graffiti walls. The addition of some cropped and flared Re/Done jeans and a vintage t-shirt is not necessary, but highly recommended.
And finally, take the tiny Sirena tote with you to work. Instagram it next to an almond milk cappuccino and that stack of books you keep on your desk, but never actually read. It's the perfect flat lay of a what a modern boss bitch sees on any given day.