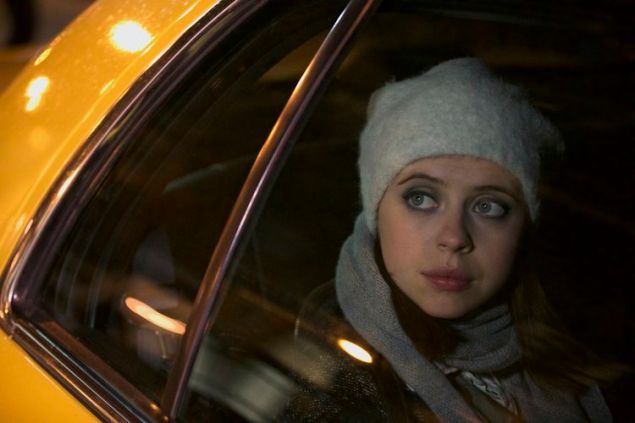 Bel Powley is a young British actress with big blue eyes like crystal balls and clear swimming pools who made such a splash in Diary of a Teenage Girl that she seems destined to play shrewd and vulnerable at the same time, in roles designed to showcase her talents and her charms. In the title role of the sometimes clever but mostly contrived Carrie Pilby, she taxes the boundaries of both.
---

CARRIE PILBY ★★ 

(2/4 stars)

Directed by: Susan Johnson

Written by: Kara Holden

Starring: Bel Powley, Nathan Lane and Gabriel Byrne

Running time: 98 mins.

---
A film made almost entirely by women, it's a debut feature of director Susan Johnson, with a sassy script by Kara Holden adapted from a comic coming-of-age novel by Caren Lissner, about a privileged young woman trying to make sense of a life spent miserable and alone in Manhattan, a place where you've got three strikes against you no matter what your age and gender happen to be. A cynical teenager for whom the word "eccentric" hardly begins to cover it, Carrie reveals aspects of her unhappiness through sessions with her psychiatrist (a miscast Nathan Lane, who looks for humor and goes begging). We learn that Carrie has been exiled to New York, for reasons that are never clear, since her mother died when she was 12. Possessing an exceptional I.Q. that keeps boys away, she went to Harvard at 13, graduated early, and now, at 19, works nights in a law office, proofreading legal briefs, and lives by day in an apartment paid for by her father (a wasted Gabriel Byrne), who spends most of his time in London. She reads 17 books a week, pronounces the name Van Gogh correctly, and with universal annoyance to everyone she meets, seems only too eager to rub everyone's noses in her moral and intellectual superiority between appointments with her shrink. Clearly flummoxed by her maverick, unorthodox nonconformity, he gives her a list of goals she should achieve before the end of the year if she wants to be happy. Go on a date. Get a pet. Make a friend. Spend New Year's Eve with someone. Carrie Pilby is about how a girl who is profoundly disappointed in the rest of mankind decides to follow her doctor's advice: "Give humanity a chance. Someone might surprise you."
She does try. Sort of. For a pet, she buys a goldfish. For a date, she answers a personal ad in the Village Voice and responds to the guy who calls back, suggesting a meeting place "not so public you'll be outed, but public enough that you wouldn't be able to kill me without witnesses." For a girl who has always regarded men as nothing more than elbows on a crosstown bus, once she lets her hair down, she's suddenly juggling three guys to make up for lost time—a nerd with a fiancé (Jason Ritter), a handsome Columbia professor who wants kinky sex (Irish heart-throb Colin O'Donoghue), and a clarinet player with the New York Philharmonic (William Moseley). For the friend on her bucket list to spend New Year's Eve with, she unexpectedly ends up with the perfect lover, who turns out to be the neighbor who lived down the hall from her the whole time and she didn't even notice him.
Eventually, it becomes obvious that Carrie Pilby is something of a pain in the butt. "What's the big deal about sex?" she asks. "Why can't I go into a grocery store without being accosted by headlines claiming 101 ways to have an orgasm? Wouldn't 53 ways be sufficient?" She's one of those opinionated teens who seem to know everything without actually having experienced anything. I gave up when she prayed to God on Christmas Day, adding "By the way, Happy Birthday." (Wasn't that Jesus, not God? Just asking.)
What is the target audience for this particular brand of cotton candy? Teenage girls dreaming of first love while sipping cherry pop? Or readers of young adult romance novels lusting for aphrodisiacal concupiscence without being able to spell or pronounce it? Either way, it scarcely qualifies as my own personal cup of tempting tea. What makes it tolerable is the pungent dialogue and the vibrant centerpiece performance by Powley. She gives Carrie Pilby the effervescence that is otherwise missing in Carrie Pilby.