Casey Affleck and Joaquin Phoenix are listing this industrial style loft.
Douglas Elliman
The kitchen does have stainless steel appliances...
Douglas Elliman
Furniture is overrated.
Douglas Elliman
The renovated bathroom.
Douglas Elliman
A very bare room.
Douglas Elliman
Not clear what shape the other bathrooms are in.
Douglas Elliman
From the outside, 477 Washington is a relatively nondescript building. In fact, the Soho co-op recently received an address name change of sorts—it was previously known by the less fashionable 533 Canal.
There must be something about the building that famous faces find particularly enticing—past and present residents include Gus Van Sant, former R.E.M. lead singer Michael Stipe, Kirsten Dunst, Casey Affleck and Joaquin Phoenix.
Now, the duplex that Affleck reportedly jointly owns with longtime friend and (soon-to-be former) brother-in-law Phoenix is on the market, asking $3.9 million, per the New York Post.
Affleck has owned other units in the building, per public record (including the one he sold to Stipe). It appears this apartment was put on the market for the first time in February 2016; shortly before Affleck announced his separation from his wife, Phoenix's sister Summer. We can see why it might be slightly awkward to co-own an apartment with your ex's brother…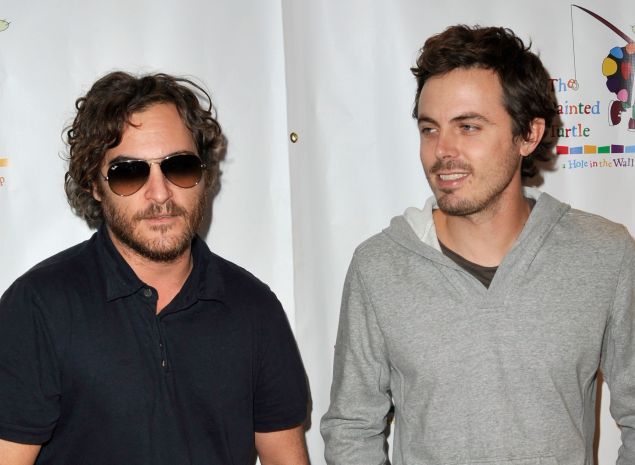 The two-bedroom, three-bathroom duplex definitely isn't in turnkey condition, at least per the photos, which show a rather bare décor, that could be generously described as industrial. The living room and dining room, with 11-foot ceilings, are just empty spaces with raw concrete floors. Perhaps the beard-loving duo also prefer a super minimalistic aesthetic.
Per the listing shared by Douglas Elliman (DOUG) brokers Katherine Gauthier and Wilfredo Rivera, there are "endless possibilities to create your own, one-of-a-kind dream SoHo loft."
The 2,400-square-foot loft is equipped with a kitchen with stainless steel Wolf and SubZero appliances, and the master bedroom has a renovated bathroom, as well as a walk-in closet and office. There's also exposed brick and a random swinging cocoon chair suspended from the ceiling, which is similar to the one that can be spotted in Gwyneth Paltrow's penthouse. However, the similarities between the two homes begins and ends with the hanging chair.
Affleck, of course, has been in the news quite a bit lately, and not just for his Best Actor Academy Award win for his performance in Manchester by the Sea. Previous allegations against Affleck resulted in a mixed reaction to his wins, as Affleck was sued by two women for sexual harassment in 2010. Both suits were settled that year.
Indeed, the reaction of presenter Brie Larson when she announced Affleck's name might have received just as much attention as the actual win—Larson, an outspoken advocate for sexual assault survivors, presented Affleck with awards at not one, but two shows this year, and she intentionally refused to clap following Affleck's Oscars win. "I think that whatever it was that I did onstage kind of spoke for itself," Larson told Vanity Fair.