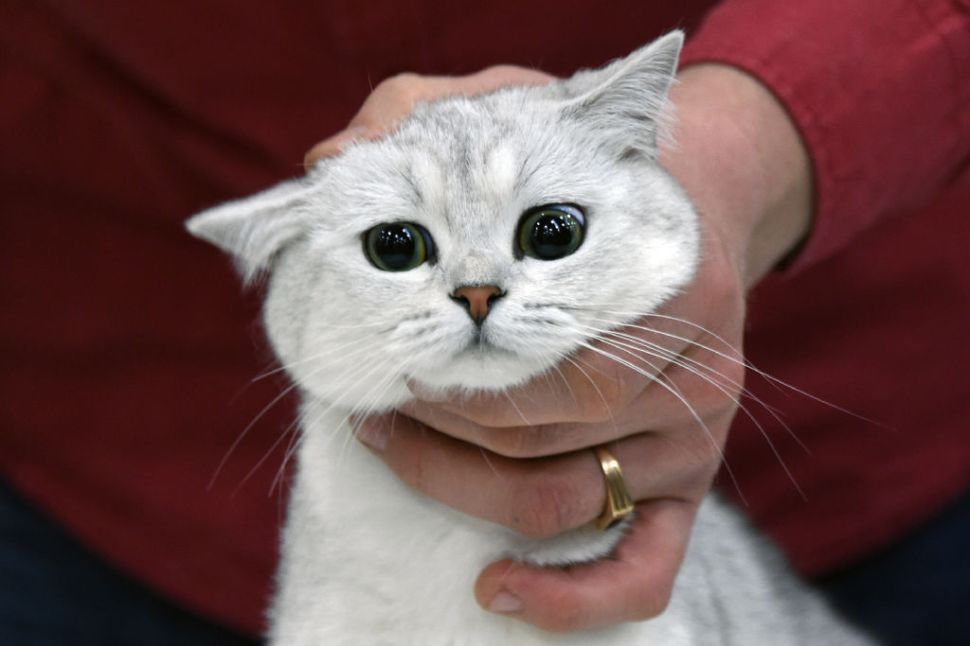 This may be the era of body positivity, but if you have a fat cat, kitty might not be feeling well.
As SXSW last week, we ran across two companies that can help cat owners get a better sense of Fluffy's potential health outcomes.
"Most cats' problems are related to activities," Vasanth Bharathi, a co-founder of Moggie, told the Observer during an interview at the closing party of the European Union's technology showcase at the festival.
Bharathi founded his company in Sweden, where he owns a cat named Roby. He showed us a picture. It's a cute cat.
Bharathi and his collaborators have built a wearable activity tracker for cats, to help owners get a better sense of what cats are saying about their well-being through their activities. The wearable can track how much your cat walks, sleeps and plays, to give owners more insight into how it's doing.
"The cats don't exhibit the patterns themselves," Bharathi said. "We blindly depend on the veterinarian."
Owners can monitor their cat's health with the app, which watches them all the time and can alert owners to signs that might indicate concern. Obviously, they can also share that data with their vets. Thus far they have only built the app for iOS.
Moggie is not yet available, but should ship this fall. It will sell for a bit over $100. Up next, the device will go up on Kickstarter to help the company build up a user base in the United States, but it's already far along in the design process. We saw a prototype of the device, which is currently in the midst of design for manufacturing. So they know what they want to build, and now it's just a matter of getting it ready for the factories.
So what do you do if it turns out that your cat isn't getting enough activity?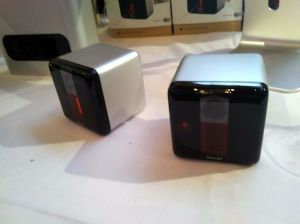 At the Pet Rescue Lounge in Austin, we saw a table full of products from Petcube, including the Petcube Play (which retails for $199). How this company hasn't blown past Uber in valuation is anyone's guess, but here's what it does: it's an internet-connected camera that can also shoot out a laser on the ground, so you can remotely play with your pets.
In fact, Emma Watson herself called it "life changing."
In case you've never lived in a home with cats, let me break this down for you: cats love chasing two dimensional objects. Whether it's a beam of light or a really distinct shadow, there's nothing that a cat is more determined to catch than the thing it can't actually touch.
Yaroslav Azhnyuk, the company's CEO, explained for the Observer in a phone call that the product originated with a prototype another co-founder built for his dog. Pairing a camera with a laser allowed him to interact with his chihuahua, even when he wasn't there. Petcube began shipping its first product, a laser-equipped camera, in December 2014.
"We realized that both pets and humans benefit from having it, in having that connection," Azhnyuk said.
The device also lets owners talk to their pets remotely, and it captures videos of the pets when they move in front of the camera so owners can see what their four-legged friends are up to even if they don't happen to be on camera when the owner checks in.
To play with pets, owners turn on the device and activate the laser remotely. Then they can move the laser by touching the screen on the video feed. The system can also be set to auto-play a certain number of times per day when it recognizes the pet moving in front of the camera.
With Moggie and Petcube together, a cat owner could both play with their pet more and measure how much progress the fuzzball is making.
Both devices encrypt their communications between the device and the recipient, so even if someone intercepted the stream they wouldn't be able to make sense of it. Bharathi told us that Moggie even gives users the option not to share data collected about their pets with the company.
Bharathi hopes to create a social network for cats soon, where cat owners can compare their pet's activity to its peers. Azhnyuk said his company already has the option to make their camera feeds public, and lots of owners do. That way, anyone who visits a pet's page can play with it remotely. In fact, one Instagram-famous cat foster mom used the public function to recruit her followers to help alert her when a pregnant cat went into labor, according to Petcube.
As everyone knows, the internet is already primarily devoted to cat vidoes, but Bharathi said, "Our ambition is to create an internet of things for animals."