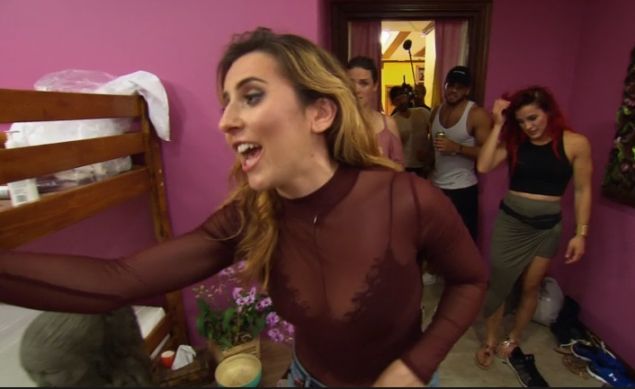 I will now make the case for last night's Challenge episode being one of the greatest of all time. There are three major parts to this that I will explore equally. Those are as follows:
The Return of the Camilanator
A Laurel – Nicole – Cara Maria love triangle
Johnny vs. Darrell
Here we go.
Last week, the Champ girls decided to prank some of the newer Underdog girls by putting potato chips under their sheets. The Underdog girls, specifically Amanda and Ashley did not think this was an adult thing to do. Amanda (and Ashley to a lesser extent) do think it's a good game move to make up a story about one eliminated Vegan cast member f*****-banging on an airplane (please bleep the finger and not the banging) another current cast member who is really really good at eliminations. But the potato chips in the bed—very very not good. Laurel, who is in a love triangle with Cara Maria and Nicole (more on that shortly) does not want to be in this love triangle. And so rather than deal with that issue, she decided to be very Laurel about explaining why the potato chip prank is in fact very funny. The Laurel way of explaining things is to get really close to the person's face and repeat in various degrees of slowness "it. is. funny." Case in point:
Amanda: It wasn't funny.

Laurel: It is funny.

Amanda: I didn't find it funny.

Laurel: It. Is. Funnyyyyyy.

Amanda: Not to me.

Laurel: Itttttttttttt isssssssss funnnnaaayyyyyyyyyyyyyyyyyyyy…
Camila previously got into it with Amanda on Rivals III because Amanda told her she looks old and then Camila called her a freckled motherfucker and then they both accused each other of doing things for screen time. Well, Camila had a few drinks in her which means it's time for the Camilanator to come out. A Camila-flipout is really the high water mark of losing it. She pushes producer-bouncers, throws things and people, yells all kinds of well-crafted insults, and sometimes even dances. Like when Amanda was across the pool and called Camila "fat," Camila stripped down to her underwear and started gyrating back and forth while insulting Amanda back. If you get dunked-on mid-twerk, it is time to pack up and go home. It's over. Even CT is like "this is better than tv" but then he realizes that he's on tv and he's like "it is tv."
Laurel and Cara Maria have had an interesting relationship over the years. They started out as enemies, with Laurel getting Cara with some of her patented Laurel "I don't like you" barbs. Then Laurel cocked those arrows at Paula on Cara's behalf after she got soaked in soda on Rivals. Then Laurel stopped doing shows for a while. And now she's in a love triangle with Nicole and Cara Maria. It's kind of perfect because Laurel and Cara are almost exact opposites. Cara Maria feels everything and puts it all out there. Laurel doesn't really let her emotions show, unless she's lit and giving someone a verbal beatdown. Cara Maria is a free spirit and does what she likes. Laurel is a little pent up and worried about what people will think of her. And Nicole is giving attention to both of them. I love Nicole. Nicole was so good onSkeletons that she didn't even have a skeleton show up. They just brought her sisters in and let them hang out for a week. Nicole is funny and nice and has Gerard Butler in the 300 abs. Cara is playing around for fun and the attention. Laurel is actually considering her first girl-crush, which actually feels like a bigger moment that could have been explored more. As much as I like Nicole, she was playing fast and loose here with Laurel, who was taking this seriously. So Laurel calls off the whole love triangle by the end. Except that she has to face Cara in the elimination. But that has to wait until next week.
Johnny is a six-time champ. Darrell is a four-time champ. Darrell has won four challenges in a row. Not counting this season, he's won four of six shows he's done. If he didn't take a few years off, he'd probably have even more wins. These are two immense competitors. And thanks to Shane dive-bombing into CT, Darrell, and Johnny in the challenge this week, we get to see Darrell and Johnny face off. And it is brutal. It's like that part in Bio-Dome when Pauly Shore and the Baldwin try to break out of the biodome by running full speed into it and just bounce right off. Because the creators of the Challenge know exactly what they're doing, the elimination is cut off right before we find out whether Johnny will tie forcing an overtime, or if he's actually going to be eliminated. Perfect set-up. Perfect suspense. What an episode.