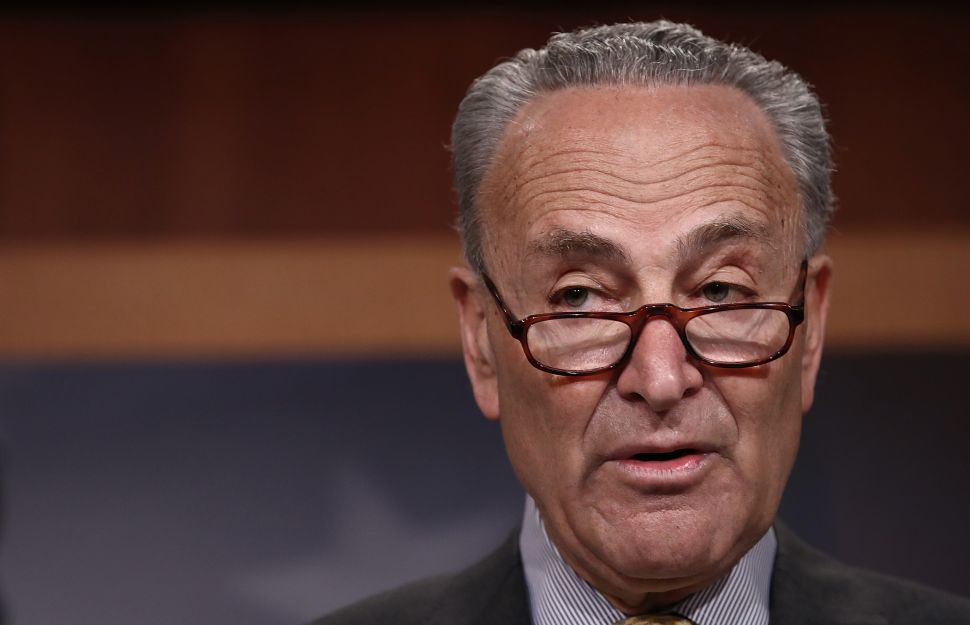 His visa to enter the United States was denied—until Sen. Charles Schumer and others intervened.
Now he's accused of sexually abusing a 12-year-old girl.
It's not clear why the man, Indian snowshoe competitor Tanveer Hussain, 24, and his manager were initially denied visas in the wake of President Trump's travel ban. After all, India is not one of the seven countries that were affected by it. What is certain is that, as The Washington Post reported paraphrasing SnowShoe Federation of India president Muddasir Mir, "[T]he visas would not have been issued without the 'personal efforts' of Schumer and New York's other Democratic senator, Kirsten Gillibrand."
Traveling to Saranac Lake, N.Y., to compete in the World Snowshoe Championships February 25, Hussain was given free lodging and a hero's welcome by locals, and Schumer celebrated the athlete's "rock star" status on Facebook. But he quickly went from hero to zero when, reports the Adirondack Daily Enterprise, he was "charged with first-degree sexual abuse, a felony, and endangering the welfare of a child, a misdemeanor," after an incident last Monday evening.
"Police say he kissed a 12-year-old girl and groped her in an intimate area outside her clothes," the paper continued.
Hussain, who hails from the Kashmir region's Indian side, has an explanation for his behavior that will appeal to cultural relativists everywhere: "In Kashmir, we have a tradition of showing love to children. We hug and kiss a child here, and our society doesn't see it as a crime," stated his brother, Yunus Ali. He did not explain, however, what his traditional conception of "love" might be.
In fairness, while U.S. officials said at the time of Hussain's visa rejection that the denial wasn't related to Trump's travel ban, we can't know that this means he was admitted despite an obvious red flag; it's possible his record was as pure as the driven Saranac Lake snow. This would mean Schumer was guilty only of not having a crystal ball. Yet his culpability in the larger matter of opposing Trump's order—which he'd called "mean-spirited and un-American"—is a different matter.
After all, whatever Hussain's record, he was likely a known quantity (to authorities); we know who he is and from where he comes. Yet this isn't true of the Mideast "refugees" in general—they largely are unknowns.
Despite claims to the contrary by the Barack Obama administration, other Western leaders and assorted "immigrationists," there simply is no way to reliably vet the migrants in question. Why? Because Third World/developing countries generally provide only third-rate information.
As Investor's Business Daily reported in 2015, "Senior FBI officials recently testified that they have no idea who these people [the migrants] are, and they can't find out what type of backgrounds they have—criminal, terrorist or otherwise—because there are no vetting opportunities in…[their] war-torn countries."
"Syria and Iraq, along with Somalia and Sudan, are failed states where police records aren't even kept. Agents can't vet somebody if they don't have documentation and don't even have the criminal databases to screen applicants," IBD continued.
Note that the Greek government drew essentially the same conclusion, warning in 2015 that it was "nearly impossible" to find the terrorists among the migrants.
No one has to tell this to N.Y.C. Syrian community leader Ralph Succar, who the same year exclaimed to the New York Post, "When they tell you that [the refugees] are vetted, are you out of your mind?"
It gets worse, though. Succar warns that bribery in Syria buys you any identity you fancy. Wrote the Post, "You can go to the Syrian government today and say to them, 'I need a piece of paper that says I'm Tony Caterpillar.' And they give it to you," he said.
"These are not forged documents. These are written out by a government employee who needs money, whose family has no food."
In fact, with bribery rampant in developing nations (it's said $450 buys you out of a fatal hit-and-run in Mexico), there likely aren't many such countries in which tactical palm-greasing won't achieve the same result.
As for the result of our policies, Succar also stated, the Post informs, "that ISIS terrorists have 'absolutely' sneaked into America by posing as [Syrian] civil-war refugees—and joined sleeper cells just waiting to be activated."
A similar alarm was sounded by self-professed "orthodox Muslim" Dr. Mudar Zahran, a Jordanian Opposition Coalition leader granted political asylum in Britain. On an October 2015 edition of The Glazov Gang, he stated that he had "names" and "pictures" of terrorists already in Europe. He also claimed that 75 percent of those arriving from Syria were from safe areas, as people in the danger zones couldn't leave, and that half the Syrian male migrants "have actually held weapons and fought in the Syrian war."
Moreover, Zahran asserted that many if not most of the migrants come from safe, intermediate departure points such as refugee camps in Jordan and Turkey. And the kicker, he said, is that many aren't even Syrian, as we're witnessing an "influx of all kinds of refugees from the Middle East."
And just about a month after Zahran's warnings, 130 people were slaughtered in Paris—and the majority of their jihadist executioners entered Europe posing as migrants.
We don't yet know if Schumer is guilty of thwarting proper vetting procedures with one known quantity or if he reserves his folly to just thousands of unknowns. But one or one million, is it really so radical to say: When in doubt, keep them out?
Selwyn Duke (@SelwynDuke) has written for The Hill, The American Conservative, WorldNetDaily and American Thinker. He has also contributed to college textbooks published by Gale – Cengage Learning, has appeared on television and is a frequent guest on radio.