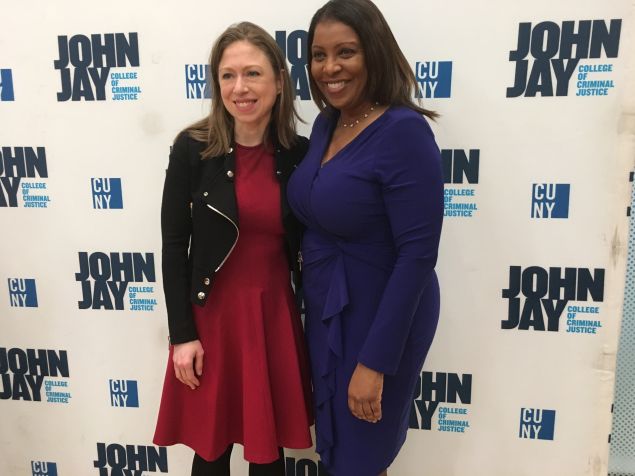 Former first daughter Chelsea Clinton joined Public Advocate Letitia James for an event promoting legislation that would ban employers from asking job applicants about their salary history—a measure they argued would advance gender equity and close the male-female wage gap.
During her roundtable discussion at John Jay College this morning, James predicted the City Council would pass her bill next week, meaning employers "be prejudiced by prior salary levels" when hiring women. Clinton, vice chairwoman of the Clinton Foundation—whose mother Hillary Clinton was the first female Democratic presidential nominee—thanked James for her work.
Clinton also asserted that advocates must compile a "database from which to argue": an "evidence base" illustrating that the new policy, once passed, has improved women's "economic agency" and standard of living.
"I would urge you to continue to collect this data both so that we continue to have the same evidence-based argument for justice, but also so that we can prove that the policy changes work because we need to be able to prove that, that what we all know on an ideal level really will have an economic and social impact," Clinton said.
She also said that advocates should continue to share their stories and experiences because many women face similar struggles. Clinton added that gathering the data would also serve the purpose of government transparency.
James has already compiled a policy report titled "Advancing Pay Equity in New York City," an analysis of the gender wage gap in the city's workforce, in which she notes that women in the city earn about $5.8 billion less than men in wages each year. The study found that women of color are disproportionately hurt by the wage gap.
Last November, Mayor Bill de Blasio signed an executive order banning city agencies from inquiring about job applicants' salary history.
Clinton has long been rumored to be weighing a bid for Congress and other positions. But she recently shot down speculation, telling Variety that as of right now, she does not intend to run for public office.
Today, she described herself as "obsessed" with James and supportive of de Blasio, and critiqued President Donald Trump.
She did, however, allow the possibility of "something changes" or that an elected official steps down. Many observers expect Westchester Congresswoman Nita Lowey, who district covers the Clinton home, to retire in the next few years.
James told reporters that "there was negotiation, there was some language we agreed to" that led to securing passage of her salary ban history legislation, which she introduced before the mayor signed his executive order.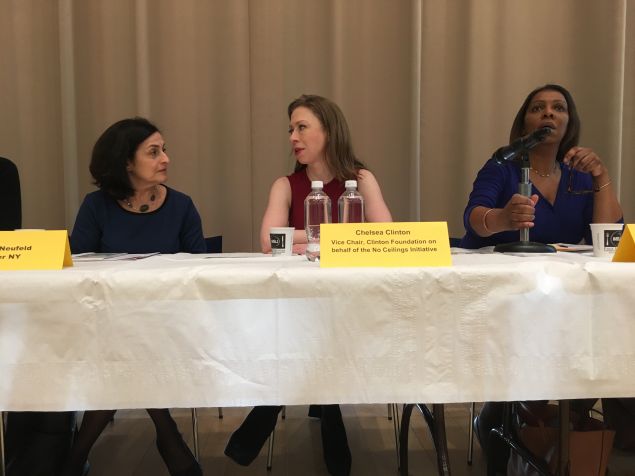 After hearing advocates' concerns, James said that her office is working with Brooklyn Councilwoman Laurie Cumbo on legislation pertaining to gender pay and pay equity in city agencies. She also said that she is looking to branch family-friendly workplace policies for working parents such as flexible work schedules.
James added that she hopes to encourage city contractors to disclose information about employee wages by gender and by job title. And she stressed the importance of impressing the importance of gender equity on candidates for office and the public at large.
"We recognize and we need to, again, have another discussion on community-based organizations that serve marginalized communities, immigrant communities, either the Asian community, organizations that serve women and girls and communities of color and recognize that they are disproportionately under-resourced in the city of New York," she said. "We need to address that in the budget going forward."
Clinton has long broadcast her admiration for the Public Advocate, the first woman of color to hold citywide office. Last month, she tweeted, "Again…I love Tish James," after James spoke at an anti-Trump rally led by high school students.
James praised both Clinton and the former first lady, who she described "the mother of all dragons.