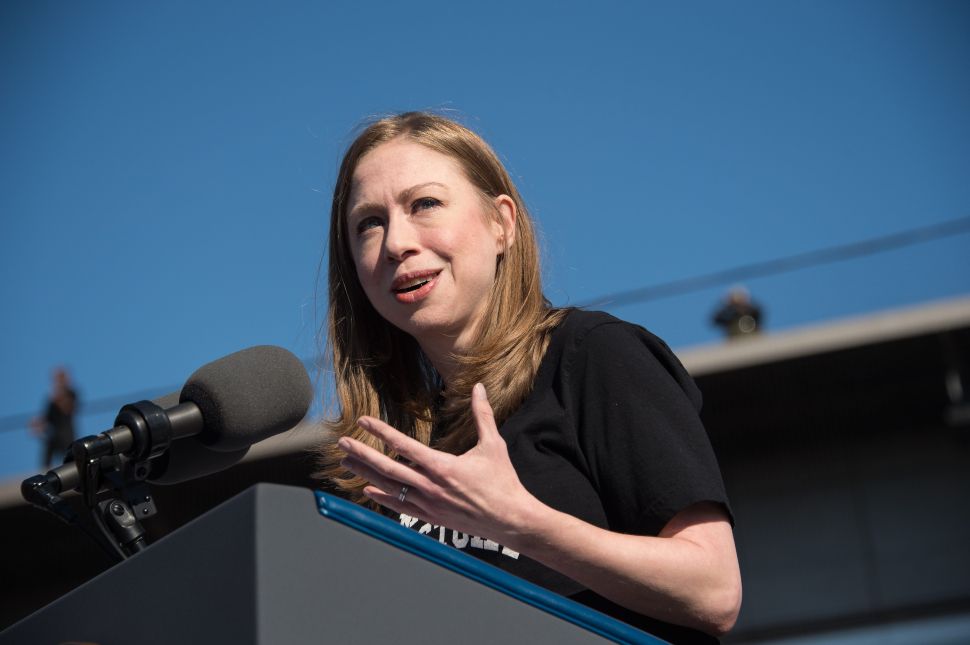 Celebrities and other notable figures gain attention for their political remarks. But Chelsea Clinton, who has never held political office or done anything to earn her fame, has been elevated as a spokesperson against President Donald Trump solely based on her Twitter account.
BuzzFeed recently devoted an entire article to Chelsea's tweeting about how to make spinach pancakes. "Due to the 'pureed spinach' in the mixture, the pancakes were a glowing shade of green, and bore no similarities to the classic buttery, beige breakfast staple," BuzzFeed reported. However, BuzzFeed wasn't the only media outlet that covered the tweet; the Washington Post, Boston Globe, Atlanta Journal Constitution, Fox News, the Daily Dot, People Magazine, Huffington Post, Mic, ABC News, and other outlets all covered the tweet. Even MSNBC's Chris Hayes couldn't help himself from investigating further, asking Clinton on Twitter, "My question about the spinach pancakes is: do they taste more like spinach or more like pancakes?"
Clinton partisans throughout the mainstream media are giving Chelsea Clinton's Twitter account an absurd amount of coverage—absent of any criticism. This obsession with Chelsea Clinton isn't just reserved for monotonous tweets that warrant no analysis. Whenever a topic trends and Chelsea Clinton tweets about it, there's a flurry of loyal reporters that sensationalize the tweet into a formidable opposing voice to wherever the outrage is directed.
The Hill has devoted entire articles to Chelsea Clinton's tweet about Rep. Steve King's recent racist tweet, her tweet about the GOP's Obamacare replacement, her tweet about Ben Carson referring to slaves as immigrants, her tweet defending Kellyanne Conway from sexist remarks in regards to a White House photo, her tweets from a Muslim solidarity rally in New York City, her tweet criticizing Trump's comments about Sweden, her tweet about anti-Semitism, her tweet about a court ruling on Trump's Muslim travel ban, her tweet praising New York City Subway riders for erasing Swastikas, her tweets back and forth with Kellyanne Conway about Conway's Bowling Green massacre gaffe, her tweet from a New York City protest on Trump's Muslim travel ban, and her tweet defending Barron Trump. Sen. Bernie Sanders recently wrote an op-ed about the Zika Virus for the New York Times, and The Hill framed its report on the article around Chelsea Clinton's tweet about how she liked the article. On March 15, The Hill published another article fueling speculation that Chelsea Clinton was going to run for office—based on assumptions made from her tweets. In all, The Hill has published roughly two articles per week since Trump took office about Chelsea Clinton's tweet.
Chelsea Clinton's Twitter account has received praise and admiration from mainstream media outlets that have effectively written full page advertisements for Chelsea Clinton. Politico reported, "Chelsea Clinton has discovered something new since Inauguration Day: a spicy, sarcastic online personality." The Washington Post claimed Chelsea Clinton's Twitter account "has lately been getting saltier," a few weeks after they dubbed her political voice on Twitter as "edgy."
This celebrity coverage of Chelsea Clinton's Twitter account is the type of reporting that has repelled millions of Americans from the mainstream media. Its desperation to court, praise, and serve as publicists for the wealthy and powerful is palpable. Chelsea Clinton hasn't accomplished anything that warrants the amount of media coverage she's getting. Immediately after Hillary Clinton's election loss, rumors began circulating in the media that Chelsea Clinton was going to be groomed for a congressional race. It appears that the mainstream media, regardless of the veracity of those rumors, is willingly to freely offer their services to provide that grooming.