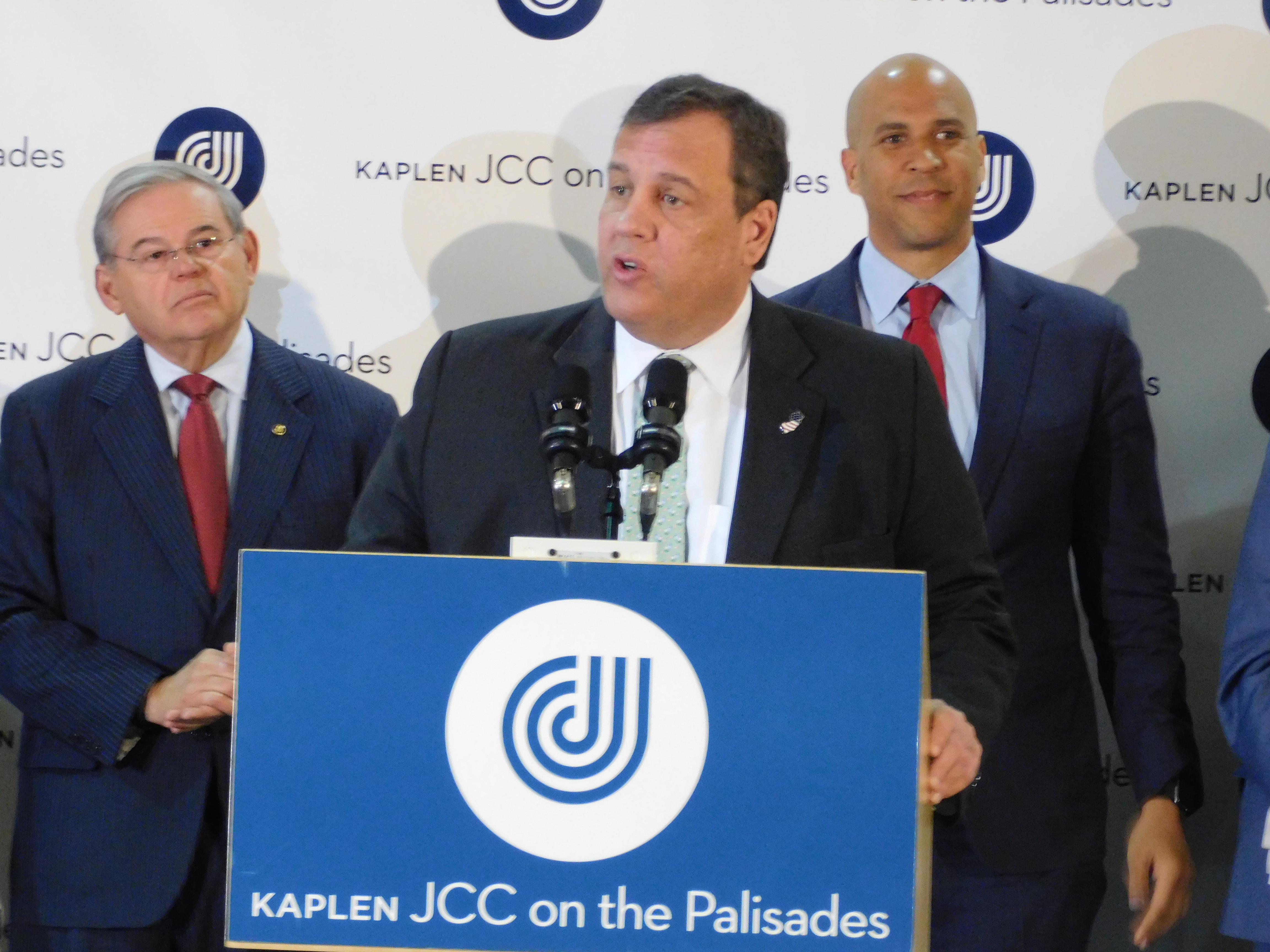 TENAFLY – In recent years, as New Jersey Governor Chris Christie's popularity has plummeted among Democrats and Republicans alike, it has become an increasingly unusual sight to see him alongside Democratic legislators. On Friday, however, Christie joined a slew of Democrats including the U.S. Senators Cory Booker and Bob Menendez to denounce the recent uptick in anti-Semitic crimes throughout the country.
On a tiny stage at the gymnasium at the Kaplen Jewish Community Center on the Palisades in Tenafly, Christie crowded alongside legislators including Rep. Bill Pascrell (D-9), Rep. Josh Gottheimer (D-5), Senate Majority Leader Loretta Weinberg (D-Bergen), and Bergen County Executive Jim Tedesco. Even more elected officials including Assemblyman Gordon Johnson and Bergen County Freeholder Tracy Zur were in the audience. On Monday, the Kaplen JCC was the target of a bob threat. It was the third for the community center this year.
The event was orchestrated by Menendez as a show of solidarity between elected officials and members of the Jewish community who have been impacted by threats like those received in Tenafly.
"Such vile actions cannot be met with silence," Menendez said. "It is up to all of us to stand up, stand together and speak up against anti-Semitism."
As part of an initiative to fight such threats of violence, Menendez is working with the Christie administration to up security for nonprofits like the JCC. According to Christie, bias against Jews or any other group will not be tolerated in the Garden State.
"Anyone in this state who commits that type of crime will be prosecuted to the fullest extent of the law and sent to prison," Christie said. Due to his close ties with the Trump administration, Republican Christie has been on the receiving end of significant criticism from Democrats in the majority blue New Jersey. However, the recent wave of anti-Semitic sentiment has unified Christie and Democrats on a common issue. "If you want to be one of the 8.9 million people in New Jersey, one of the requirements is to love thy neighbor as you love yourself. We will continue to speak out against anti-Semitism because it is baseless… but we will also speak out to other forms of hate as well."
Booker has deep ties to the Jewish community. As he took the podium, Booker pushed that love was critical to fighting hate in all forms.
"The ideal for a great society is all people coming together around one table. It is the ideal for America. E pluribus unum," Booker said. "Yes we are here as a response to hatred… but that is not the only reason we are here. We are here as an affirmation of love."
Anti-Semitic crimes have skyrocketed in the past few months with incidents being reported across the nation.