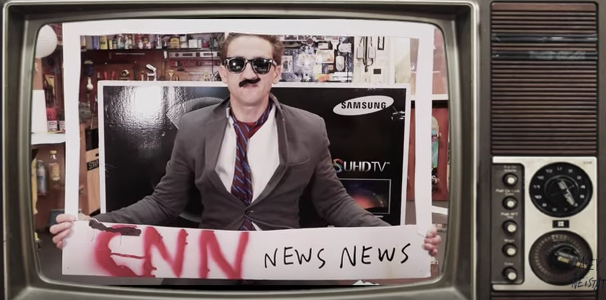 Correction: This article previously stated that the show will begin on March 15. The show is set to launch in March, but it appears we were incorrect about that date.
The teenagers wait outside of Muddy Waters Café in New London, Conn., a short walk from the Amtrak Train or the Block Island ferry on this sleepy coast of the Long Island Sound two and a half hours from New York City. They will come inside and ask if YouTuber Casey Neistat's dad is in because Casey once stopped at his dad's coffeeshop on "the vlog."
Some of those kids take up running, filmmaking or flying drones because they saw it first on "the vlog." Those kids aren't much older than CNN Chief Jeff Zucker's own son. In fact, Zucker just made a $25 million bet that Casey can get these kids just excited about the news.
CNN announced Wednesday that, starting in March, Casey will host a new show live on YouTube live daily at 5 p.m. This is part of the deal that bought and shutdown Neistat's Beme app this year for $25 million. Neistat and his team are now developing a journalist-curated app that will feed to one of 12 live streams. Neistat calls these: "raw, unfiltered, unedited newsfeeds. Delivering that without context strips away the noise. It leaves you with exactly what's taking place."
"What I really saw in the CNN partnership," Neistat told The Hollywood Reporter for their cover story on the new changes at CNN, "was an opportunity to take this thing that I do and to scale, to make it—for the first time in my career—much, much bigger than just me." The story reveals that Zucker, who learned about Neistat through his children, approached him two years ago. He took his son Andrew, then 16, to the meeting. "Jeff says to me, 'You know, we have a huge news operation here; it's a global enterprise, but my son says that you're the only person who matters in media.'"
Teenagers respond well to Neistat, who is often referred to as "a 35-year-old teen." (Many of Neistat's biggest short movies are travel stories of him and his teenage son Owen, whom he had with his girlfriend in high school and which prompted him to drop out of Ledyard High School, near where his dad's coffee shop now stands.)
But so do brands. In an early video sponsored by Nike, Neistat (pronounced "nice-tat") and filmmaker Max Joseph (Catfish) travelled around the world in 10 days, culminating in the YouTube star getting a tattoo on his arm of his motto: "Do more."
After that meeting, Zucker offered Neistat a TV show, which he turned down to build his own start-up. He was able to raise $2.6 million in the first round, and later a total of $6M. At Techcrunch 2016, he confirmed that his take of this money was zero dollars.
For over a year while launching his first app, Beme, Neistat pushed himself to shoot, edit and upload a new YouTube movie every single day. Known always as "The Vlog," The videos are usually eight to 13 minutes of his daily life with newborn daughter, his wife Candice (of Finn Jewelry and now the limited edition Billy! NYC). He brought viewers into his studio and was open and honest about how he got various shots. He quickly grew from your favorite YouTuber's YouTuber at 500,000 subscribers to having the fastest-growing channel on Youtube with over 6 million subscribers—all while launching a video sharing app with partner Matt Hackett, formerly of Tumblr.
"The Vlog" grew to include reliable segments: opening packages at Mailtime (often including his local UPS driver and friend Marlan Franklyn), a Q&A culled from Twitter and "comprehensive" product reviews. "The Vlog" is a daily talkshow, often shot on Neistat's phone while he skateboarded to work.
Meanwhile, after school let out, crowds of fans would wait outside his Chinatown studio in the building above the K&M Camera shop. His popularity grew to the point that the building had to enforce a "no selfie" policy for people who wanted to just take their picture in front of the door.
This policy does not apply to Marlan, the UPS driver, who stops to take selfies in uniform with fans while making this deliveries in TriBeCa.
"A huge part of my particular audience sees news and media as largely broken," Neistat told The New York Times in November. "My dad sees it as the word of God, but I think the young people definitely do not." In a TED-talk like lecture in 2014, Neistat noted that people like his teenage son who were inundated with screens and media all day had a "better bullshit detector."
Just before the CNN deal went through, Neistat announced that he would be ending his vlog, which led to even more views, more subscribers and many tearful comments.
"Hearing voices and seeing perspectives far from your own matters. These principles, on which Beme was built," his Beme parner Matt Hackett wrote earlier this year, "will form the core of our mission as a part of CNN."
When reached for comment today, Hackett, an engineer by trade, said he would rather keep working on the product and let it speak for itself on launch and that he prefers a "show not tell" approach.
But even since the CNN partnership, Neistat's channel has remained active. As one user on a fan forum put it, "It's been just over 3 months since Casey announced he was ending his vlog. Since that time, he's posted 27 new videos. That's an average of one about every 3 1/2 days, or 2 per week. I can live with that."
By comparison, Jenna Marbles, a channel with over 16 million subscribers, puts out one video per week.
This week for example, Neistat reviewed Nike's new Hyperadapt self-lacing Back-to-the-Future-esque shoes in one video and then gave them away in another video to a YouTuber named Dustin Anderson, a school teacher with a C5/C5 spinal injury that left him paralyzed from the chest down. He doesn't have the motor function in his fingers to tie shoes, but now he doesn't need to.
As for the show, Casey seems to be taking a page from veteran YouTuber Philip DeFranco, who hosts a daily show for his 5.1 million YouTube subscribers that aims to tear apart clickbait, get to both sides of the story, gives Phil a chance to share his own opinion, and allows people in the comment section to share their own views. His audience, like most of the Internet, loves a crazy celebrity-adjacent story ("Katy Perry's Cleavage Traumatizes Mother!!" is one of his most popular videos with over four million views). However, DeFranco shines in breaking down what is true versus what is not. For example, he discussed two recent videos that appear to show an off duty cop fire a gun at a teenager.
The technology is out there for viewers to get true, engaging news that doesn't sink to false stories or bad reporting. But CNN is just now dusting itself off to find new ways to get that content to their users (note: not "viewers"). They've only just now figured out the secret. They have to "do more."