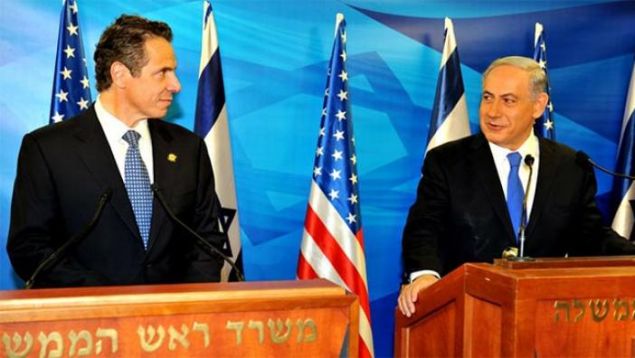 Gov. Andrew Cuomo met privately with Jewish leaders in Manhattan before flying to Israel this afternoon, and told reporters he hoped his trip would serve to strengthen both economic and cultural ties with the Jewish State amid a wave of anti-Semitic violence across New York and the nation.
The trip marks Cuomo's second pilgrimage to the Holy Land as governor, and only his third trip abroad. As he told reporters outside the Park East Synagogue, this international excursion has a special meaning, occurring against a backdrop of increasing violence, vandalism and intimidation against Jewish targets
"This is another step to show how seriously we take this problem of anti-Semitism," he said. "We're going to fortify the bonds between New York and the State of Israel, and New York and the Jewish community."
Federal authorities arrested disgraced leftist journalist Juan Thompson yesterday for allegedly making bomb threats against multiple Jewish community centers and against the Anti-Defamation League. According to U.S. Attorney Preet Bharara's complaint against Thompson, who was fired from the Intercept last year for fabricating quotes and stories, the threats were part of a bizarre revenge scheme against an ex-girlfriend.
However, Thompson stands accused of just a fraction of the bias crimes committed against Jewish people, property and institutions since President Donald Trump's election last November. Unlike other Democrats, Cuomo has refused to blame the incidents on the president's incendiary nationalism, and again declined to comment today on rumors he would seek the White House himself in 2020.
The governor's itinerary includes attending a memorial ceremony with President Reuven Rivlin. Rivlin known as a supporter of full annexation of the West Bank and Gaza Strip and the granting Israeli citizenship to all their Arab residents, in lieu of the long-preferred "two-state solution."
Cuomo will also meet with the mayor of Jerusalem and Israeli business leaders for a "working lunch," before receiving a security briefing at the city's police headquarters with Major Michael J. Cerretto, director of the New York State Office of Counter-Terrorism.
"Israel is very advanced in terms of security," the governor said this afternoon. "There's a lot New York can learn from in that regard."
The political status of Jerusalem has been a matter of dispute for decades. Israel captured the western end of the city during its war of independence in 1948 and the eastern portion during the Six-Day War in 1967, and today regards the entire metropolis as its capital. However, the international community does not recognize the latter annexation as legal, and considers Tel Aviv the capital of the Jewish State.
Cuomo's journey will culminate with a meeting with Prime Minister Benjamin Netanyahu.
Netanyahu faces a major corruption probe into his receipt of a small fortune's worth of gifts from wealthy interests. His support for expanding Jewish settlements in the West Bank has drawn the censure of the international community for years.
The governor, however, refused to comment on these issues.
"I don't want to talk about politics," he said, indicating his talks with the prime minister would center on economic development.
Cuomo told reporters earlier this week he would not have the time to meet with Israeli Arab leaders, who represent approximately 20 percent of the Middle Eastern nation's population. The governor signed an executive order last year forbidding New York State from doing business with any company participating in the "Boycott, Divestment and Sanctions" movement, which seeks to exert economic pressure on Israel.