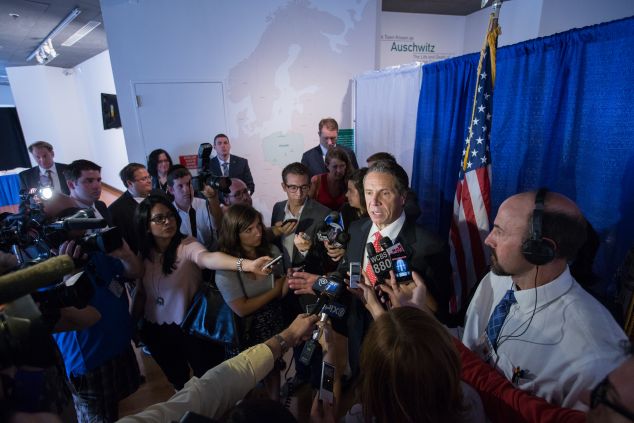 Gov. Andrew Cuomo told reporters he won't have time to meet with Arab leaders during his one-day jaunt to Israel this weekend—his second journey to the Jewish State as governor, and only his third trip abroad.
The governor revealed his plans to head to the Holy Land in Albany this morning, and answered reporters' questions about his plans at an unrelated event in Manhattan this afternoon. Cuomo said the trip served two purposes: to facilitate business relationships between the Empire State and Israel, particularly in the tech sector, and to "bring a message of solidarity" amid a rash of anti-Semitic incidents across the state and nationwide.
The governor repeatedly emphasized the importance of New York's large Jewish population to the culture and history of the state.
"The Jewish community is an integral part of New York, we have the largest Jewish population outside of Israel," he said. "We're proud of it, and New York wouldn't be New York without the Jewish community. It would be a different and, in my opinion frankly, not as great a state."
Asked if he would take time to meet with Palestinian Arabs, who constitute a fifth of the population of Israel itself and more than four million of whom inhabit the West Bank and Gaza Strip, Cuomo said he simply wouldn't have time.
"This is a very short trip, I'm literally there for just about a day, and we're going to do economic development meetings, and I won't have an opportunity to do anything much more than that," he said, saying he would spend the trip conferring with Israeli government ministers. "I want the Jewish community to know that we support them 100 percent, and we are arm-to-arm with them in this battle. And every New Yorker takes it personally. But, no, it's a very short trip and I won't have the opportunity to do more than that."
Cuomo made his first trip abroad in office to Israel in 2014, to show support amid the country's bloody campaign against rocket-firing Islamic militants in the Palestinian territories. Last year, he signed an executive order barring New York State from doing business with any company participating in the "Boycott, Divestment and Sanctions" movement, which seeks to exert economic pressure on the Jewish State.
New York also is home to one of the nation's largest Arab and Muslim populations. The bulk of bias crimes committed over the past few months have targeted Jewish individuals and institutions, but the city, state and nation have also witnessed an uptick in hate incidents directed at people of the Islamic faith.