CURRENT CHANCES OF SURVIVING APOCALYPSE: 35%
Guys, we've got ten days until the end of the world. This week, the clock has been sped up on the apocalypse considerably, and Skaicru and Azgeda are still scrambling for a solution. It's coming down to the wire, and Abby and Raven—who have been grounded from launching into space due to lack of fuel—have yet to successfully synthesize the nighblood vaccine, are staring down the pipeline at an inevitably deadly human test trial. But an unexpected miracle has manifested in this eleventh hour: Jaha's theory about a hidden bunker might not be such a crazy idea after all. Let's hear it for the Second Dawn!
But before we get to the good news, let's have out with the bad. On Becca's island, Raven appears to have made a quick recovery from her latest A.L.I.E.-boosted brain over overload, just in time to witness one of The 100's more gruesome death scenes. It's the moment of truth, time to see if the new nightblood concoction Abby has been cooking up actually works. The group's newly nightblood vaccinated Grounder sacrifice, Baylis, is strapped into Becca's radiation chamber and it's showtime. Jackson slowly turns up the wattage, until the chamber's radiation levels reach the equivalent of exposure to the black rain—miraculously, Baylis looks like he's doing O.K.
And then suddenly, he goes into cardiac arrest, vomits up black nightblood, boils erupt all over his body and he dies a graphic death that everyone is forced helplessly to watch because opening the chamber would expose them to the radiation too. So, that didn't go very well at all. And now we're all intimately familiar with what happens when a human is exposed to deadly levels of radiation—can we find a solution already so that never happens again?!
After the team takes a moment to gather their composure, and after Clarke has finished cleaning Baylis' bodily fluids off the inside of the radiation tank, Abby announces that an additive in the nightblood vaccine was responsible for its failure, and postulates that if removed the shot might still work. The hitch: another vaccine would require more human testing, which means someone else must volunteer as tribute. In an obviously sequence of "but look at the clues we've found that suggest Baylis was actually not who Emori says he was," the gang discovers that she lied and set up the Grounder so she wouldn't be singled out for testing. She freaks out, they subdue her, and Roan states the obvious: "Looks like we know who's next." Because on The 100, trying to save yourself, or those you love, is always a punishable offense.
As usual, Luna attempts to be the group's morale compass, which would be fine if she weren't the one person on Earth who didn't have to worry about dying in the coming apocalypse. But she's a nightblood, which apparently gives her both immunity to the death wave and the ability to tell the rest of the human race that maybe they don't deserve to survive. Just so we're clear, Luna's passive hero act is exhausted at this point, and perhaps one of this season's greatest disappoints thus far. Luna's potential has always been outweighed by her passivity, and it would be a great and welcome surprise if in the final stretch she was given more than a few dismissive lines and shrugs to perform. Her standard bit plays out as it always does: she refuses to give up anymore more of her blood and bone marrow for Abby's desperate experiments, and spars with Roan when she tries to leave the lab. He easily puts her in a sleeper hold. Echoes of Mount Weather's terrible experiments on Grounders, much? Raven says it for us: "Welcome to Mount Weather." And Abby's defense isn't far from Mount Weather's President Wallace: "First we survive, then we find our humanity again" she says.
In an uncharacteristically intimate and amicable moment, Roan gives Clarke pep talk about how she's doing the right thing despite her moral hesitations, and admits he believes she was born for leadership. When it comes time to serve up Emori as the next vaccine sacrifice, Clarke takes his words to heart and at the last minute decides to inject herself. But while Abby had little hesitation about killing anyone else for the greater, she refuses to let her daughter take one for the team. In a fit, she reveals her she's been having hallucinations of Clarke's death, and destroys the radiation machine. Guess the only way to put the vaccine to the test is a true trial by fire now.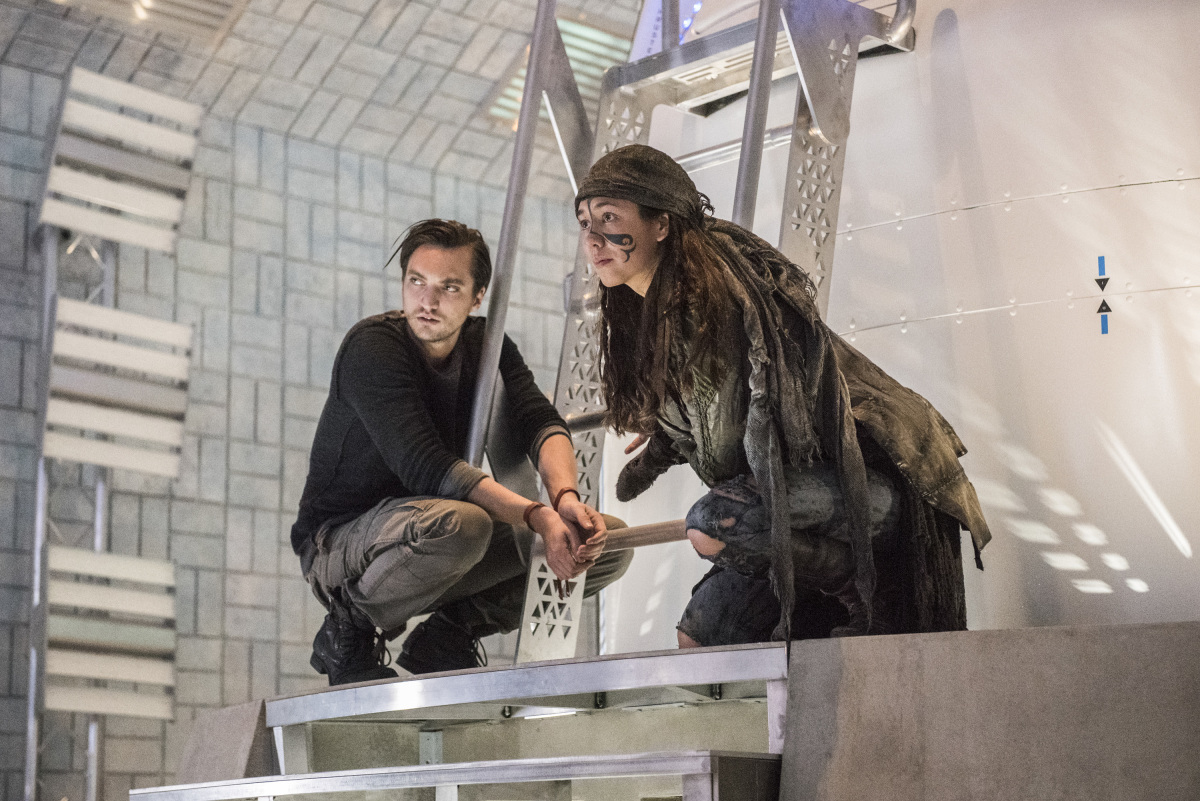 This week's other major plotline follows Jaha in his quest to find the Second Dawn's hypothetical second bunker. Time to get excited, because his Indiana Jones-esque adventure does not disappoint. In Clarke's absence, Jaha is really stepping back up as the de facto leader—or priest, same thing really—trying to save Skaicru. After burying those who died in last week's black rain, he overheard Nylah reciting and incantation over the pyre, "From the Earth we will grow, from the ashes we will rise," and his ears perk up. Doesn't that sound a lot like the Second Dawn's credo? Nylah says you'd have to ask a flamekeeper what it means, but it's the Grounders' standard funeral prayer.
Intrigued by the prayer's connection to the Second Dawn, Jaha reveals to Marcus that he believes there's another Second Dawn bunker, and that the one they found was a decoy meant to throw off unworthy followers. "How could you possibly know that?" Marcus asks him. "Because that's what I would do," Jaha replies. Jaha further explains his theory by saying if Becca's corporate infinity symbol logo could become sacred to the Grounders, then it's not a huge leap to believe the Second Dawn's tagline would become a prayer. And with that, they're going to Polis to find Indra's daughter Gaia, the newly anointed flamekeeper.
As Marcus warned, Polis is a war zone of battling clans. And Indra isn't exactly happy to see them. "As the ally of my enemy, you are my enemy," she tells them, pissed that they've formed an alliance with Azgeda, who has been busy burning her people's villages. Marcus tries to reason with her, pleading that there's simply no time for petty squabbles—what will fighting over Polis' crumbling tower do in when the death wave arrives in ten days? "If we can't come together to fight this enemy, than what hope is there?" But at the first mention of Gaia, she's ready to help.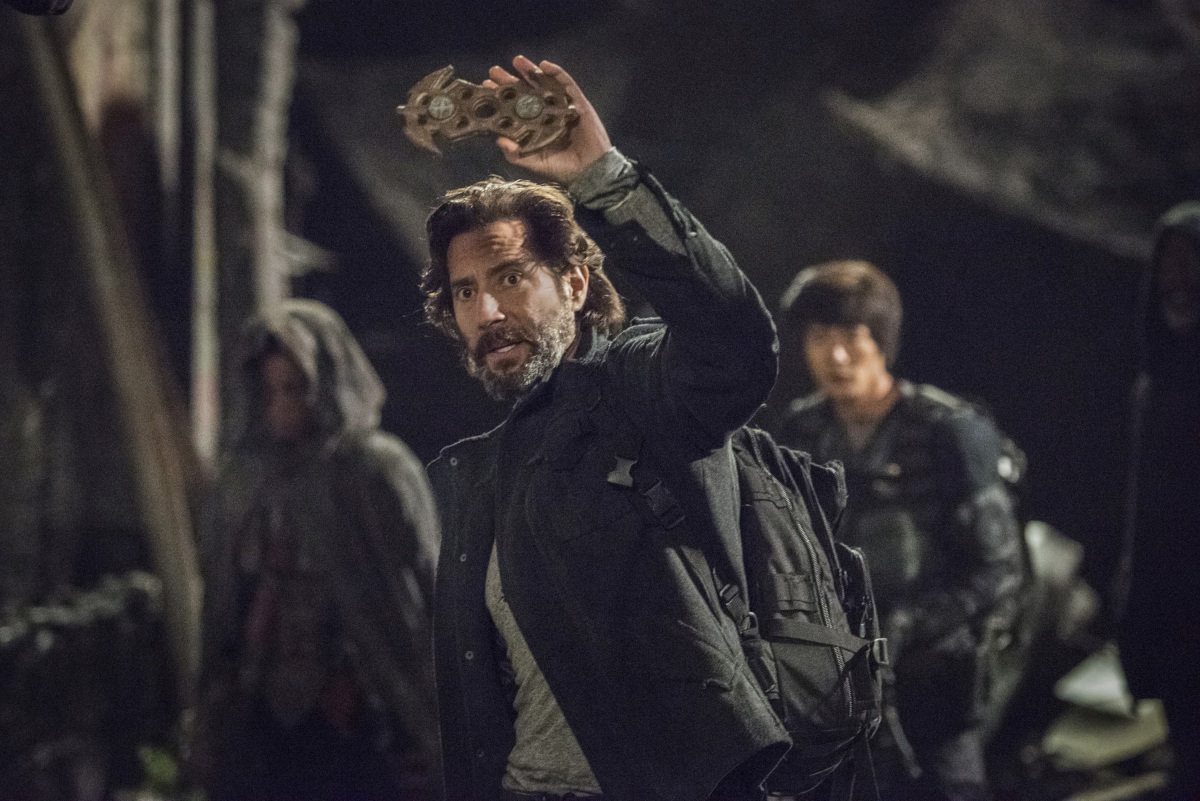 And Gaia does have answers. Conveniently, her flamekeeper tattoo matches the marker Jaha found in the Second Dawn's bunker. The pattern, she says, "adorns the crypt of the first commander," which is located in the city's temple. Once they've fought past Azgeda's guards, and made their way inside the Temple, they do, in fact, find a locked chamber, but Jaha's marker won't open the door. Thanks to some quick thinking from Monty, who suggests the cult's motto may have actually been an instruction for opening the bunker, Jaha tosses the seal into the fire, which burns away to reveal a key. Click, turn, and woosh—they've found what may be their salvation.
Hopes and Fears…
— During his eulogy for the black rain victims, Jaha calls them all Skaicru's "brothers and sisters" but only seems to remember three people's names? Because they are the only ones who matter? That doesn't seem right. Then he leads a call and response to Skaicru's favorite sentimental fairwell/goodbye, "May we meet again," which said in this manner sounds an awful lot like Battlestar Galactica's "So say we all" chant. The 100 has always thrown nods to Battlestar, but this one just makes me miss Battlestar way too much.
— Jasper is full on YOLO this week, and hosting an end of days rager with an open bar and hallucinogenic nuts. Uncharacteristically, Bellamy decides to cut loose, and weirdly, Skaicru's parties feature Solo cups?
— Question about "end of the world" bunkers: Obviously the Second Dawn's decoy didn't hold up, which is why its inhabitants looked a little worse for wear and it had the distinct feel of a centuries-old crypt. But how does that explain why all of Becca's island facilities remain in pristine condition: the lab, the lighthouse tower—well, that actually is a fall out shelter, but only for two people—her house? What's stopping the gang from investigating those structures as potential bunkers?