If the name Dallas Shaw sounds familiar, that's probably because she's of the most highly coveted fashion illustrators in the industry. Though she used to whip up illustrations for Disney, she is now an artist, project designer, style ambassador and visual consultant for companies like Kate Spade, Chanel and Oscar de la Renta. And last year, Shaw decided to combine all of those experiences into a heavily illustrated book. She culled inspiration from those years she spent backstage at runway shows, the countless mood boards she edited and the many sketchpads she doodled in to compile The Way She Wears It, which hits the shelves on March 28, 2017.
The book combines Shaw's custom illustrations with handwritten notes, letters and questions to the reader on every page. It incorporates images and fabrics and takes a deep dive into Shaw's personal style tastes, but instead of telling you what to exactly buy or where to buy it (don't worry, there is some advice for that, too), she uses the book as a challenge to help re-invent your personal style.
"The concept is to give you fashion prompts," Shaw told the Observer. "Everything is definitely a little bit of a push, but the idea is that everybody is supposed to be figuring out [fashion] for themselves."
For example, consider the mixing prints challenge, which Shaw likes most because it "pushes people out of their comfort zone." The challenge, which encourages readers to layer different prints that wouldn't normally go together, can be one of the scariest fashion tricks to master. Luckily, Shaw breaks it down into easy and understandable steps. Each challenge starts with an "Ease In" section, so for pattern play, it's wearing a solid outfit with one pattern and matching it with a second patterned accessory. Then it moves to the "Step It Up" section of the challenge, which includes the bold mixing of two prints. Finally, there's the "Feeling Brave" section, where Shaw encourages you to mix three different prints.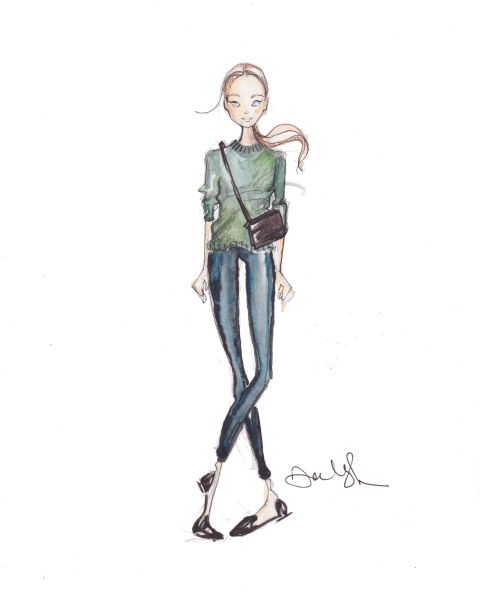 Other challenges include wearing red—starting with maybe a red lipstick, red nail polish, then red coats, red velvet pants, and eventually sporting the fiery hue from head-to-toe. Shaw said her goal was to make the book accessible to everyone, from people who don't consider themselves to be super fashionable, to the ones who are in the know on every designer's latest collection. She hopes by having different steps, people can jump around based on their comfort level.
But the real beauty she sees in these challenges? They can all be done from what's already hanging in your closet.
"I really wanted to make it more about renewed interest in your clothes," Shaw said. "For the people that are new to it, it's kind of just giving them a little extra push."
For Shaw, everything about this book was personal, from the illustrations to the challenges to the text. Each page's layout is similar to a mood board, with illustrations, fabrics and texts displayed on the page in a cohesive, but non-linear fashion.The layout and the challenges were the aspects of the book where Shaw's personality shone through most.
In one section, she describes how to spice up your spring wardrobe, going over her own spring color palette first: an array of Easter egg colors mixed with neutrals and bright pops including corals, mints and a dash of poppy. Then she poses questions about the colors you've never tried for the season and which ones you want to add to your wardrobe, adding a handwritten note on the side: "Did you just say black? I can't with you."
"I'm really taking the things that are personal to me and breaking those down for people," Shaw said. "I hope that overall, not just the illustrations, but the whole thing feels like you're reading a fashion journal from me."
Although she has sometimes been called the Olivia Pope of the fashion industry, she would not consider herself a minimalist, so don't expect any sections prompting you to try out white hats or minimal accessorizing.
"I definitely came out of the book with an even stronger idea of my own style," Shaw said. "In overanalyzing, I was still able to learn and take away new things."
So what's next on Shaw's agenda? After she wraps up her book tour, she's flirting with the idea of illustrating for product design. But before she can open up that chapter, she hopes to soak in this one, revamping people's interest in clothes and inspiring confidence in people on each page.