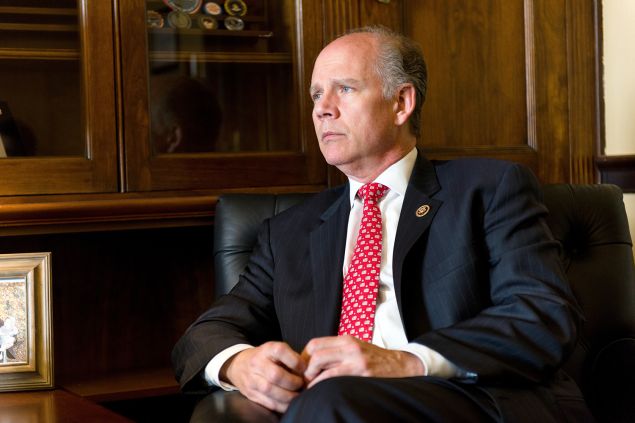 Staten Island Congressman Daniel Donovan, the city's sole Republican voice on the Hill, revealed today that he has decided to co-sponsor two bills that will offer legal status to so-called "DREAMers" who arrived in the U.S. as minors, as well as temporary protection from deportation and work authorization.
The Recognizing America's Children Act, sponsored by Florida Congressman Carlos Curbelo, would provide those immigrants vetted by the U.S. Department of Homeland Security three pathways toward legalization—higher education, service in the armed forces or work authorization. And after a five-year probationary period, they would be able to reapply for five-year permanent status.
Donovan, who represents Staten Island and fragments of Brooklyn, took to his Twitter account to announce that he is supporting the legislation.
Donovan is also a sponsor of the BRIDGE Act—Bar Removal of Individuals who Dream and Grow our Economy—which would protect undocumented young people brought to the United States as children in the event that President Donald Trump discontinues former President Barack Obama's Deferred Action for Childhood Arrivals program. DACA, which Obama created via executive order, allowed eligible immigrants to apply for temporary relief from arrest and expulsion.
It is unclear whether Trump will continue DACA, though he has said he would not end the program.
BRIDGE Act, sponsored by Colorado Congressman Mike Coffman, would effectively reinstate the program vial legislation.
The congressman praised both proposals in a statement sent to the Observer.
"Our immigration system is terribly broken and needs comprehensive repair," he said. "These individuals have contributed to our nation, the only place they've called home, by pursuing military service, higher education, and contributing to our economy, and I am proud to support this legislation which will make our nation stronger."
Donovan, whose district backed Trump overwhelmingly in the Republican primary and again in last November's election, has a history of standing up for the Queens-born mogul. After initially backing Ohio Gov. John Kasich, the congressman endorsed Trump, and stood by him even after a 2005 tape emerged of the candidate casually discussing sexual assault.
At the end of January, Donovan said that Trump's first executive order barring entry to people from Muslim-majority countries "is in America's best interest."
Still, he has lobbied for Congress to fully reimburse the NYPD for protecting Trump Tower, and said last month he would vote against repealing former President Barack Obama's Affordable Care Act without a replacement program in place—and so far, he has not yet stated whether he will support the GOP's replacement proposal.
And as for Trump's budget document, he described it as "step one" in the negotiating process and said that he remains committed to pushing for "consistent security funding" for New York City.
The congressman won re-election overwhelmingly last fall, but has recently had to face protests from more liberal constituents over his refusal to hold an in-person town hall last month.
Instead, Donovan hosted a public call-in with 14,000 constituents on February 16 in which he fielded questions about issues such as ACA, Trump's Muslim travel ban and climate change.
Last week, Donovan and Cesar Vargas—the first undocumented attorney admitted to the New York State Bar and a former staffer for Vermont Sen. Bernie Sanders 2016 presidential campaign—penned a joint op-ed for The Washington Post in which they recounted how they came to realize they agreed on a number of issues affecting undocumented immigrants after meeting and listening to each other.
Last month, Donovan met with Vargas and other immigrant activists to discuss immigration issues. Vargas took to his Facebook and Twitter accounts today to praise Donovan's move, though he reiterated calls for a town hall.
"A step in the right direction that we can build on to protect more of our community and can take us farther with a town hall to ensure the 11th Congressional District can know more about what is going on in Washington with issues like immigration, healthcare, the budget, environment, housing etc, that is affecting the country," Vargas said in a statement on his Facebook page.