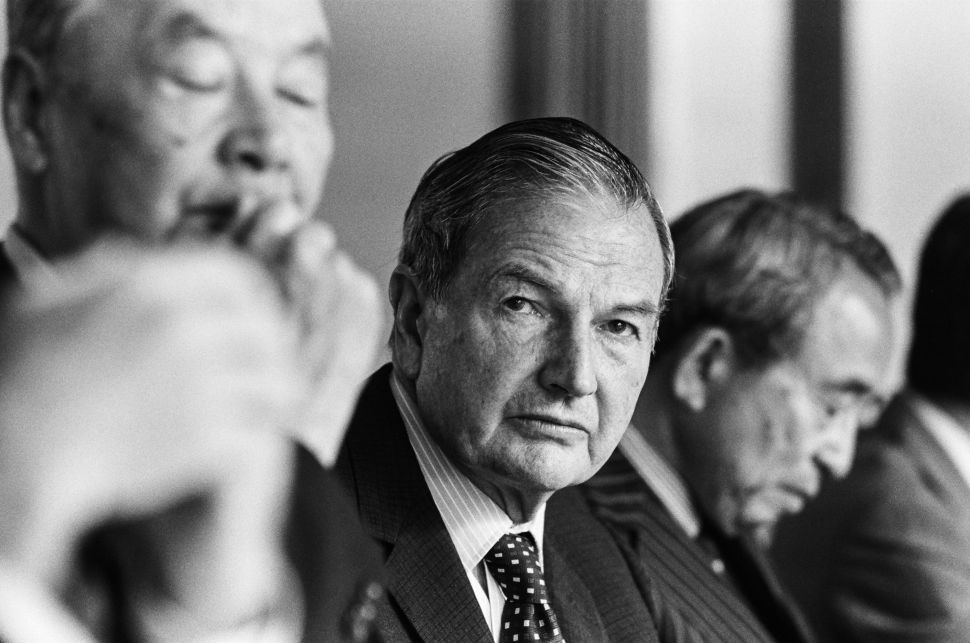 David Rockefeller passed away Monday, aged 101. He was the last surviving grandchild of the great oil tycoon, John D. Rockefeller, Sr. Born into great wealth and opulence—he grew up in the largest private residence in New York City—Rockefeller also inherited his famous family's sense of noblesse oblige. The New York Times estimates that, over the course of his life, he donated $900 million to charity.
Rockefeller was part of a vanishing and perhaps extinct breed of men—the Establishment Man. Serious and sober-minded gentlemen, well-born and from the East Coast elite, who left the Ivy League to serve their fellow man. They started foundations, served on boards, built skyscrapers, collected art, preserved nature and promoted high culture.
Yet it was all done with an air of calm reserve. Rockefeller was a gentleman who embodied the great Yankee virtues of thrift and hard work. Well into his nineties, he would work from his office in, naturally, Rockefeller Center, the complex built by his father during the Depression.
David Rockefeller was also a visionary who refused to accept the staid conventions of banking. In the 1970s, as chairman of Chase Manhattan, Rockefeller led a bold strategy of international expansion. He traveled the world and became a de facto global ambassador for American-style capitalism. In 1973, he even managed to open a branch office in the Soviet Union.
When Rockefeller traveled, he was received liked a head of state. His legendary Rolodex was so vast, it required an office unto its own. Both Presidents Carter and Nixon offered Rockefeller the post of Treasury Secretary. He turned each down.
For decades, David and his four brothers featured prominently in American life. (Their lone sister, Abby, known as "Babs," chose to live more privately.)
John D. III, the shy eldest brother, ran the philanthropic side of the family. Nelson, the gregarious politician, became synonymous with moderate republicanism. He was four times elected governor of New York, and later served as Gerald Ford's vice-president. Winthrop also caught the political bug, moved to Arkansas and became the first GOP governor since Reconstruction. Laurence, the eccentric, was a pioneering venture capitalist who later developed an interest in UFOs.
Despite being raised with great wealth and privilege, modesty and self-restraint were prized above all. Their father, John D. Rockefeller Jr., was a devout Christian who instilled in his children the values of Puritan rectitude. The children were expected to give 10 percent of their allowances to charity. Morning prayers were followed by exercise—David and his brothers roller-skated up 5th Avenue tailed by their Irish chauffeurs in a new-fangled electric car.
Childhood weekends were spent at family compound in Pocantico Hills, near Sleepy Hollow. Summers were spent at Eyrie, the 100-room cottage in Seal Harbor. David's parents felt Bar Harbor was "too flashy and ostentatious."
After Harvard, Rockefeller went to the London School of Economics where his tutor was Friedrich von Hayek. While in London, Rockefeller befriended John F. Kennedy, a fellow Harvard man, and dated Kennedy's younger sister, Kathleen. Then it was off to the University of Chicago (founded by his grandfather), where he earned a Ph.D. in economics.
But here's where David Rockefeller was different. Many Establishment Men would have joined a white-shoe investment bank or found a comforting post in academia. Rockefeller instead headed to the less-refined world of urban politics. He became a secretary to New York's nominally Republican Mayor Fiorello LaGuardia. His salary was $1 per year.
When World War II broke out, Rockefeller joined the army. He served with military intelligence in North Africa and France. When he got to Paris, he lunched with Pablo Picasso. But it was after the war, when Rockefeller joined Chase Bank, which had long been known as the family's bank, that David began to leave his mark on the world.
Rockefeller pressed the bank to broaden its retail customer base and expand into foreign markets and. But it was more than the bottom line he was after. Rockefeller had a missionary's zeal to bring free enterprise to the masses.
Name just about any redoubt of the establishment and David Rockefeller was there. He founded the Trilateral Commission. He was chairman of the Council on Foreign Relations. Despite what you may read in the more febrile corners of the Internet, Rockefeller wasn't part of any Globalist conspiracy. Rather, these groups were the outgrowth of a naïve view that businessmen of the world could sit down and hammer out a deal. Assuming everyone is as reasonable as David Rockefeller.
In our studiously progressive age, Mr. Rockefeller was, frankly, an anachronism. To many today, he would probably be judged largely on his race, wealth and gender, amongst other identities.
Yet, I can't escape the feeling that we've lost something larger than a man. Perhaps, something we don't fully realize. Men like Rockefeller served the nation quietly and unostentatiously. His privileges, as great as they were, were always seen as coming with a strong sense of duty. It's something to ponder as you stroll past Rockefeller Center and see the bronze statue of Atlas, the Titan who held the skies up on his shoulders.
Eddy Elfenbein is the portfolio manager of the AdvisorShares Focused Equity ETF (CWS). He's on Twitter at @EddyElfenbein.