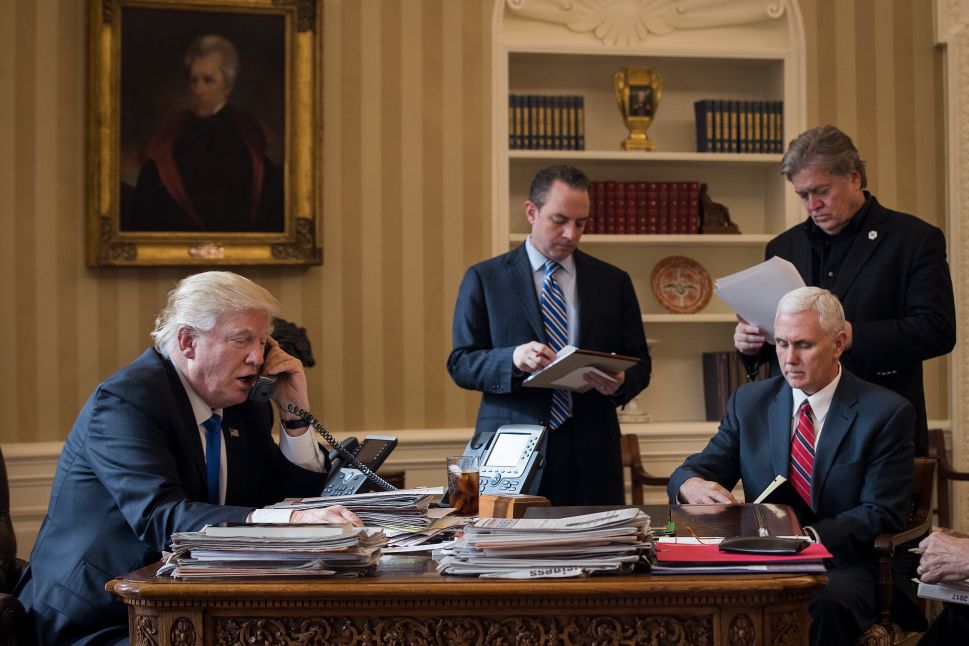 Allegations of Russian election interference have grown from an inability to provide substantive evidence to corroborate the claim that the Russian government hacked Clinton campaign Chairman John Podesta's emails to sensationalizing any link between Trump officials and Russian officials as evidence of a sinister plot to get President Donald Trump elected. The Democratic Party is using the Russian narrative as a public relations strategy so that it can unify its base around the perceived enemy of Russia without having to make any policy concessions that would offend its base or network of donors.
On March 9, BuzzFeed reported that Senate Democrats—who chose to remain anonymous—are starting to acknowledge that their hysteria over alleged Russian election interference has been mostly political theater. "Even some Democrats on the Intelligence Committee now quietly admit, after several briefings and preliminary inquiries, they don't expect to find evidence of active, informed collusion between the Trump campaign and known Russian intelligence operatives," wrote BuzzFeed's Ali Watkins. "Among the Intelligence Committee's rank and file, there's a tangible frustration over what one official called 'wildly inflated' expectations surrounding the panel's fledgling investigation." The mainstream media and Democratic establishment have received immense attention for inflating claims of perceived links between Trump and Russia. This latest report signals that some Democrats are starting to express frustration that there is no evidence to substantiate their hysteria about Russia.
On March 11, The Hill reported that some Democrats in the House are bracing for failure in their search for actual evidence. Several Democrats interviewed are already preparing to blame Republicans on the House Intelligence Committee and threaten to abandon the investigation if they don't like the way its being conducted. Rep. Jim Himes told The Hill, "We're certainly not there yet," but this rhetoric provides Democrats with an escape plan when things likely backfire. The Hill also reported that the former U.S. Ambassadors to Russia under former President Barack Obama, Michael McFaul and John Beyrle, have criticized Democrats for conflating diplomatic meetings with the Russian Ambassador to the United States as criminal behavior.
Looking at how these partisans have inflated the allegations, it's glaringly obvious that the Russia narrative is just a marketing and fundraising opportunity for Democrats.
Rep. Eric Swalwell tweeted on March 9, "Help me connect the #TrumpRussia dots. Submit your tips & we'll follow the evidence & post online. Join us here." In essence, Swalwell is propagating Trump-Russia connections based on unsubstantiated and biased claims from the partisans who reply to his solicitation, rather than providing his constituents with the information Congress discovers in its investigations.
On the same day, Democratic Party political fundraiser Scott Dworkin tweeted a baseless allegation that Obamacare repeal is a Russian conspiracy. "If u were Putin & wanted to kill as many Americans as possible—wouldn't taking away their healthcare do the trick? #trumprussia #russiagate." Despite this tweet being an outrageous, satirical allegation, Dworkin's feed has focused on propagating Russia hysteria. Surely, the Russia narrative is proving to be a lucrative fundraising opportunity that has allowed him to elevate himself as a leading purveyor of Russia hysteria.
Though Russia is turning out to be a valuable tool for the Democratic establishment to rally its support base, the party's favorability ratings remain several points below Trump's. Nevertheless, the Democratic Party continues to focus on Russia conspiracy theories rather than policies that could improve the lives of low-income, working and middle class Americans. The Democrats' main sticking point in it's opposition to Trump is further repelling the thousands of voters that were disenfranchised by Clinton's candidacy and the establishment's failed status quo approach.