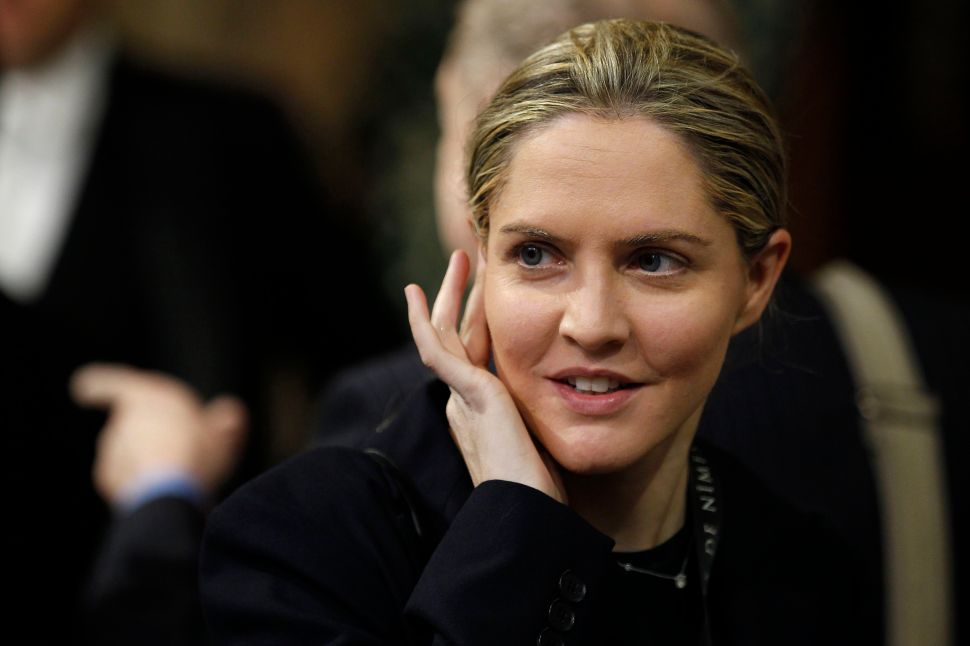 Since her short-lived political career, Louise Mensch has developed a reputation among Clinton partisans as a constant purveyor of Russian election interference allegations and conspiracy theories. Like several Clinton partisans, her Twitter feed is completely focused on the anti-Russia narrative.
On November 2016, the pro-Brexit former Conservative member of Parliament managed to transmogrify a tweet about the passing of Leonard Cohen—who is Canadian—into a pro-America, anti-Russia attack. In January 2017, she claimed without any evidence that a terrorist attack at a nightclub in Istanbul was a false-flag Russian operation.
On March 20, Mensch retweeted a tweet claiming, "We are at war with Russia." Mensch has previously called for all out war on Russia, with "precision bombing raids. Bank hacks. Massive cyber war." This war mongering hysteria from Mensch has lead her to claim that anything she disagrees with is a Russian plot, including her insistence that disgraced former Rep. Anthony Weiner was sexting a Russian hacker instead of a 15 year-old girl—despite the teen being interviewed in person. When Newsweek's Kurt Eichenwald was sent a gif by a Twitter user to trigger his epilepsy, Mensch claimed that a Russian did it, though the FBI recently arrested an American for the attack.
Her false claims venture into other topics too. In 2012, Mensch told reporters that she suffered ill-effects of taking hard drugs in her 20s while in the music industry. "I did serious drugs, and it messed with my head, and it's a terrible thing, and I do not want to see other young people exposed to that by legalization," Mensch said on BBC Question Time. In 2015, The Independent reported that Mensch tried to smear the U.K.'s Labor Party as anti-Semitic by citing her own search history. On January 27 of this year, she claimed that NFL quarterback Colin Kaepernick was the single greatest recruiter for Donald Trump because he took a stand against racism.
Though many of her claims lack evidence, the Democratic establishment increasingly praises Mensch for her work. Former President Barack Obama's Harvard Law professor Laurence Tribe tweeted Mensch's embarrassing recent interview with BBC, during which she defended propagating a conspiracy theory that Putin murdered Andrew Breitbart. "Mensch is now routinely cited as some sort of credible journalistic source on Russia conspiracies by unhinged, mainstream anti-Trump fanatics such as MSNBC and Harvard Law professor Laurence Tribe, who will launder any insanity as long as it promotes their Tom Clancy fever dreams of Trump as a Kremlin asset," wrote Glenn Greenwald for The Intercept on March 7.
The New York Times lent credence to Mensch's conspiracy theories by publishing her recent op-ed about Russian hacking. Several of New York Times' reporters criticized Mensch and refuted a claim she made in the op-ed about a FISA court order issued for the FBI to examine communications between the Trump campaign and Russian banks. New York Times reporter Eric Lichtblau tweeted, "You've conned your followers @LouiseMensch in believing you have any clue what you're talking about and created a shitstorm of ignorance." Despite Mensch's long record of fabricating claims and perpetuating conspiracy theories, several Democrats have elevated her work. Rep. Ted Lieu commended Mensch on Twitter, calling Mensch's New York Times op-ed a "great piece." Former DNC Interim Chair Donna Brazile, who was exposed by WikiLeaks for helping the Clinton campaign cheat during the Democratic primaries, tweeted at Mensch in response to the op-ed, "thank you for great journalism." Democratic Party fundraiser Scott Dworkin regularly cites and converses with Mensch about Russia.
This embrace of Mensch and her Russian conspiracy theories from Democratic leadership illuminates how desperate the Democratic Party is to propagate the Russian hysteria narrative in lieu of advocating policy stances that would benefit voters. The party would rather praise conservative war hawks—who salivate at the thought of escalating military conflict with Russia—than develop meaningful policies.