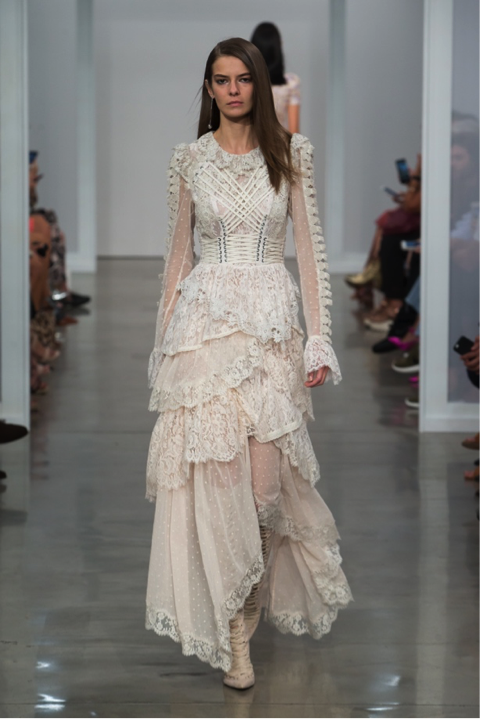 Is it bridal or is it red carpet? Many of the wedding industry's most sophisticated designers are creating gowns that would be at home with a wall of paparazzi. In a neat switcheroo, fashion-forward talents are coming up with ensembles suited for a bride. Whether the special occasion involves picking up a statuette or pledging to love and cherish, today's shoppers have more possibilities than ever.
Zimmerman (top image)
Extreme textures and flirty layers give this dress hand-crafted, artisanal appeal. What might look like grandma's tablecloth in lesser hands becomes the ultimate cool-girl wedding frock, thanks to Aussie ready-to-wear designer Zimmerman's delightful hodgepodge of cotton embroidery and lace.
Alon Livne White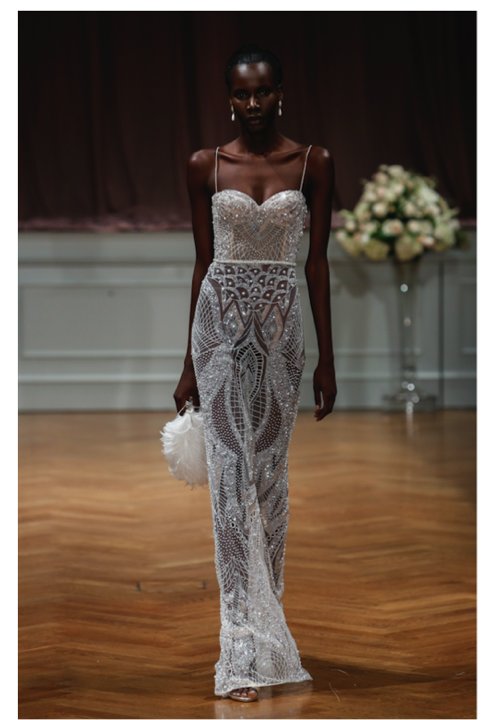 If the word you're longing to hear as you march down the aisle is, "yowsa," this bridal gown will do the trick. The silhouette hugs every curve, strategically placed embroidered lace, pearls, sequins and stones teases the eye, and a nude lining keeps it legal. And after the wedding, should you receive an invitation to a costume ball themed "Naughty Art Nouveau," you're all set.
Rosie Assoulin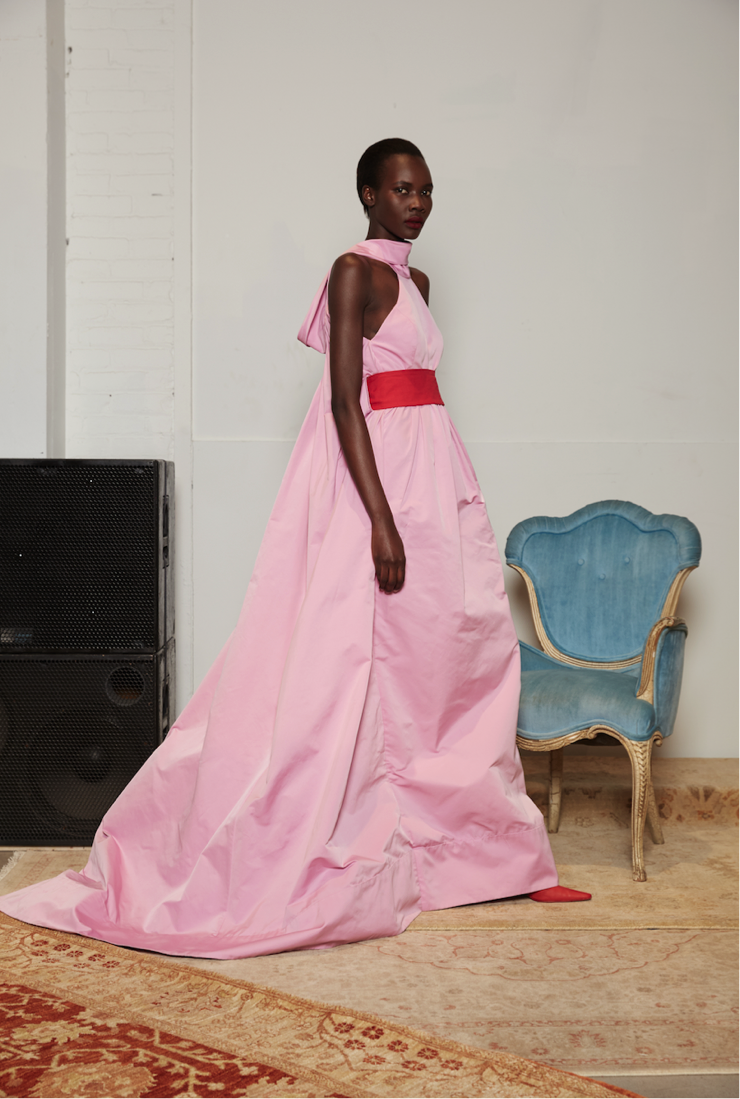 Pink this perfect demands attention, so why not take it to the wedding aisle? The peony color is flattering and festive—a happy hue for celebrating one of life's biggest moments, while the Watteau train and sumptuous tafetta add a formal fillip. While this gown was a standout in Assoulin's fall 2017 ready-to-wear show (the designer named it the Blow Pop dress), it's hard to imagine a more charming ensemble for the bride who loves pink.
Yolan Cris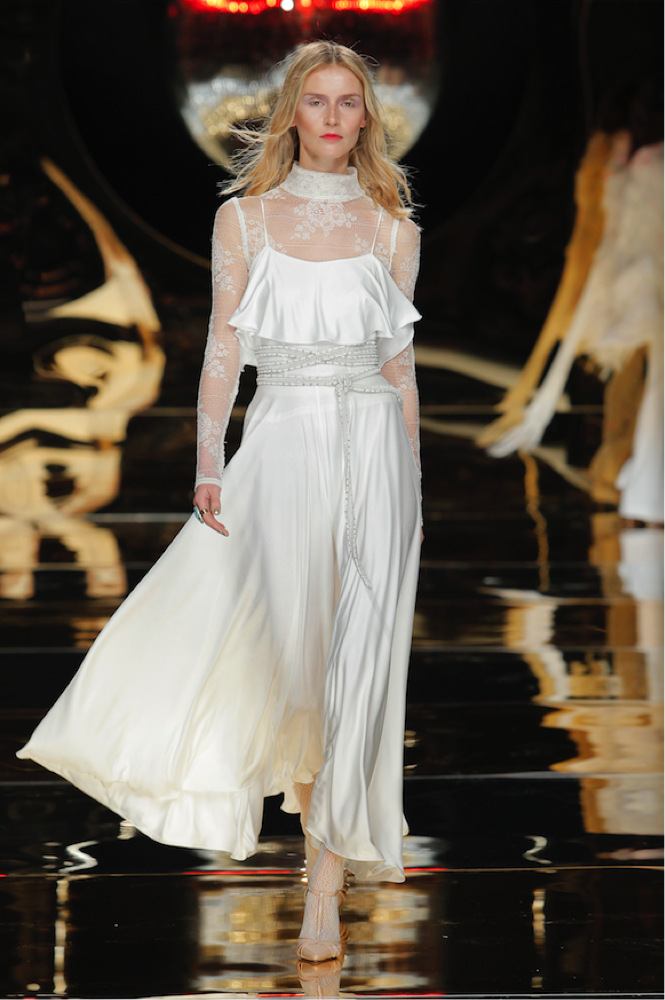 Sundress-over-turtleneck was a thing on ready-to-wear runways a couple of seasons back. When the sisters behind bridal label Yolan Cris explored the theme this year, the result was a little 70's, a little edgy and totally unexpected. We can picture the Chantilly lace blouse with a pair of jeans—or the crepe slipdress all on its own beside a pool in the Aegean.
Lela Rose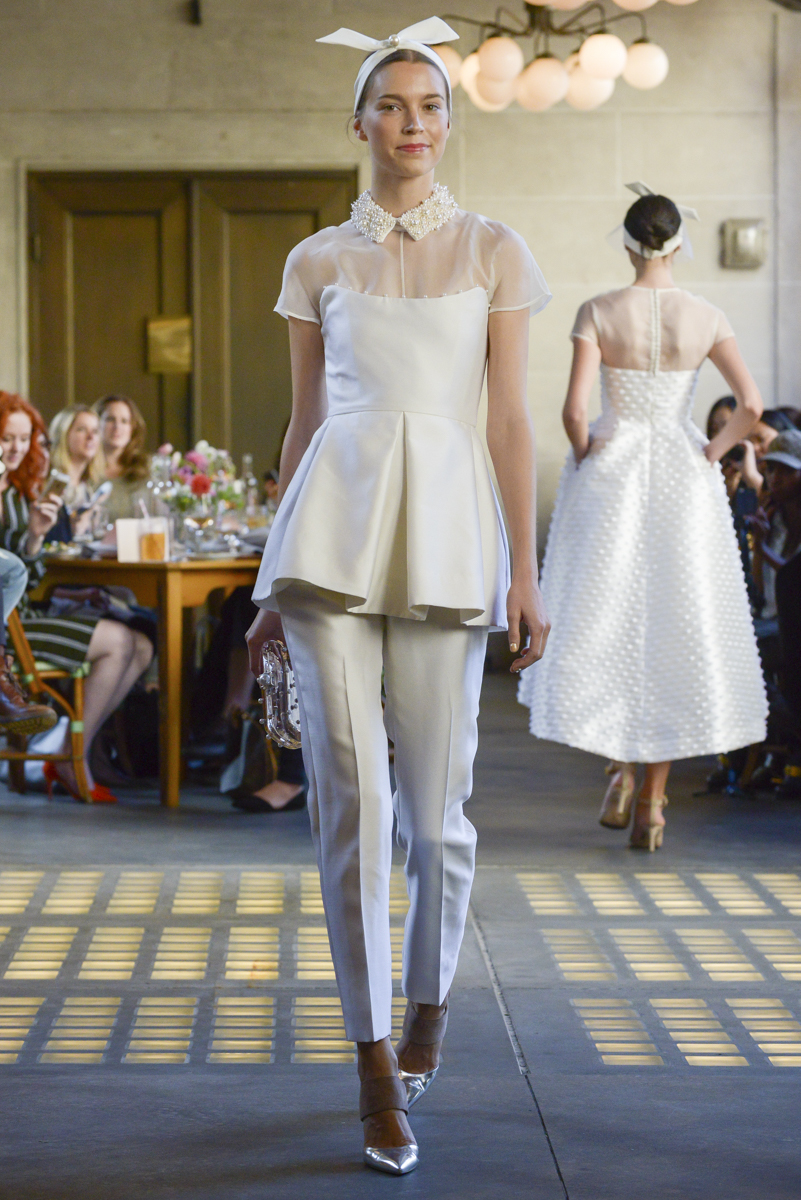 The pearl-encrusted collar and lustrous silk-and-wool fabric give this sassy pants ensemble plenty of wedding cred, and yet we love the athletic, ready-to-wear spirit. (Add a tennis racquet, and you could almost picture it at Wimbledon.) After the wedding, remove the detachable collar and mix the peplum top with skinny black trousers, or pair those cropped pants with a black T-shirt, and you're ready for the next party.
Rime-Arodaky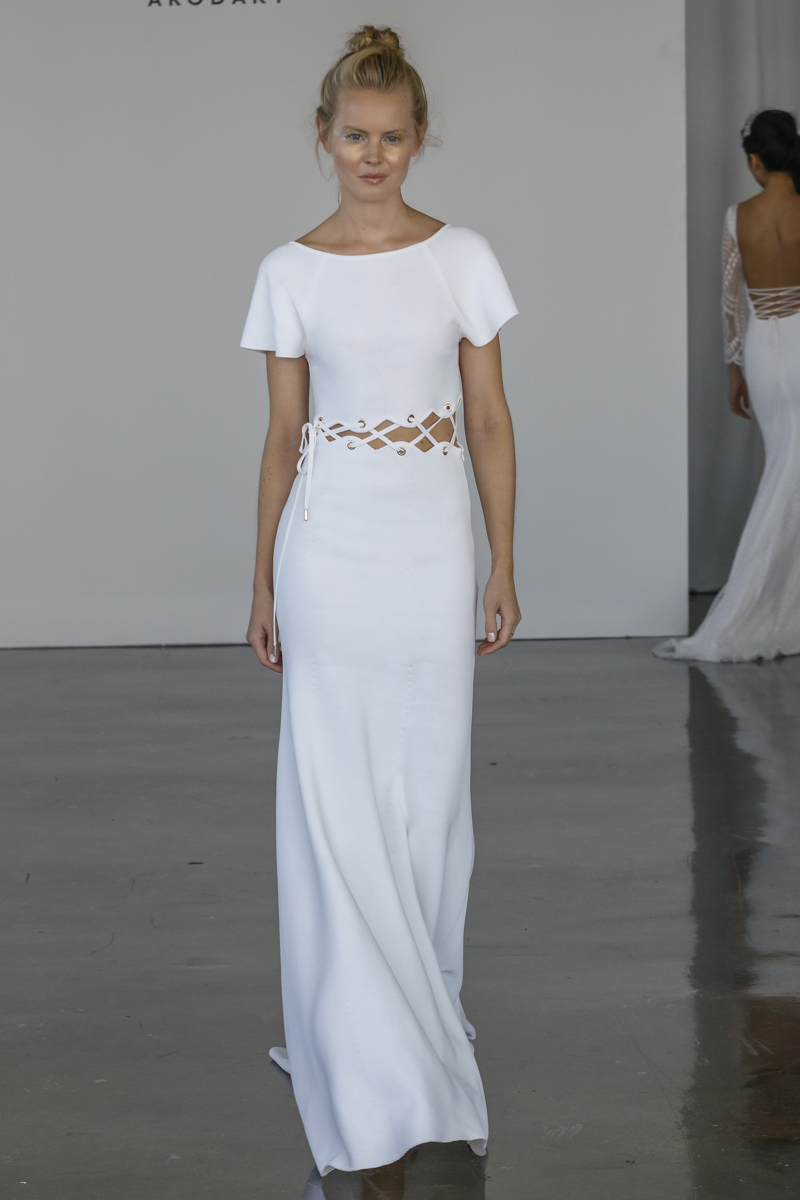 Grommets and cording are words infrequently found in the bridal dictionary, but Aradokey discovered how to make them key elements of one of the season's coolest wedding dresses. The ultimate anti-meringue gown is a sporty knit surprise, as the cropped top and liquid skirt are laced together like a sneaker. Under the golden eyelets, a bit of fishnet provides tongue-in-cheek "coverage."
Vera Wang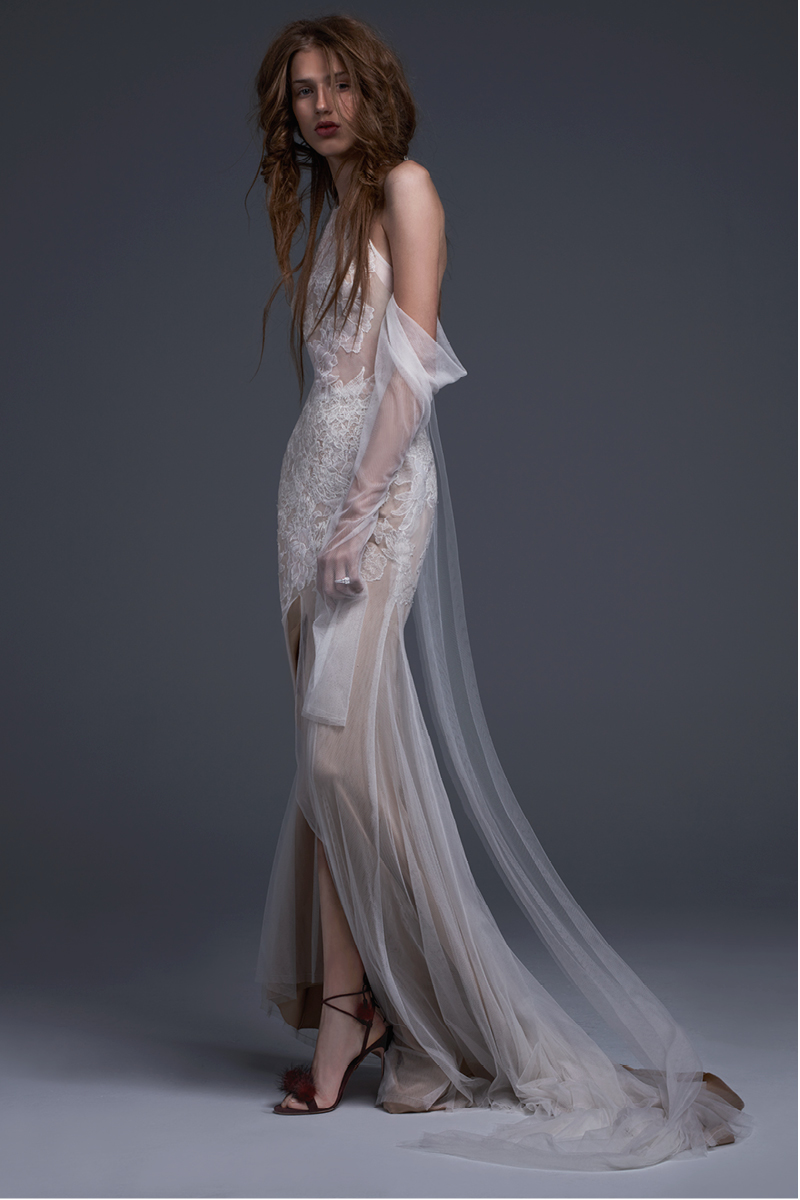 Lingerie-inspired gowns sound just right for making an appearance on the red carpet at Cannes, not so much for gliding down the aisle on your father's arm. And yet wedding-wear's most enduring designer embraced the slouchy, just-out-of-bed look in this French tulle halter gown, complete with a hand-placed Chantilly lace appliqué, front slit and nude lining. The boldest bride can wear it to her wedding and take it along on the honeymoon.
Reem Acra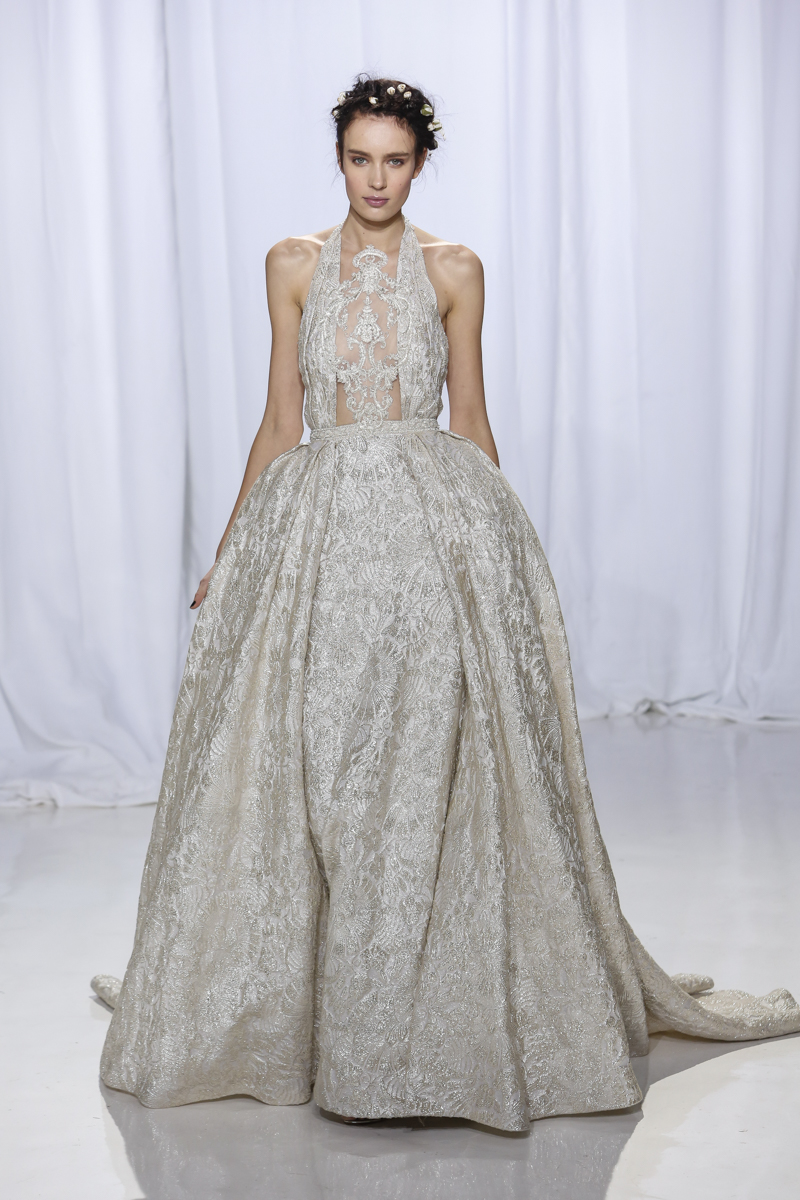 Is it a wedding confection masquerading as a red-carpet frock, or a special event gown stepping into bridal territory? Reem Acra had it both ways with this over-the-top brocade ballgown with an embroidered halter bodice—she named it "couture" and showed it in both her bridal and ready-to-wear collections. Should you be a multitasker unafraid of being seen in the same thing twice, by all means wear it while tying the knot and again on the charity ball circuit.
Marchesa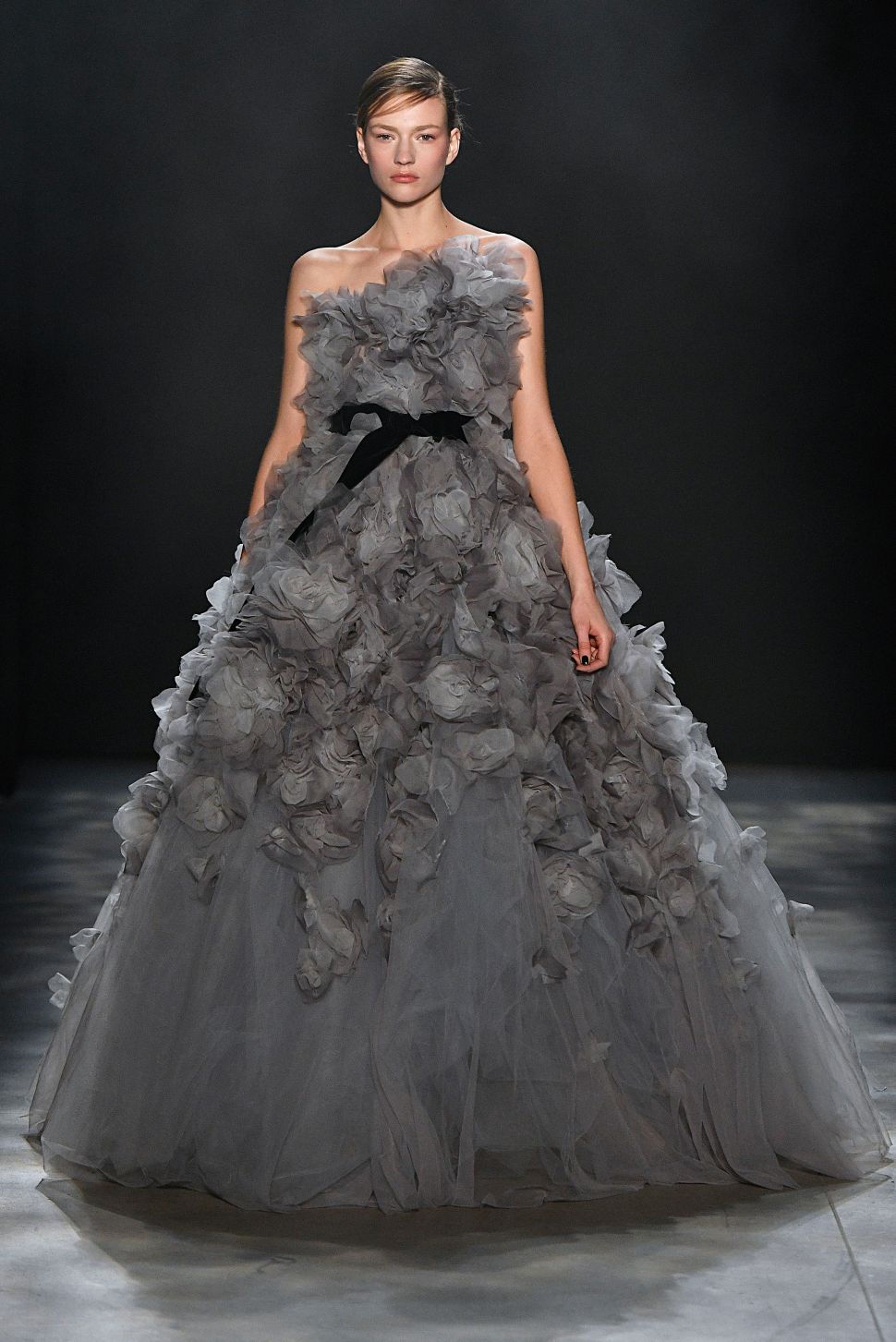 The ultra-feminine New York team behind some of Hollywood's most talented women—Octavia Spencer, Oliva Culpo, Viola Davis, Sofia Vergara— isn't capable of creating a gown that isn't drop-dead romantic. Case in point: this flower-festooned tulle gown in cloudy silver-and-rose ombré. We love how the simple black velvet waist ribbon punctuates the exuberant embellishments.
Rachel Leonard was the fashion director of Brides Magazine for 18 years and is currently the Editorial Director for The Bridal Council. Rachel can be followed on Instagram @_rachelleonard. 
A marketing executive currently living in Arizona, Sally Kilbridge spent 20+ years as an editor at Brides Magazine. She indulges her love of travel and romance on her website, a definitive guide to destination weddings.