Photographing the Underwest cake donuts.
Lauren Kallen
Jersey City's Baonanas, a regular at Smorgasburg.
Lauren Kallen
Taiyaki NYC had a long line for their waffle fish cones topped with matcha ice cream.
Lauren Kallen
One of the outdoor Instagram walls at the Viva la Juicy Sucrè Garden.
Lauren Kallen
Baba Cool's dragonfruit bowls were suggested as a good starter, since they're basically breakfast.
Lauren Kallen
The latest food trend is upgraded nostalgia foods.
Lauren Kallen
Jae NYC makes Twinkies.
Lauren Kallen
It's much easier to Instagram the warm Taiyaki waffle before it melts.
Lauren Kallen
Founders Miraya Berke and Liang Shi.
Lauren Kallen
The line started at 11 in the morning.
Lauren Kallen
A perfect posing spot for food bloggers.
Lauren Kallen
Berke spent the day before the festival crafting the entryway.
Lauren Kallen
The Viva la Juicy Sucrè Garden was inspired by Juicy Couture's new perfume.
Lauren Kallen
Dylan's Candy Bar sponsored a free Willy Wonka experience.
Lauren Kallen
At noon on a Sunday, most Williamsburg residents are either safely in bed or patiently waiting for a plate of overpriced eggs at brunch. But last Sunday, a whole slew of New Yorkers gathered outside of the Dobbin St. event space, ready for the chance to try Instagram's most infamous sweets.
Liang Shi and Miraya Berke are the entrepreneurs behind the Dessert Goals festival, which sold out alarmingly quickly (as in, under 10 minutes in its first year, and under two in 2017). The unavailable tickets didn't deter social media fanatics, who continued to RSVP on Facebook until there were 41,000 people marked as attending.
"Her background is in event production, mine is in design—and what you're seeing is the merging of the two sides," Shi explained, standing alongside pastel-clad patrons who sipped boxed water and clutched fish cones. Decked out in matching denim jackets with cupcake pins designed by Shi, the women were putting the finishing touches on the separate Instagram workshops, which were happening down the street and were hosted by accounts like Brunch Boys.
The festival was peak millennial, with a Viva la Juicy Sucrè Instagram Garden decorated in Tumblr pink that was sponsored by Bustle and Juicy Couture's new perfume (there were no iconic velour sweatsuits). "We designed custom backgrounds for people to take Instagram photos. Having great lighting is so important," Shi said, referring to the fuzzy pink backdrops and floral step-and-repeat people could pose in front of, as long as their ice cream didn't melt first. "We spent a lot of time on Pinterest looking for ideas. I spray painted balloons for the entryway all day yesterday," Berke added.
Last summer while at Bingbox, the pair realized the city had festivals for everything, including brunch, but there somehow wasn't a dessert celebration. Dessert Goals was born, and launched cult-favorite sweets like Wowfulls and DŌ, both of which now have busy brick-and-mortar locations.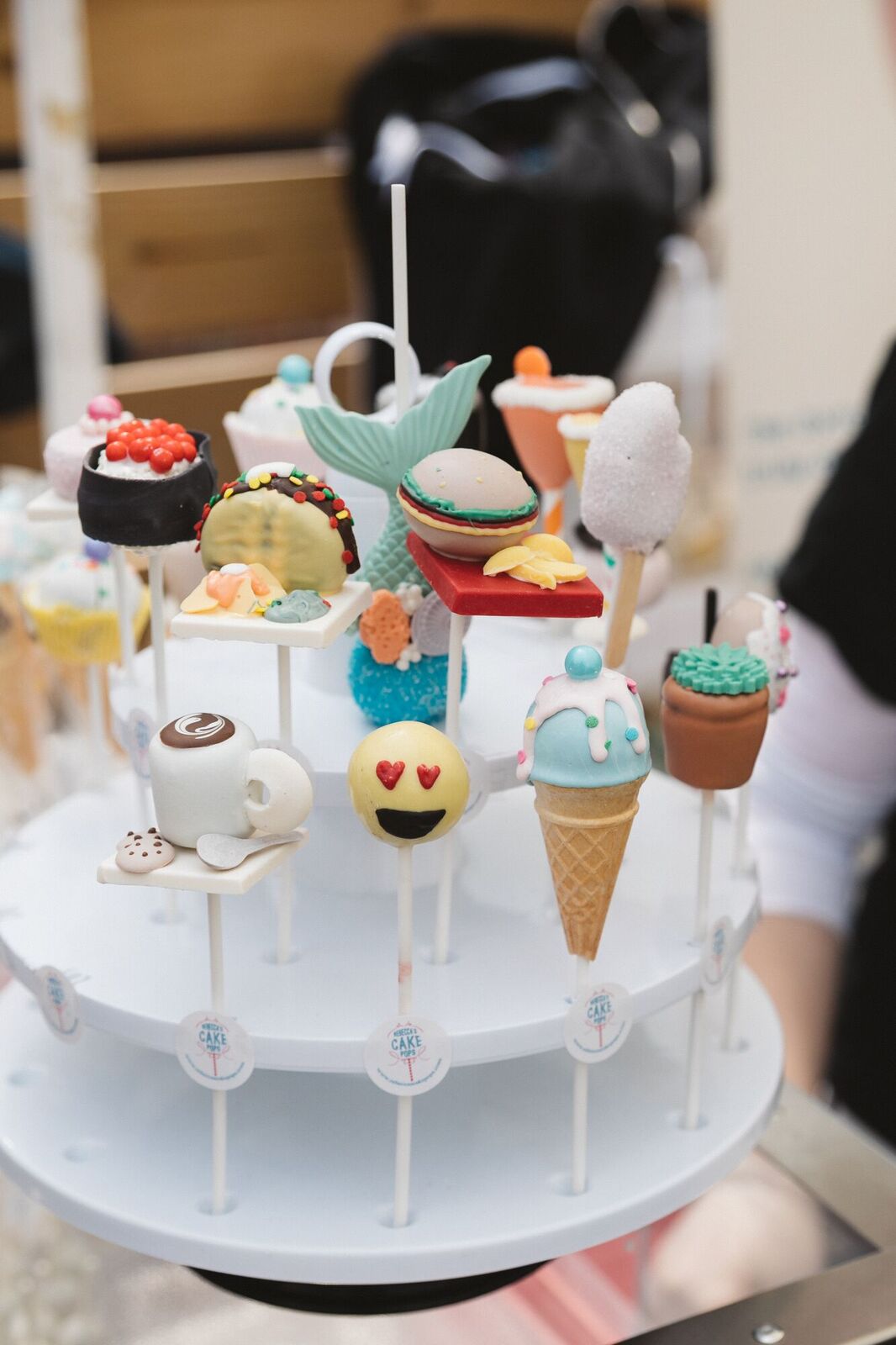 The next up-and-comer they've found is Tribeca's secret Ring Ding Bar. "The next trend is people who are taking old, unhealthy desserts and snacks and redoing them in really high quality, artisanal ways. We have Jessie's Nutty Cups, like Reese's Peanut Butter Cups done in a much more high quality way. Jae NYC Eats has artisanal Twinkies," Shi told the Observer. Another favorite is Call Me Caramel, a small Brooklyn-based brand making gruyere caramels. "It's really stinky in the good cheese way, a crazy mix of sweet, savory and umami. It is the perfect dessert," Shi promised.
"Last year we just bought all the candy, and this year we got Dylan's Candy Bar on board which was our childhood dream," Berke announced, cupcake purse by her side, wearing glitter dusted Keds and a hot pink dress. The entire event is a childhood dream brought to life, with unlimited dessert, and no parental influence.
Next, the festival will expand to Los Angeles in June, where they say the current trend is cotton candy. If you didn't manage to get tickets in the two minutes they were available, consider planning a trip to L.A. for the sugar rush.