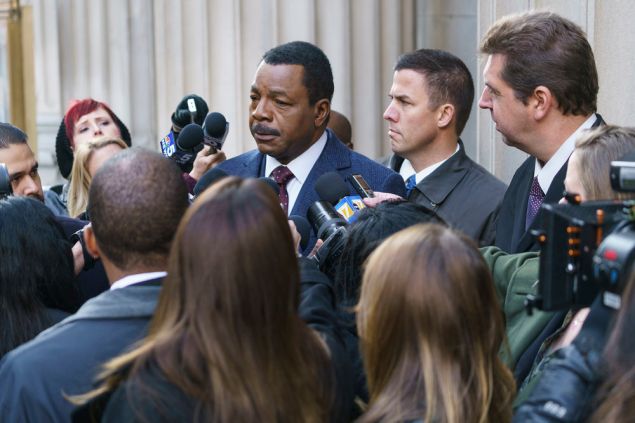 The Dick Wolf world is getting even bigger as another of his Chicago-set shows debuts.
Chicago Justice joins Chicago Fire, Chicago P.D. and Chicago Med as the newest entity in what feels like the Law & Order creator's quest for complete television domination. The series will air on Sunday, Tuesday, Wednesday and Thursday nights, respectively.
The newest series in this universe, which revolves around the team working in the State's Attorney's office, will begin as part of a three-hour crossover event featuring a storyline that weaves through episodes of Fire and PD (while spending some time at Med as well) before flowing right into Justice. This introduction to Justice will air on Wednesday night at 10pm before the series moves to its regular time slot, Sundays at 9pm.
Justice shares a bit more DNA with the original Law & Order franchise than the other Chicago set shows, says Executive Producer Michael Chernuchin. "Peter Stone, who is the Deputy Chief of the Special Prosecutions Bureau on Justice, is Ben Stone's son. Ben was one of the original characters on Law & Order (played by Michael Moriarty), so there's a very real connection there."
Cheruchin goes on to explain that Peter Stone didn't originally set out to be like his father. "He actually rejected his famous dad. He wanted to get as far away from being Ben Stone's son as he could, so he played professional baseball, for the Cubs no less, but he got hurt and ended up here."
He laughs a little as he says, "Real Law & Order freaks will get a kick out of it when Peter refers to his dad, saying he's 'back East practicing law.'"
Wolf told attendees of the Television Critics Association in January that using 'justice' in the title and avoiding the word 'law' was by design.
"They are very different shows," said Wolf. "I didn't want them compared directly because there is not the bifurcated structure of Law & Order, but any comparisons are welcome. … I've described to other people that the four shows are a joy because it's kind of like the human body: Fire is the crotch, P.D. is the muscle, Med is the heart, and this show is the brain."
While the word 'law' might not be in the title, there are plenty of longtime franchise players working on the creative team behind the series – like Chernuchin who worked on the mothership, as well as the spin off L&O: Criminal Intent, with stints on 24, Rogue and Black Sails. Also in the writer's room is Richard Sweren who's written on the mothership as well as L&O: Los Angeles. Sweren is a former Manhattan and Brooklyn prosecutor.
Chernuchin says also working in the writers room are a woman who was in Air Force Intelligence and another female who was a cop and a lawyer, as well as a writer who worked on House.
"I love working on this kind of [show] because it gives me soap box and I can talk about whatever is pissing me off in the world at that moment," says Chernuchin. We deal with real issues and we don't shy away from controversial issues. You write something you're passionate about and two weeks later it's on the air. I love that."
Chernuchin elaborates on his writing goals for the series, revealing, "I tell my writers that in every episode I want someone throwing a shoe at the television. I want to piss [the viewers] off. The best is when everyone is throwing things. That means you've pissed off both sides. We try to express every opinion about an issue through our characters. So a perfect show, and it's really hard to reach, is when every character has a different opinion — and they're all right. That's what I strive for."
He says that this thinking led to one of his favorite moments as a writer. "I wrote this episode of Law & Order and I got two letters the same day – one from the Jewish Anti-defamation League and one from the Arab Anti-defamation League, both yelling at me. I said, 'that's a perfect episode.'"
Explaining a bit more about the inner workings of the series, Chernuchin says, "People who watched Law & Order will recognize Justice as part of the lineage no doubt. The episodes will start much in the same way the mothership did, but we don't have what I call, 'two schmucks find a dead body.' What happens is the cops have turned the case over for the grand jury, a hearing or the trial and that's when our investigators start their work. The investigators have to make the case. The cool thing I learned is that these investigators have more jurisdiction than the cops. They work with cops – they carry badges and guns, they can arrest or shoot you, but keep in mind that the States Attorney is the second most powerful person in Chicago, behind only the mayor."
Playing that State's Attorney, Mark Jeffries, is actor Carl Weathers.
Weathers says that Jeffries relationship with Peter Stone is unique in that, "Stone is appointed to his position while Jeffries is an elected official so their goals are often different. Jeffries believes in Stone but he has to keep an eye on him. There's definitely conflict between the two men and we'll show how that plays out."
Getting the call from Dick Wolf to take part in Justice was exciting, admits Weathers. "Sometimes you meet for things that you're like, 'ok we'll see about this,' but because this is a Dick Wolf show and the pilot was very written well and this character was so interesting, I really to do this."
He smiles as he says, "This character has some real cajones! He's a man who's in a powerful position in the city. He's a politician and at the same time he's a servant. There are so many aspects about him that I find fascinating."
The smile turns into some laughter as Weathers adds, "To quote that line – 'they like me, they really like me' – or – 'they wanted me they really wanted me!' So yeah, it was nice to get the call."
Now, Weathers is fully committed to the work, saying, "I don't know the exact direction of the characters, that's up to the writers, but I can tell you that I'll be throwing everything that I can as an actor and human being to give Jeffries depth, strength, and at the same time find whatever flaws are in him."
Primarily regarded as a film actor, Weathers says that he's extremely happy to be stepping into series television. "When you get up and you want to go to work, that's a good feeling. The writing, the characters, the stories we're telling, being in such a dynamic city — being able to do all that gives me a good feeling at this point in my life. Fortunately, having been at this for 46 years now, I have a bit of perspective on how to do what I do. So, the answer is, right now I'm just really digging this!"
Chicago Justice debuts Wednesday, March 1 at 10pm e/p on NBC. The series will regularly air at 9pm e/p Sundays on NBC.