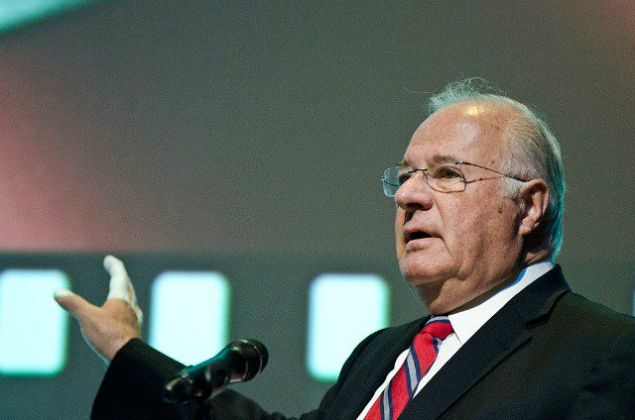 DNAinfo, a group of neighborhood news websites owned by businessman and Republican donor Joe Ricketts, will announce today that it has acquired Gothamist's network of eight local news blogs. The terms of the deal were not disclosed, but it is reportedly in the low seven figures.
As part of the merger, Gothamist's New York website will become the "official blog" of DNAinfo New York—both sites will continue to focus on the five boroughs. The Chicago branches of each site will operate under the same system, while Gothamist's Los Angeles, San Francisco and Washington, D.C. sites will remain independent.
Ricketts, the billionaire founder of TD Ameritrade, founded DNAinfo New York in 2009—the Chicago site followed in 2012.
But he has become better known in recent years for backing Republican causes. In 2010 he founded the Ending Spending Super PAC, which was accused of using hard line tactics to link President Obama with spiritual adviser Jeremiah Wright during the 2012 election. One proposal the PAC put forward referred to Obama as "a metrosexual, black Abe Lincoln."
While several members of the Ricketts family (which owns the Chicago Cubs) opposed President Donald Trump during the 2016 primaries, Ricketts donated over $1 million to his campaign. Trump also nominated Todd Ricketts (Joe's son) as deputy commerce secretary.
In spite of this, Ricketts said in a statement that the DNAinfo/Gothamist newsrooms will remain editorially independent and continue to focus on local news.
"(Gothamist's) experience in developing multiple city blogs fits right in with our vision for future expansion," Ricketts said. "We think the result will be the most potent online source of neighborhood news and information available anywhere."
Jen Chung and Jake Dobkin, who co-founded the Gothamist blog network in 2003, will become senior executives at DNAinfo, reporting to executive vice president and chief operating officer Dan Swartz (who was formerly DNAinfo's chief marketing officer).
"Until we met Joe Ricketts we never found a partner who shared our enthusiasm for neighborhood and city news," Dobkin told the Observer in an email. "I think the combination of DNAinfo's great neighborhood reporting with our citywide coverage will create a great site for all New Yorkers. Together we'll have the ability to tackle more stories in every borough of the city and to look at smart expansion."
Dobkin also said that Ricketts' history as a Republican donor did not give him any pause because DNAinfo "plays it straight with the news." He also revealed that Ricketts wants to add an opinion section to the site, where liberals and conservatives can debate city issues.
There was no word on whether any layoffs would result from the new agreement, although five reporters were let go from DNAinfo last month.