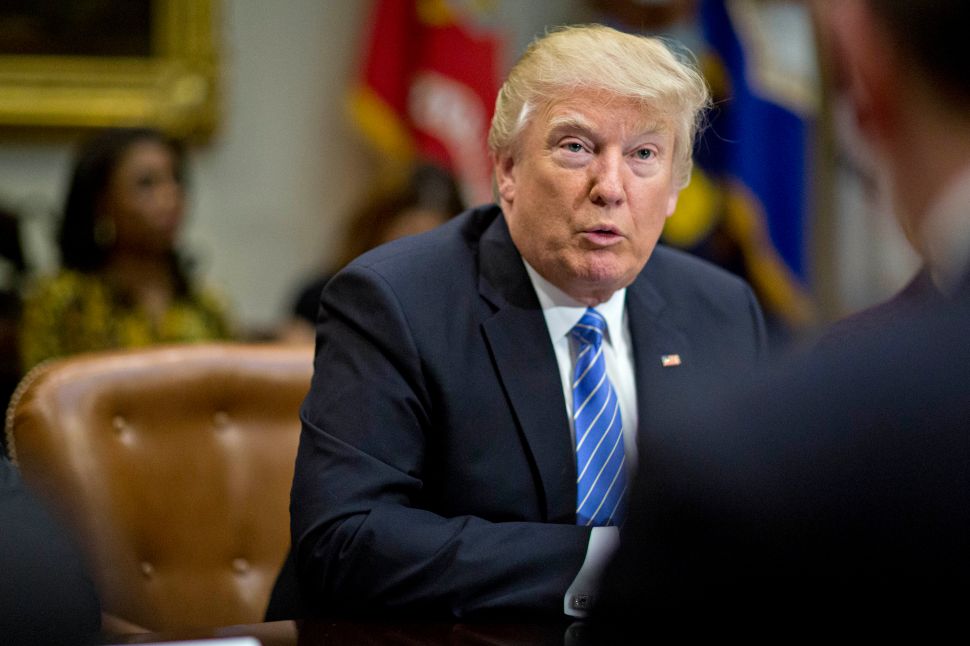 Throughout the 2016 election, the mainstream media obsessed over Donald Trump, sensationalizing his outrageous comments on an almost weekly basis. The narrative went from mocking that he was running for president to disbelief that he won the Republican primaries. From there, political pundits assumed that Hillary Clinton would have an easy win. It didn't happen, and the mainstream media and Democratic Party have digested this bitter pill with the same tone-deaf and substance free rhetoric that lost Clinton the election in the first place.
Trump's approval ratings have plummeted since he assumed office; the latest Gallup poll places his approval rating at 36 percent. Democrats are remiss in touting this low number because it doesn't correlate to a favorability for their party. House Minority Leader Nancy Pelosi and Senate Minority leader Chuck Schumer remain widely unpopular, as does Democratic Party as a whole. Meanwhile, networks like Fox News, CNN and MSNBC have record-high ratings as they string out sensational stories that mobilize partisan audiences but repel millions of Americans whose views aren't represented.
Since the general election, the scandal about Russia's interference in the election has dominated the news cycle. Democrats have used it as a public relations campaign to avoid responsibility for their drastic electoral losses. They have focused on McCarthyist attacks over policy debate. While the Russia allegations merit further investigation, Democrats are putting forth the conspiracy theory that the Russian government produced Trump. This narrative depends on many speculative stories and anti-Russian conspiracy theorists like Louise Mensch and Democratic fundraiser Scott Dwerkin, who have boosted their careers by capitalizing on the opportunity with uninterrupted coverage of Trump and Russia, much of which is based on exaggerations and baseless assumptions. Retorts from Trump and his administration have been equally polarized.
Media pundits have resorted to outlandish assertions as well. The New York Times' Thomas Friedman published an op-ed on March 29 asserting that Trump isn't a Russian stooge—he's a Chinese agent. This latest comparison is one of many made in the media as cited by FAIR's Adam Johnson; journalists have written articles framed around directly comparing Trump to Mao Zedong, Mohamed Morsi, the AntiChrist, Mikhail Gorbachev, Vladimir Lenin, Juan Peron, Cosimo de Medici, the Penguin from Batman Returns, French President Francois Hollande, Bill Cosby, a chimpanzee, an autoimmune disease, Canadian Prime Minister Justin Trudeau, former Iranian President Mahmoud Ahmadinejad, King George III, Caligula, Hugo Chavez, Joseph Stalin, Saddam Hussein, Fidel Castro, Vladimir Putin, Ayatollah Khomeini, Benjamin Disraeli, a Galaxy Note 7, a tapeworm, Benito Mussolini, the Hulk, Che Guevara, Karl Marx, Dilma Rousseff, Pope Francis, Andrew Jackson, the cartoon villain from Disney's Robin Hood, Lady Gaga, Dr. Seuss's Yertle the Tertle, an iPhone, an Ottoman Sultan, a Byzantine Emperor, Lord Voldemort from Harry Potter, a Gilmore Girls brat and countless other terrible comparisons. Too many journalists are negligent in recognizing and reporting the root causes of Trump's rise and the role of the media in his election. Instead, they resort to lazy cartoonish or historical comparisons.
The response to Trump's exaggerations and lies shouldn't be firing back with more hyperbole. However, this has been Democratic Party's strategy. In effect, it has drowned out any semblance of nuanced opinions, skepticism, and the ability to formulate a better political agenda. Depleted in elected offices across the country, Democrats are wiped out and have continued losing to the Republican Party, which barely has to exert itself to beat them. Americans are tired of Trump's and Democrats' polarized banter that has no meaningful connection to the real issues impacting their lives.