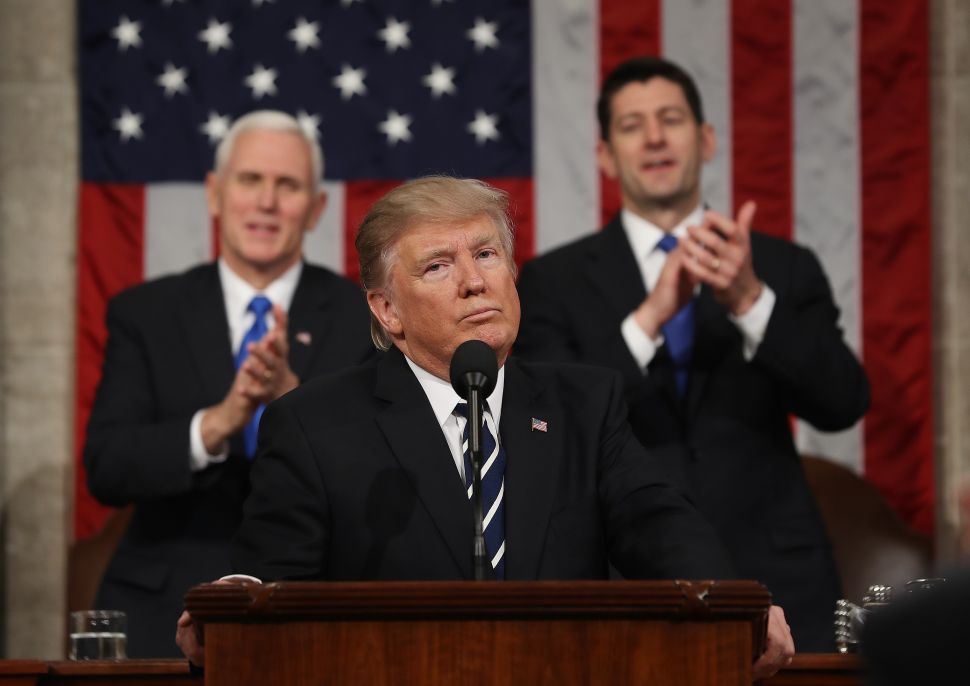 President Donald Trump's speech to Congress on Tuesday showed a different side to the commander in chief—a, well, presidential side.
Trump spoke of policies that could appeal to the Right and/or the Left, and was even praised by members of the mainstream media. TIME white house reporter Zeke Miller tweeted: "This speech is clearest example Trump is beginning to own and understand the powers of the office."
When Trump honored the widow of a slain NAVY Seal, CNN commentator Van Jones called it "one of the most extraordinary moments you have ever seen in American politics."
"He became President of the United States in that moment, period," Jones told CNN host Anderson Cooper.
Even The New York Times, which has been repeatedly insulted by Trump, said it was "the most presidential" speech the president has given.
Trump's speech could have been written by many other Republicans, and he was much less combative than he has been since he was inaugurated. He talked about immigration and tax reform and building the border wall—things that appeal to Republicans. When he talked about terrorism, he spoke from a position of safety, rather than what usually appears to some (whether it really appears that way or they just want to smear it that way) as racist.
But he also talked about paid family leave and infrastructure spending, things that appeal to Democrats (and some big-spending Republicans). He closed with a message about unity, something largely absent from the 2016 campaign and his presidency so far.
"From now on, America will be empowered by our aspirations, not burdened by our fears. Inspired by the future, not bound by the failures of the past. And guided by our vision, not blinded by our doubts," Trump said. "I am asking all citizens to embrace this Renewal of the American Spirit. I am asking all members of Congress to join me in dreaming big, and bold and daring things for our country. And I am asking everyone watching tonight to seize this moment and believe in yourselves. Believe in your future. And believe, once more, in America."
So is this a new Trump? President Barack Obama also used to talk about unity, but it became clear throughout his presidency that the only unity he meant was unity around progressive policies.
I'm reminded of a few weeks during the 2016 campaign, right after Steve Bannon and Kellyanne Conway took over. While the appointment of Bannon made it seem like Trump would double down on Trump, Conway appears to pull the candidate back. And for three weeks last summer, Trump appeared to be a different candidate.
For three weeks the media focused on bad headlines for Hillary Clinton—dropping pull numbers, a series of gaffes, her health, her inability to connect with other humans and, of course, her corruption. And for those three weeks, Trump largely stayed out of the negative news cycles. He delivered policy speeches without his usual aggression and avoided controversies.
This all changed, of course, and Trump went back to being Trump. At the time I thought his reversal was a bad thing, but it may have helped him win the election. Or he could have had the election in the bag from the beginning, I can't pinpoint when exactly the electorate decided on him. I can probably bet that it wasn't, as the Left likes to claim, the Wikileaks revelations, as I seriously doubt factory workers in Michigan cared about Donna Brazile giving Clinton campaign questions ahead of debates.
I also doubt the Trump we saw last night will last, because he'll soon realize (if he doesn't already know) that, no matter how calm and presidential he seems, he's a Republican and the media hates him. They may have praised him last night, but that won't continue.
When The New York Times' Glenn Thrush praised Trump as being at his most presidential, he also said Obama had accomplished more by this point in his term. Thrush mentioned the stimulus (which was a crony capitalist mess) and the Lilly Ledbetter Fair Pay Act (which I have not seen used in one single equal pay claim and, if you paid attention to Clinton last year, apparently had no effect on ensuring women were paid equally). But since Obama had already passed more liberal policies the media likes, he's seen as more successful.
Trump using the persona he used last night would be an incredible troll, however. The media and the Left would no longer be able to fall back on reliable attacks against his demeanor, and would be forced to show over and over again that they are simply partisan hacks.
That alone might be worth him sticking with this personality for awhile.