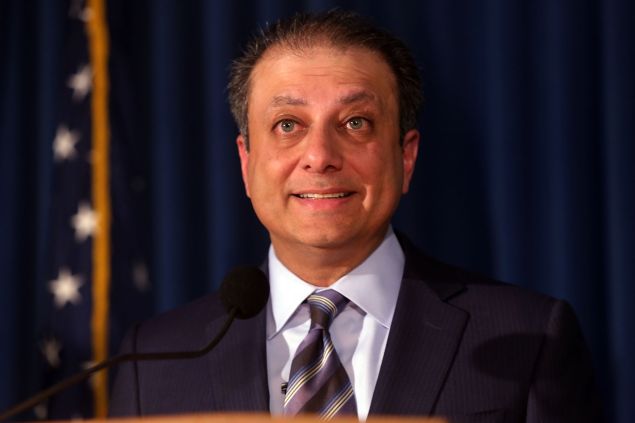 A day after President Donald Trump asked U.S. Attorney Preet Bharara and 45 of his peers across the country to tender their resignations, the corruption-busing prosecutor for the Southern District of New York revealed on his personal Twitter that he had refused to step down and the administration fired him.
The New York Times first reported yesterday that Bharara was among the U.S. Attorneys asked to resign by Dana Boente, acting deputy attorney general. At the end of November, Bharara met with the president-elect and soon-to-be Attorney General Jeff Sessions for an hour at Trump Tower and told reporters following the meeting that he had "agreed to stay on" and expected to do so.
But Bharara confirmed rumors this afternoon that despite being asked to resign, he did not do so—and was ultimately terminated.
The Department of Justice had confirmed to the Observer that Bharara was asked to resign and noted that it was not unusual for U.S. Attorneys to change with the presidential administration.
Bharara served as chief counsel to now-Senate Minority Leader Charles Schumer, who confessed that he helped connect Bharara and Trump last year. Schumer and the president's relationship has worsened in the weeks since the Queens-born mogul assumed the Oval Office.
The Southern District of New York covers Manhattan, the Bronx and a few counties to the north. As was the case for predecessors who held the post—including former Mayor Rudolph Giuliani—Bharara used it to establish a reputation by prosecuting Wall Street powerhouses. He garnered praise for that work following the 2008 financial crisis, despite some of his convictions falling apart on appeal.
But Bharara became famous in political circles for himself by kicking off high-profile corruption cases, convicting Albany elected officials such as Queens State Senator Malcolm Smith and Assemblyman Eric Stevenson in bribery scandals.
In 2015, his office prosecuted and convicted ex-Assembly Speaker Sheldon Silver and former State Senate Majority Leader Dean Skelos, formerly two of the most powerful men in New York State. Bharara also attracted attention for his sardonic public commentary, which occasionally got him in trouble.
Last April, Bharara pledged to concentrate on the executive branch, and subsequently brought federal charges against some of Gov. Andrew Cuomo's top donors and aides, securing indictments in November.
He has also been working to determine whether Mayor Bill de Blasio and his aides traded public favors for donations to his now-shuttered political nonprofit, Campaign for One New York. The fate of both these cases—and of the current assistant U.S. Attorneys overseeing them—remains unclear.
But in a statement released a few hours later, the prosecutor revealed that Deputy U.S. Attorney Joon Kim would handle his office's business until the Senate confirmed Trump's appointment. He seemed to hint that his termination was politically motivated.
"One hallmark of justice is absolute independence, and that was my touchstone every day that I served," he wrote.
New York Attorney General Eric Schneiderman said that Bharara and many of the U.S. Attorneys dismissed this week "served with honor and distinction" and commended him for "rooting out wrongdoing—whether in the boardroom, the halls of government, or anywhere else."
"President Trump's abrupt and unexplained decision to summarily remove over 40 U.S. Attorneys has once again caused chaos in the federal government and led to questions about whether the Justice Department's vital and non-partisan work will continue under Attorney General [Jefferson] Sessions, as it must," Schneiderman said in a statement.
Public Advocate Letitia James was among those to urge Bharara to make his long-rumored bid elected office, though she did not specify which post he should pursue.
Updated to include further comment from Bharara.