It was a very special day for Downtown Brooklyn's Community Roots Middle School on Tuesday. A team from Google came to the school to award 12-year-old Gwendolyn McNamara as winner of New York State's Doodle 4 Google contest.
Every year, Google holds a contest for one lucky student, from K-12, to design a Google homepage Doodle. Guest judges including Jimmy Kimmel, Sia, and somehow the Pokemon Pikachu, collaborated to determine which submissions advanced to the National level.
Gwen was awarded as the New York State winner, with the chance to move on to the National contest, which you can vote for online starting now. Her climate-conscious art won her a chance at the national prize.
Not only do state and territory winners compete for the chance to have their Doodle featured on Google's homepage, but the national winner will receive a $30,000 college scholarship, a $50,000 Google for Education Technology Award for their school, and a trip to the Google Headquarters in California.
The prompt for this year's competition was "what I see for the future." Gwen responded to the prompt through her watercolors and her thoughtful words on the auditorium stage.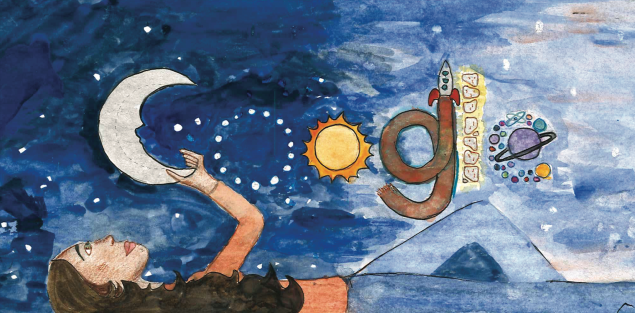 "There's a kid and she's outside and that's what I want for the future, and for kids, is for everyone to be able to breathe clean, safe air," she said of her artwork, adding that climate change is "a really important issue, and once we mess it up, we can't go back."
Brooklyn Borough President Eric Adams appeared as the ceremony's special guest. As he came to congratulate Gwen and the community, he handed her the local winner's prize of an Android Tablet and a T-shirt featuring her artwork. He spoke to the class before the unveiling the artwork, with some encouraging words for the future.
"What is the difference between the two O's?" Adams asked the class, referring to the two O's in the Google logo.
"They are different colors," one of the students responded.
"Yes," Adams cried emphatically. "That's what makes it so interesting. They are different colors. Life would be boring if we were all the same color."
Gwen's parents, Mona, 42, and Whitney, 45, and her sister Isabel, 10 months, joined her onstage to accept the award and watch the unveiling of the original piece of art.
The presentation wrapped up with the Google team members encouraging teachers and classmates to go online and vote for Gwen's art and to check out the other submissions. Voting is open until March 6 at 5 p.m. EST.