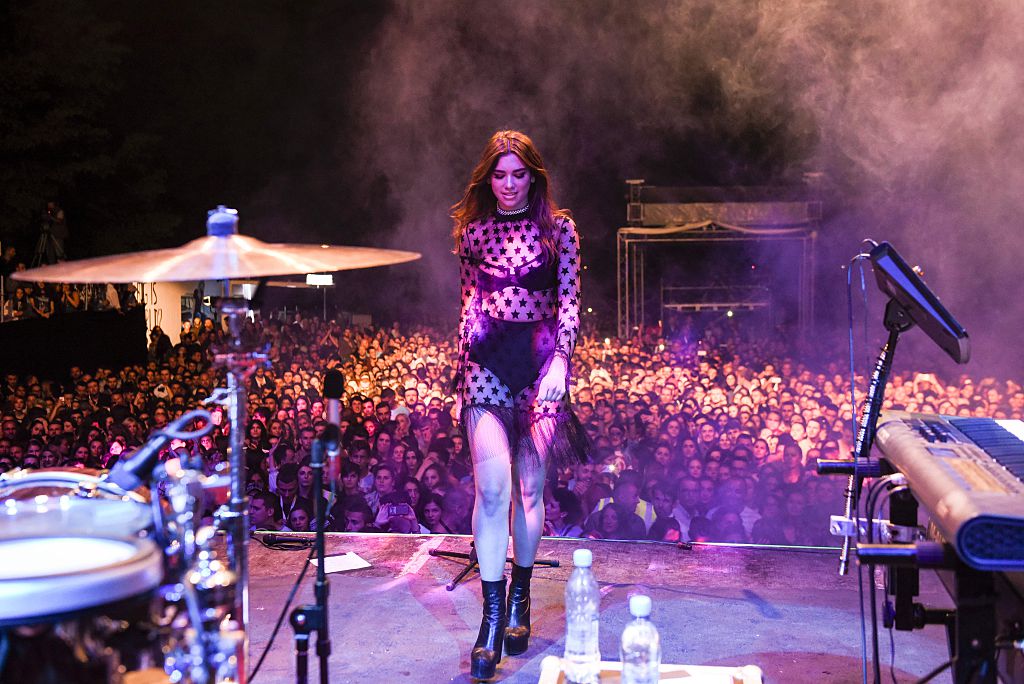 If you haven't heard Dua Lipa's name yet, you've probably heard her songs at the gym or in the club—"Blow Your Mind (Mwah)" is inescapable. And if you avoid both working out and late night dancing, simply think soulful, R&B and EDM influenced pop music, in the vein of current Billboard favorites. Lipa is a PG rated Tove Lo, Halsey, Lorde or Banks, as she embraces high fashion, dark pop and catchy hooks.
If her sold out Irving Plaza headline show is evidence, Troye Sivan's opener is poised to become America's next pop princess. Her latest single, "Scared To Be Lonely," could be like Halsey's Chainsmokers collaboration (remember summer's ear worm, "Closer"), catapulting her to a similar level of Madison Garden fame. Lipa's latest was recorded with Martin Garrix, 20, a Dutch DJ whose previous song was "In the Name of Love," a similar EDM track, with vocals by Bebe Rexha. At only 21, Lipa is equally precocious. She's been performing since she was 14, when she left Kosovo to pursue a music career in London.
[youtube https://www.youtube.com/watch?v=e2vBLd5Egnk&w=560&h=315]
Lipa is a pop star for the Instagram generation. She looks like Kendall Jenner, with a dose of The Bachelor's Ashley I. thrown in for good measure. With heavy brows, YouTube tutorial-worthy makeup and an overgrown lob, Lipa has unsurprisingly amassed screaming fans who are all social media savvy. On Wednesday night, almost every single member of the audience was documenting the experience.
"Scared To Be Lonely" has a bouncy chorus and introduces Lipa as a pop star, but on more low-key, soulful songs like "Thinking 'Bout You" she looked more comfortable onstage, without any need for hair flips or the type of gyrations every girl has done after imbibing.
"I like to pinch myself just to take in everything going on. This has been my dream forever," Lipa told her audience, pushing down her off-the-shoulder gingham blouse. She paired the crop top with a matching Marques'Almeida skirt and rockstar (or Taylor Swift)-approved Vetements platform boots, that looked extremely difficult to walk and dance in.
https://www.instagram.com/p/BRJYSo-lyml/?taken-by=dualipa&hl=en
While Lipa looked a bit uncomfortable whirling around and had to restart a song because of nerves, her young fans didn't seem to mind. She might not have a full album out yet, but she's already well on her way to pop superstardom—especially with high-profile appearances during NYFW, a rumored flirtation with Harry Styles and a penchant for platforms. She's the ultimate pop star for the Instagram generation, with '90s style and songs about loneliness, all worthy of a Tumblr caption.