Live, original soundtracks played alongside film screenings have become a popular means of presenting old work in new contexts.
New York has been especially rife with interesting pairings over the last couple of years—RZA performed a "live electronic" score to Lau Kar-leung's The 36th Chamber Of Shaolin, the martial arts classic that inspired Wu-Tang Clan, last fall at Town Hall. Xiu Xiu performed a reworking of Angelo Badalamenti's acclaimed soundtrack to David Lynch's Twin Peaks at Chelsea avant music institution The Kitchen last spring. Yo La Tengo wrote and performed an original soundtrack to The Love Song of R. Buckminster Fuller, a documentary about the late architect and environmentalist who was championed by the Aquarian age, in 2015
Classical music programmers discovered years ago that playing old scores set to film was an effective way to get butts in the seats, too, as evidenced more recently when New York Philharmonic opened their 2016 season with a live accompaniment to Woody Allen's beloved Manhattan as part of its long-running Art of The Score series. These performances are a nod to the live orchestras or pianists that used to accompany silent movies back in the day, but also a way of engaging new ears that might not otherwise realize they had any capacity to appreciate music in a classical, performative context.
In many ways, Sweden's Dungen were long primed to play into the former tradition. With their genre-hopping dexterity—most commonly classified as "psych" but coming through grooves with equal bits of jazzy syncopation, krautrock consistency, proto-rock soloing and '70s prog flute runs—Dungen possess a stunning ability to faithfully accompany the vast variety of emotions that a powerful film presents. Tasked to tackle a 65-minute runtime, Dugnen's latest composition was eventually condensed into the 40-minute record, Häxan, a fever dream through the Arabian silhouetted locales of the oldest surviving animated film.
The road to Häxan began in 2012, when the Cinematheque at the Swedish Film institute gave Dungen a shortlist of films they asked the band to consider scoring as part of the institute's "Sounds of Silence" project, wherein a variety of popular musicians were commissioned to score silent arthouse classics. The band eventually chose The Adventures of Prince Achmed, released in 1926 and predating Disney's Snow White & The Seven Dwarfs by 11 years.
Inspired by Indonesian wayang shadow puppet theater, animator Lotte Reiniger began with Achmed what would become a near 70-year career as one of the foremost silhouette animators. "I could cut silhouettes almost as soon as I could manage to hold a pair of scissors," Reiniger told British film magazine Sight & Sound in 1936. "The silhouettes were very much praised, and I cut out silhouettes for all the birthdays in the family. Did anyone warn me as to where this path would lead?"
Ninety-one years later, Achmed's capability to mine catharsis from simple cut shapes and shadows is no less breathtaking. The story—about an evil sorcerer who kidnaps the beautiful ruler of the land of Wak-Wak, sending Achmed on a journey through time and space wherein he meets maidens, Alladin and his lamp and a witch who turns out to be a hero—is all the more cathartic for Dungen's pulsating, trippy and furiously alive score.
The institute's only restriction was that the band must perform with the film live, and that the film must stay the focus of the performance.
"The film was the main instrument."—Gustav Ejstes
Never ones to shy away from pushing their music into new territory, Dungen accepted the challenge. While their prior records had been largely singular compositions, conceived and plotted by frontman, keyboardist and flutist Gustav Ejstes, the Swedish Film Institute's light restrictions on the band required a dissolution of ego. It fostered an intentional communion that resulted in a sprawling, morphing composition telegraphing not only Achmed's moments of grandeur, tension and heroism, but the chemistry between band members, too.
"The sensibility of the performance was also apparent when Dungen played again with the film in Göteborg later that year," recalls Cinematheque programmer Anders Annikas of the first performance. "Towards the end of that second screening, one of the 35mm projectors broke down, leaving the screen blank for 10 minutes between two reels. Dungen kept playing, improvising throughout the intermission, moving along when the film started again, as if it was all part of the score."
The Achmed score, which presents itself differently from the track list on Häxan, fluidly folds back in its character- and mood-specific themes, often dissolving into bits of ambience for tension and coming back to the fore in moments of particular importance to the plot. The jazzy, lush "Achmed Flyger," for instance, accompanies moments of heightened action, like when the titular häxan, or witch, summons creatures from Alladin's lamp. The title track is the witch's theme, when a triumphant guitar lead absolutely rips through a stately procession of chords to declare that good is prevailing over evil.
"Having been in a band for over a decade, it was a perfect time and opportunity to break our routine," bassist Mattias Gustavsson and guitarist/keyboardist Reine Fiske said in the program notes. "We weren't necessarily aiming to create a bold artistic statement or even a magnum opus—we were just happy to be working within a different creative context for a change."
I caught up with Dungen in Brooklyn the night before their two performances of The Adventures of Prince Achmed at BRIC House, part of a short U.S. tour with the film that brought them from Philadelphia to New York, D.C., Pittsburgh and Los Angeles.
[youtube https://www.youtube.com/watch?v=y1qDOCXJjlA&w=560&h=315]
Do you guys still feel sloppy in your old pants?
Gustav Ejstes: When you have the privilege of playing music, some clothing companies wanna give you stuff, so I don't know about sloppy, but…
I got that phrase from a line from "Brallor" that Google Translate tells me has something to do with "sloppy pants." But you're saying you're open to product placement? 
[All laugh]
Johan Holmegard: Bring it on.
Gustav: Ah, O.K.! So…I feel sloppy, or even dirty, kind of.
Are dirty pants a touring thing?
Gustav: Well, you have to do laundry. I remember when we had our pants on the top of a trailer to let them dry from the night before. It's kinda sloppy, sunkig.
Mattias Gustavsson: I was searching for the word in Swedish—yeah, sunkig.
Reine Fiske: Sunkig is also a very good club in Sweden.
What kind of music do they play?
Reine: They play sloppy music. Bad music, but "good bad," entertainment music.
Swedish disco, popular songs?
Reine: Yeah.
Gustav: Like the Florence Jenkins style. [All laugh]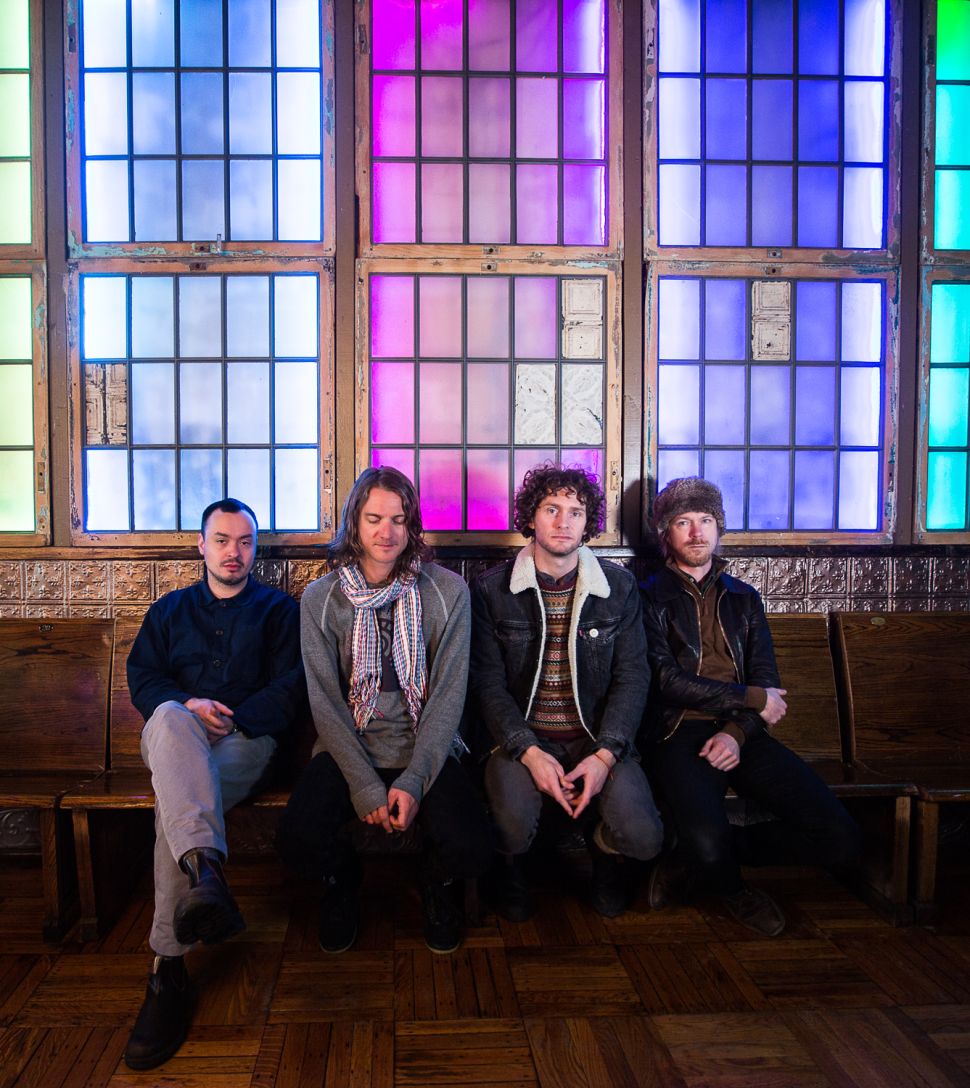 Mattias, last year you spoke about the idea of making music with a sustained intensity by minimal means. And I kept thinking about that quote while listening to Häxan, because it's a soundtrack and very much an aesthetic response to a visual narrative. Can you unpack what you meant by using minimal means for a sustained impact?
Mattias: I have this idea that you only really need one note, and then maybe another note just to make the first note sound good again. And if you're feeling really fancy, you can add in a third note, maybe. But I think that comes from when I was young and listened to traditional Indian music, like sitar ragas. They're always based around this one note, and kraut music is sort of the same thing, too.
You're talking about finding that drone?
Mattias: Yeah, a "less is more" sort of thing, but it's more of a feeling than some sort of worked out musical theory.
What happened in that five-year lapse between albums from 2010-2015, and how did that impact this project?
Gustav: This record, Häxan, the project came along even before Allas Sak was released. This thing has been going on since the spring of 2013. We got this request to do the score to the silent movie, then we did a few shows with it. When we decided to make a record out of it, that was perhaps later.
Who requested it?
Gustav: It was a request from a place called Cinematheque in Sweden.
Reine: Some sort of subdivision of the Swedish Film Institute.
Gustav: Yeah, they invite artists and bands to compose music for silent movies. Like a series they have with different acts. And during this period, I just had a daughter, so I was not able to participate so much in picking so much or whatever, so I just told the other guys, "Hey, could you take the lead on this thing?"
Why did you guys pick The Adventures of Prince Achmed?
Reine: I sort of picked the film. The thing was, the other artists and bands had already picked the best ones. [All laugh] Or maybe the most classic ones. And I thought the only one sort of left from the batch was the Achmed film. I just thought that it's easier for us, because we had so little time, to work on more of a fairy tale.
So it wasn't ideal, but you made it work?
Reine: I looked through many of these movies, because they were made in the '20s and everything, it's a lot of people coming into rooms, opening doors. O.K., what kind of music could we do to this film?
Mattias: But this one was fairly easy.
Reine: Yeah, in a way.
Gustav: They came over to my place, Reiner and Mattias, and Reiner just bought this Mellotron and was like, "Hey, I can press any key and it sounds great, it really fits so good!" You started to work out some melodies and stuff.
Reine: I was in love. [All laugh]
[youtube https://www.youtube.com/watch?v=0DGjnbQkNMM&w=560&h=315]
Achmed seems to have less of those campy entrance transition shots that you described and more long sequences of action or movement. And in turn, the Häxan songs swell up into these mini-themes and suites that sustain the intensity of the story more than heighten a specific transition.
Mattias: Well, the original soundtrack is really classically written orchestral music.
Reiner: It's really pompous. The music doesn't listen to the film.
Mattias: In one way, I enjoy the movie better with our soundtrack.
Gustav: We got a big compliment from another silent-movie composer in Sweden, Matti Bye, who was there the first time we played it. He said, "Oh, it's so great guys, this song is overlapping the acts!" Otherwise it's this song for this scene, that song for that scene. It just became that way, and it felt pretty natural as we'd been doing a lot of improvised music throughout the years.
What considerations to the structure of the film challenged you the most as a band or a functioning unit? Did you guys lock yourselves in a room with a giant screen and just go for it?
Johan: I just remember going to Gustav's apartment for the first time with a computer, I sat on the couch, actually. [Laugh] I didn't have anything to bang on. But the Melotron was a very powerful instrument.
Mattias: We had one session where we made some of it, we met up at Gustav's and made some of it, and we met up in the rehearsal space a few days before the premiere and actually played it with the movie three times or whatever, just panicked.
Gustav: And everyone had their crazy notes—"When Alladin is coming down the stairs—bong!"
Mattias: We got to play to the actual movie right before the first show, and that was probably the first time we actually played the whole thing from beginning to end, then right when we finished we had 30 minutes to the first show.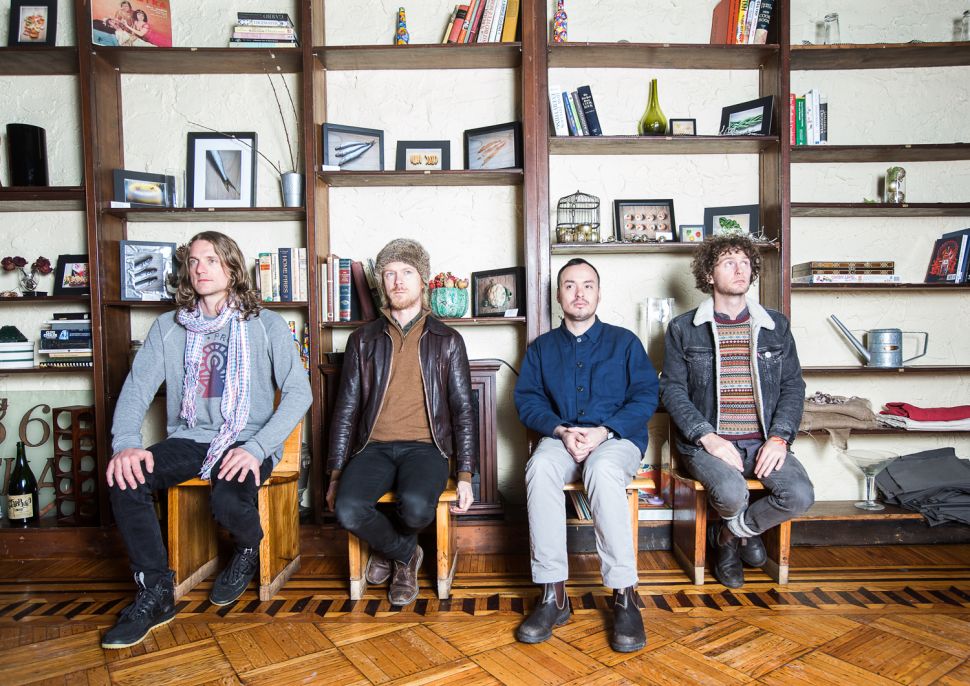 Outside of Sweden many people commission revisionist soundtracks, I guess you could call them, and it's become a genre unto itself. The soundtrack has become a legitimate vessel for whole albums of original music that stand on their own, and you guys are both working in that tradition but doing your own thing. Whole albums by rappers, by pop stars…soundtracks are being released more and more in standalone contexts. What do you make of that trend?
Gustav: Well, I don't know, I just keep thinking about our friend Mattias Glavå, the producer. When we decided to make an album out of it, we started this debate about whether it should be connected to the movie or not, if it should be an instrumental Dungen record or not, and how we should look at the whole project.
We did a few sessions and gave him a bag of tapes like, "Can you please make an album out of it, 40 minutes of listenable music?" We know each other so well, but he could sound really harsh sometimes and was like, "Well, there's no fucking melodies, there's no vocals, there's no anything. You're making a parody out of yourself." What he meant, do understand also, the film was the main instrument. We are the band supporting the film.
You've also said you get territorial about your work.
Gustav: Me? Totally.
And I see this as a remedy, be it self-therapy or medication.
[All laugh]
Mattias: The necessities of a new parent.
The very nature of the film as the main instrument requires a synthesis between all of you guys that you may have been able to phone in or mask on other records. Have you been humbled by this process more than your ego would allow?
Gustav: Totally, of course. It is the first real collaboration, but also, I've never been a fan of collaborations in a sense. When it comes to composition of music in my songs, I'm pretty shy, and I don't want to let anyone into that.
Mattias: To me it felt like we had no pressure when we made it. Nobody thought this would be an album in the end.
Gustav: No, we just had a 500-seat theater.
Matias: Well yeah, that pressure [all laugh]. But not the pressure of making something that would live.
Gustav: That wasn't the intention from the beginning, it was to be a one-time thing.
[youtube https://www.youtube.com/watch?v=GlyamzrzYOA]
You named it "The Witch" after that specific song, which accompanies a specific scene or scenes. What about that composition stood out from the others?
Gustav: It's like Mattias Glavå says, "only fucking chords." [All laugh]
Reine: Well, what can you do? It's more a character than a scene, really. When we play along to the movie, different characters have different themes, and different themes come back and maybe combine in different ways, more when you watch the movie than listen to the album.
Gustav: She's like the hero in the film.
Johan: Well, for us.
Mattias: It's a weird story, the whole movie. It's the '20s and it's of that time. When you watch it you have the evil sorcerer who's selling a woman to another man, and he wants to marry her to his favorite son, it's very old-fashioned. But then there's this character, the witch, who just comes in and saves the day.
Johan: Kicks ass!
Mattias: Yeah, but she doesn't make a thing out of it, even. She just minds her own business.
Johan: She's like a Chuck Norris from the '20s.
Some other bands that came up around the same time as Tad det Lugnt have since gone much more electronic or surrendered some of their sonic warmth in the interest of a changing music economy, an economy wherein it's harder for bands to travel long distances, an economy that's more about digital music. Why keep torturing yourselves by playing on all this analog gear?
Johan: Tell him about the piano!
Reine: "Seems like it's just beginning," that's a line Pete Townshend said in an interview.
Gustav: The piano is so heavy, and it's worth it. Every time we load up and load in, I think it's worth it. It's impossible to handle by yourself, at least.
Johan: In Washington it's gonna be.
Mattias: DC9 has a massive staircase.
Gustav: I see what you mean, about bringing all your instruments and not just USB memory.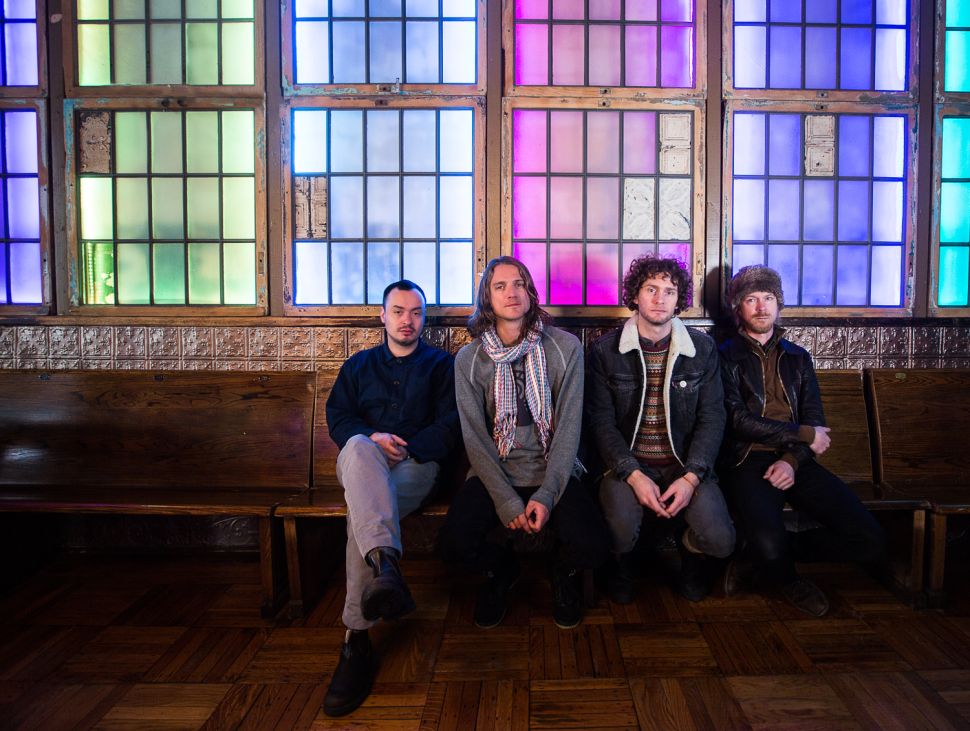 You guys are basically movers.
Mattias: Yeah, I tend to think about that more and more often, we are overqualified movers.
Johan: Wanna hire us?
Mattias: It costs about as much to move a piano as it does to get us to come play and move our piano, twice. [All laugh]
Gustav: What if we started to take jobs as movers and could offer also a small show?
Mattias: Yeah, like an opening party in your new home.
Johan: And also the tuning, we have to tune the piano quite often.
Mattias: Yeah, a piano has about 250 strings. One tour he bought two pianos, one for the East Coast and one for the West Coast.
Gustav: There's these amazing electric pianos, I found one of them in Canada, really cheap, so I had to buy it. Once you pop…
A lot of guys who want that sound but don't have as high of a threshold for pain as you will just get an electric piano, a Rhodes or something, and a Leslie speaker.
Johan: That's not gonna help you, man.
Gustav: Although we did so many shows with the most shitty stuff, like the one in Paris. It was a Casio synth that probably sounded shitty, but felt good.
Reine: Famous last words here, but I think it's very important, I've always been really particular about the stuff that I wanna use. And if you want to achieve a certain sound, you have to get the gear. You can have a USB thing and just stick it in, but its not the same feeling. The actual physical feeling of sound is very important.
Gustav: That's what the receiver gets and gives back to you.