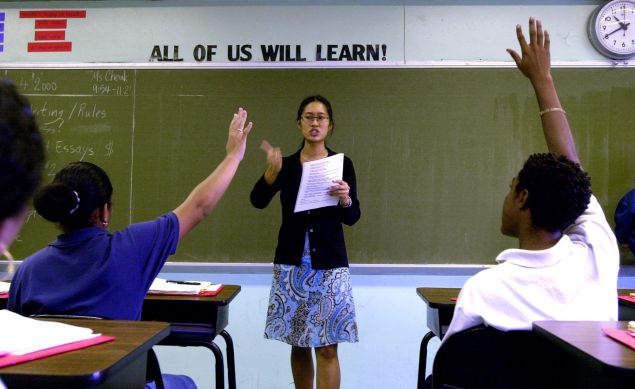 There is reason to celebrate. Yet misguided "progressives" are using the news to bemoan outcomes they think smack of inequality and lack of opportunity. And in their hand-wringing search to find a solution to the wrong problem, they are willing to tilt the playing field and further hurt those they are trying to help.
The good news is that 28,000 New York City students took the test to see if they could gain entrance to on of the City's eight "specialized" high schools – Stuyvesant, Bronx Science and Brooklyn Tech being the most famous of the elite. Happily, 5,078 did well enough to secure a spot.
The bad news is that there were relatively few blacks and Hispanics among those who qualified: only 524. We agree with the progressive critics that this is far too few, given that fully 70% of the public school population is black or Hispanic.
The NAACP Legal Defense and Educational Fund has filed a civil rights complaint with the U.S. Department of Education.
We disagree however, with the so-called "liberal" solution to change the criteria for admission. Today, and for as far back as anyone can remember, admission was based solely on a single test score. Efforts to dilute that meritocracy and use softer, subjective criteria – read quotas – have been considered by the state legislature since 1971 and wisely rejected.
The disparity in black and Hispanic performance is often discussed in the context of Asian over-achievement. Although Asians comprise just 13% of the City's population, 74% of Stuyvesant's entering class is Asian American. Blacks comprise 1% and Hispanics just 3% of the Stuyvesant student body.
The trend is disconcerting: in 1979, blacks comprised 13% of the Stuyvesant class; 5% in 1994 and just 1% today. At slightly less selective Brooklyn Tech—which Mayor de Blasio's son Dante attended before being accepted at Yale—blacks comprised 37% of the student body in 1994 but only 8% today. White enrollment at the three schools fell from about 80% in 1971 to 20% today.
The answer is not to lower the standards of the elite schools. It is to encourage other groups—blacks, whites, Hispanics—to work as hard as Asians.
We were listening in on a conversation between some of the more thoughtful and knowledgeable people in the City as they were discussing the issue on Facebook. Andy Rosen, the CEO of Kaplan and John Katzman, the CEO of Noodle (and founder and former CEO of The Princeton Review) debated whether the test itself was measuring what is important to measure. (The consensus is that the SHSAT is OK.) The question is whether kids get the "same level of prep that advantaged kids get, if you want an even playing field." Further "test prep needs to be flanked by way better info for disadvantaged parents about the process itself; a process that includes that prep."
We have no disagreement with providing better test prep and information, but we think our Upper West Side friends miss an important fact: Asian families are among the poorest in the City – below the income level of blacks or Hispanics. Yet somehow they have gotten the message that education is important and studying must begin early and remain an important priority in children's lives.
It is not that we lack a heart and don't see the disparity of the admissions numbers as a problem. It is a problem. But there's a right way to solve it. We want to see more black and Hispanic children qualify on tough exams. Meritocracy and a level playing field serve everyone.