Emily Ratajowski just came back from a dream Mexico vacation.
Emily Ratajowski/Instagram
The model stayed at the luxe Cuixana resort.
Cuixmala
Scroll through to see the luxe resort she stayed at.
Emily Ratajowski/Instagram
Prime Instagram material.
Cuixmala
Just some horses casually trotting by in the background.
Cuixmala
The hotel was formerly owned by Sir James Goldsmith.
Cuixmala
The resort spans 25,000 acres.
Cuixmala
The saltwater pool.
Cuixmala
Guests can stay in casitas or bungalows.
Cuixmala
Just your average view.
Cuixmala
Casa Cuixmala is the most expensive suite at the hotel.
Cuixmala
Mick Jagger and Madonna have both stayed at the chic vacation spot.
Cuixmala
There are multiple dining and restaurant options, of course.
Cuixmala
This kind of luxury doesn't come cheap...
Cuixmala
As anyone who has scrolled through Emily Ratajkowski's flawlessly curated Instagram knows, the model-slash-actress-slash-activist knows a thing or two about how to perfect a social media feed.
Among the Instagram connoisseur's uploads are glamorous Hollywood shots, idyllic scenery and of course the ultimate beach photos, with plentiful bikini posts set amongst the crystal blue waters and white sand of whatever dream locale Ratajkowski happens to be in. Granted, Ratajowski's jobs often take her to these tropical locations, but it appears her recent Mexico trip was for pleasure in lieu of business.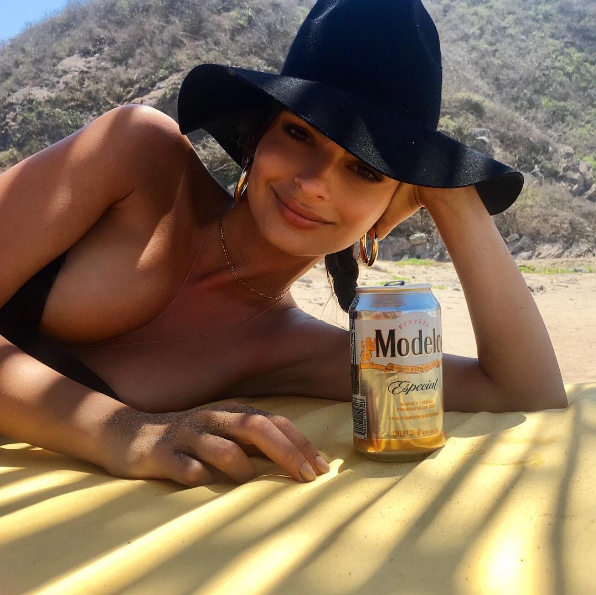 If you happened to follow the model's exploits in real time, you might have wondered where precisely this dream vaca was taking place—Ratajkowski didn't add the location tag till a bit later, after she'd already shared envy-inducing snaps of perfect palm trees, a nearly nude dip in clear turquoise waters and of course, a couple of flawless bikini photos with her over 12 million followers. There's also a casual snap of her wearing an oversized sunhat and lying in the sand with a beer, because she is very #chill.
Ratajkowski was at the beyond luxurious Casa Cuixmala resort; a 25,000-acre hotel once part of a private estate owned by billionaire Sir James Goldsmith, whose daughter Alix Goldsmith Maraccini converted a portion of the property into its current state as a chic vacation spot.
There are plenty of luxe options in terms of suites at the hotel; there are one, two, and three-bedroom "casitas," as well as six different bungalows. After a bit of social media perusing (erm, stalking), we think it looks like Ratajkowski stayed in the Horse Suite. We're going to assume it's named such due to the horse statue near the fireplace.
The suite has a lagoon view and a private terrace. All of this luxury falls between $2,600 and $3,700 per night, depending on the season. But that's basically a steal compared to the Cuixmala Suite, which goes for between $4,700 and $5,800 per night.
Hiking, surfing, snorkeling, sailing and scuba diving are among activities at the resort, and per Instagram, Ratajkowski got to experience the Marine Turtle Sanctuary—she posted a video with one of the newly hatched turtles.
The 5-star hotel also has a saltwater pool and Jacuzzi, as well as multiple dining options. If you're ready to jump on a plane and get your tan on right now, there is a slightly more economical option at the resort, if you go for the smallest single casita, which ranges from $550-a-night in the off season (May to November) to $750 per night in peak vacation time.
You might even spot another celeb at the resort, which counts Mick Jagger and Madonna among past guests. Perhaps beach-loving former president Barack Obama should look into this—after all, there is an 18-hole golf course in very close proximity to the hotel.