Paris Hilton was one of the original targets of the Bling Ring nearly a decade ago.
Nicholas Hunt/Getty Images for New York Fashion Week: The Shows
Emmy Rossum's home was robbed of $150,000 of jewelry last week.
Frazer Harrison/Getty Images
Thieves made off with $2 million worth of valuables from Alanis Morissette's home.
Michael Kovac/Getty Images for Montblanc
Nicki Minaj's Beverly Hills home was burglarized and vandalized.
Pascal Le Segretain/Getty Images
Kendall Jenner's Hollywood Hills home was burglarized in March.
Frazer Harrison/Getty Images
Kim Kardashian's traumatic Paris robbery was believed to be largely due to her social media presence.
Pascal Le Segretain/Getty Images
Lindsay Lohan's rented LA home was also targeted by the Bling Ring.
John Phillips/Getty Images
The Bling Ring also targeted Orlando Bloom's home because of his then-girlfriend Miranda Kerr.
ADRIAN SANCHEZ-GONZALEZ/AFP/Getty Images
'The O.C.' actress' home was robbed at least three times by the group.
Phillip Faraone/Getty Images for Baby2Baby
It was nearly a decade ago that the "Bling Ring" targeted the then-coveted closets of Paris Hilton, Lindsay Lohan and more. Presently, a number of a Hollywood celebrities have unfortunately been the victims of a string of robberies as of late, the most recent being Emmy Rossum.
Police are investigating a break-in that is believed to have taken place at the Shameless actress' home last week, reports the Los Angeles Times. Thieves broke into her Beverly Glen home, breaking a rear patio window and turning off the alarm. They managed to find and open Rossum's safe, and made off with an estimated $150,000 in jewelry and valuables.
Other victims include Nicki Minaj, whose Beverly Hills manse was robbed in early February. The burglars reportedly stole almost $200,000 worth of the star's jewelry, in addition to destroying and vandalizing personal property—thankfully, Minaj was out at the time of the robbery.
Alanis Morissette was also robbed in February, and thieves made off with a safe containing a staggering $2 million worth of jewelry and other valuables—luckily, Morissette and her family weren't at the Brentwood home at the time of the break-in.
Kendall Jenner was reportedly burglarized on March 16—the model and reality star realized approximately $200,000 worth of her jewelry was missing from her Hollywood Hills home. Jenner wasn't home that day from 12:00 pm until 8 pm, but didn't realize the jewels were gone until around 1 am. Jenner allegedly believes it might be an inside job, and is increasing her security detail. Though not in Los Angeles, Kim Kardashian was the victim of a traumatic robbery in Paris last fall.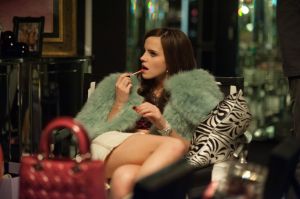 The Emmy Rossum, Kendall Jenner, Nicki Minaj and Alanis Morisette break-ins are being investigated by the burglary section of the LAPD Commercial Crimes Division, per the LA Times. Unlike the "Bling Ring" string of robberies in 2008 and 2009, which also included the homes of Rachel Bilson and Orlando Bloom (because of his then-girlfriend Miranda Kerr) the LAPD does not currently believe these recent robberies are linked.