The wood-burning fireplace with imported marble mantlepiece.
Sotheby's International Realty
The photograph is by Rossum's mother, Cheryl.
Facebook
Chic purple accents throughout the dining room and bedroom.
Facebook
Horchow provided accessories for the apartment.
Sotheby's International Realty
A peek into Rossum's closet.
Facebook
Custom cabinetry, marble countertops and Miele appliances in the chic kitchen.
Sotheby's International Realty
Emmy Rossum bought the apartment in 2015.
Sotheby's International Realty
The marble-bedecked bathroom.
Sotheby's International Realty
The master bedroom.
Sotheby's International Realty
Emmy Rossum's recently sold apartment is in this white-glove co-op.
Sotheby's International Realty
Actress Emmy Rossum has had lots to celebrate in the past few months. The Shameless star sought, and received, equal pay with her male counterpart (William H. Macy) on the hit Showtime series. She also bought, renovated and sold her first New York apartment, and showcased it in an Elle Decor spread.
Rossum bought the 800-square-foot apartment at 455 East 57th Street in 2015 for just $720,000. The actress quietly put the pied-à-terre on the market in November 2016 for $1.15 million (a mere month after the magazine feature), and it went into contract just over a month later. The buyer, Martin Levine, paid $1.1 million for the unit; just a touch under the listing price.
The two-bedroom, one-bathroom Sutton Place pad was in need of a serious renovation when she bought it—she declared it a "pied-à-teardown," and enlisted Elle Decor to help her redesign the space. Rossum selected designer Antonino Buzzetta for the project, telling him her interior aesthetic preference is "chic, European, the look of a modern girl who has inherited her grandmother's stuff. I wanted it to have a young energy, but with old-fashioned touches," she said.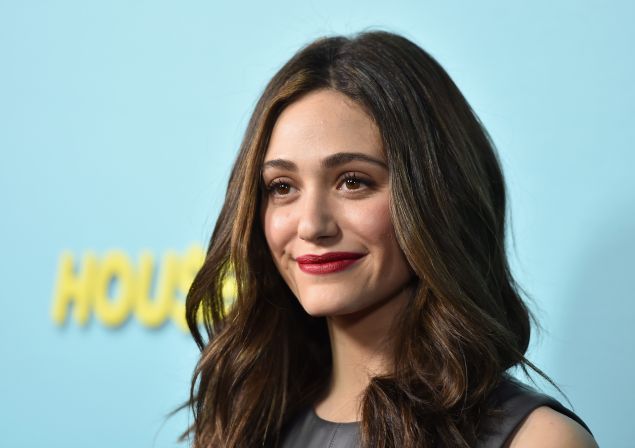 The final result can be seen in all its fashionable glory in the aforementioned magazine spread and in the slideshow above.
The co-op is a refreshing break from the glassy, modern look that is so prominent right now. The herringbone floors, beamed ceilings and millwork throughout is fitting for the prewar nature of the apartment, which is accessed through a semi-private landing.
A wood-burning fireplace in the living room has a 19th century carved Carrara marble mantle imported from Paris, surrounded by antique mirrors and built-in oak bookcases, per the listing held by Sotheby's International Realty broker Leslie S. Modell.
The kitchen, with Scavolini custom cabinetry and Carrina Caesarstone countertops, features an island seating area and is open to the dining area. The master bedroom faces north and south, with custom closets and a windowed bathroom bedecked in marble and glass, as well as marble geometric tile flooring and Ralph Lauren lighting.
We can't say for certain why Rossum chose to part ways with the home after putting so much effort into it—it didn't seem like an investment property. She is, however, getting married at some point in the near future, so perhaps she and fiancé Sam Esmail are looking for a bigger space. We hope they find a way to take that fireplace mantle with them.