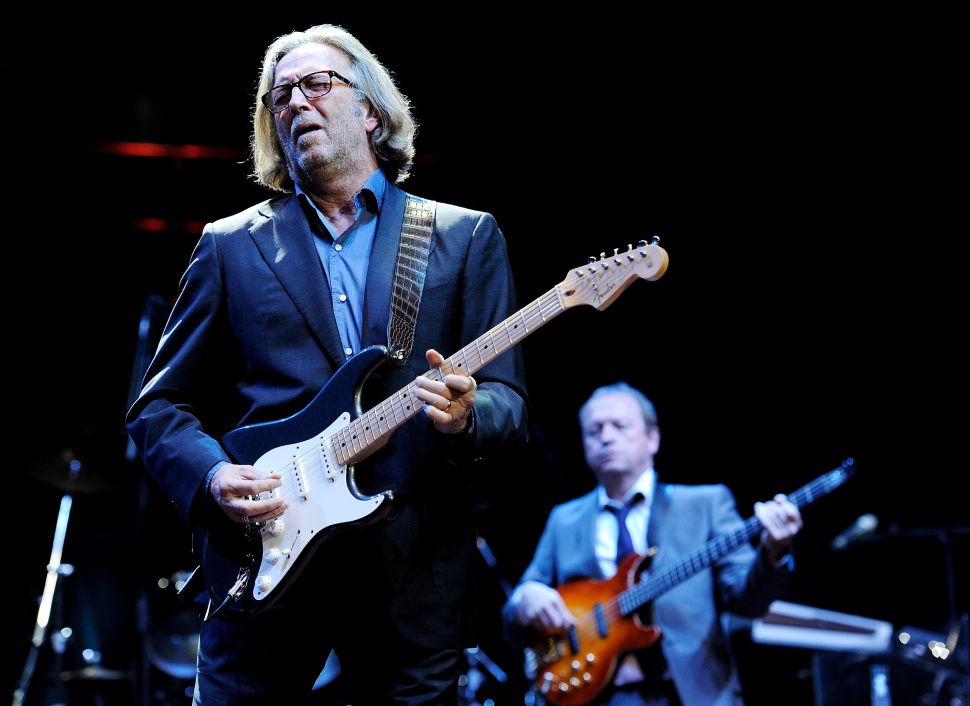 We often hyperbolize great artists as masters of evolving their genre, but few can truly stake that claim like Eric Clapton.
This weekend, Eric Clapton celebrates just how far he's evolved the role of the electric guitar in rock music over the last 55 years as he plays two nights at Madison Square Garden Sunday, March 19, and Monday March 20.
For many of us, he was one of the first musicians we followed when we got into AOR. He is also perhaps the biggest cautionary tale against the excesses of drug abuse that rock 'n' roll has ever seen: Clapton himself in his 2007 autobiography admitted he was surprised about surviving the 1970s relatively unscathed. Well, at least in the physical and mental sense; in terms of his rep, the last 40 years have seen Clapton—once touted as an electric guitar God—served up cold as one of the pariahs of mainstream rock bloat.
And it's not just Clapton the symbol; it's his solo work that has spurned the most ire from righteous music fans who've pinned their own street cred on how badly they can dog the guitarist in public.
Of course, Clapton hasn't done himself any favors maintaining his reputation. That drunken, racist tirade he went on during a Birmingham concert in 1976 (the context of which predated the present backwards sentiments that inspired Brexit) surely doesn't help his case amongst the "Fuck Eric Clapton" set. But consider this: your precious Parquet Courts will never have shit on Eric Clapton, who at 72 with nerve damage can still cut the heads clean off your current favorite flash-in-the-pan indie rock band like a hot ginsu blade.
Obviously, when it comes to digging into Clapton's discography, you're gonna go right to the Yardbirds, Cream, Blind Faith and Derek & The Dominoes over the 20-plus solo LPs the Englishman released between 1970 and last year. But if you can find it in your prefrontal lobes to disregard the concept of Eric Clapton as a corporate rock douchebag, you will discover the songbook of a man with deep, deep roots in American blues and R&B, interspersed with dalliances in reggae, folk, country and jazz along the way.
Allow yourself to fall into his catalog without prejudice, and you might be pleasantly surprised at some of the positive vibrations you will discover along your descent into God's kingdom. Here are five Eric Clapton that deserve to be revered far more than they are presently.
[youtube https://www.youtube.com/watch?v=z608tUwx_w0?list=PLJNbijG2M7OzYyflxDhucn2aaro613QPI&w=560&h=315]
5) I Still Do (2016)
In any discussion of the true "fifth Beatle," Eric Clapton has as much skin in that game as Harry Nilsson, Billy Preston or Klaus Voormann (though we all know this honor has always belonged to Sir George Martin, even more so now in the wake of his passing last year).
Clapton was one of the only acts to make a cameo appearance on a Fab Four album, and he was arguably a major part of the songwriting style George Harrison brought to the table. The whole cuckold situation with Patti Boyd notwithstanding, Clapton and Harrison were a dynamic duo in collaboration with one another, as "While My Guitar Gently Weeps" and "Badge" can attest. The 1969 Cream hit featured a songwriting credit to an Angelo Mysterioso, which was the pseudonym Harrison used due to his contractual obligations with the Beatles. And it's a name that turns up on Clapton's latest album, I Still Do, on the song "I Will Be There."
Clapton refuses to admit if it's really an unreleased Harrison track or not, though Billboard reported that was the case in February. Listen to the song and you will know the truth, but this air of mystery is everything great about an Eric Clapton album.
Paired with an enhanced version of the 80 percent covers and 20 percent originals formula that he's been doing since Reptile, and overseen by Slowhand producer Glyn Johns, it's one of Clapton's most consistent solo albums. There's even yet another Beatles connection: the portrait of Clapton on the cover was painted by Sir Peter Blake, who contributed artwork to the jacket of Sgt. Pepper's.
Bonus: the version of Bob Dylan's "I Dreamed I Saw St. Augustine" he does on here is surprisingly really good.
[youtube https://www.youtube.com/watch?v=gil-kdRwC8s&w=560&h=315]
4) From The Cradle (1994)
Clapton didn't directly expound upon the devastating loss of his young son Conor that permeated his 1991 single "Tears in Heaven" until the release of his uneven 1998 LP Pilgrim. But in the immediacy of his unspeakable loss (one that as a father to an active young boy exactly Conor's age hits me very deeply), Clapton grieved the only way he knew how—by diving headfirst into the blues with From The Cradle.
For Clapton fans who'd grown tired of his maneuvers in adult contemporary pop that largely embodied his solo work since the late '70s, this was the career reboot we'd all been waiting for. And the guitarist gave it to us in spades—electrifying interpretations of obscure gems by such venerated blues giants as Leroy Carr, Lowell Fulson and Willie Dixon are as immersive as anything he'd done since his time in John Mayall's Bluesbreakers.
In the wake of the tragic death of his friend Stevie Ray Vaughan (along with two of his own band mates), no one else but Eric Clapton could've kept the blues alive in the thick of the alternative rock revolution.
[youtube https://www.youtube.com/watch?v=kP1AFDDJoeE?list=PLtSlJA3gXHJxi5AtrsRORlxJ96CVzhPf0&w=560&h=315]
3) August (1986)
For the longest time, I thought this Clapton LP from 1986 was the absolute pit of excessive dinosaur bloat that permeated much of what the old album rockers of yore were turning out during the Reagan days for MTV. However, as the post-millenial generation continues to look through their parents' old Caselogic tape suitcases for innovation, the innovative repurposing of Fairlight and Linn-assisted studio techniques have cast a cool new light on the mid-'80s era.
With that in mind, listening with fresh ears to Clapton's rough take on the sounds on urban radio inspiring him and producer Phil Collins gives August (named after the month his son Conor was born) a new veneer of cool. It gets even cooler when learning that the studio band featured Madlib's uncle Jon Faddis on trumpet and a cover of the Yellow Magic Orchestra's "Behind the Mask" that was previously commissioned by Quincy Jones for initial inclusion on Michael Jackson's Thriller.
[youtube https://www.youtube.com/watch?v=mM2zLwHfKF4?list=PL8a8cutYP7fpaYqGdvCYK_O9K5pcLhNA6&w=560&h=315]
2) No Reason To Cry (1976)
Call this one Clapton's Woodstock album. Word has it he was so enamored with Music From Big Pink that he actively sought a tryout to be an official member of The Band, who at the time were mere months away from The Last Waltz.
Clearly Robbie Robertson wasn't quite ready to give up his gig just yet, so Clapton did the next best thing, recording this 1976 album at the group's Shangri-la Studios with all five members, plus a duet with Bob Dylan, who gifted the guitarist his unreleased track "Sign Language."
When the original lineup of The Band finally broke up that November night at The Winterland, Clapton got his dream fufilled and joined the group onstage for a soaring rendition of Bobby "Blue" Bland's "Further On Up the Road," where Robertson rescued him from complete embarrassment by seamlessly picking up his guitar solo after the strap on Clapton's ax came undone.
[youtube https://www.youtube.com/watch?v=BaV4ApXktBY&w=560&h=315]
1) There's One In Every Crowd (1975)    
Following the successful run he enjoyed with his 1974 solo breakthrough 461 Ocean Boulevard, Eric Clapton was quick to strike while the iron was hot and eager to get the next record out as soon as possible.
Doubling down on his growing love for future songwriting partner JJ Cale's Tulsa Sound and his obsession at the time with reggae (particularly the works of Peter Tosh and Bob Marley), There's One In Every Crowd was more of a meditation on Clapton the singer-songwriter than Clapton the guitar icon, which made the album's original working title The World's Greatest Guitar Player (There's One In Every Crowd) such a cheeky proposition.
A searing version of Elmore James' "The Sky Is Crying" nestled within the rasta-gospel vibes, however, nevertheless proved he was still the boss of the six string.