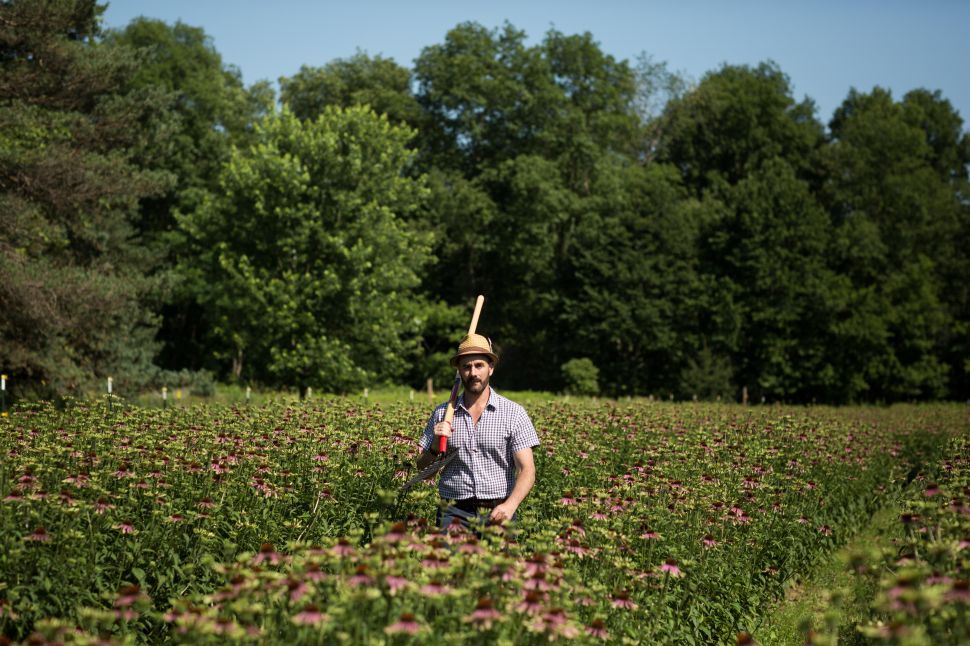 Farmacy is one of those beauty brands that, seemingly out of nowhere, is suddenly everywhere. Its eco-chic skincare products are all over QVC and  Sephora, and the distribution has already gone global across four continents. Just try not running across their name when you're reading beauty blogs, women's magazines, business publications or agriculture journals—yes, even Modern Farmer has taken note of Farmacy.
You'd expect nothing less from a brand co-founded by a PR guru. Mark Veeder started his career in public relations in the mid-1990s and has run his own agency for nearly 20 years. In 2014, Veeder applied the same marketing skills he used to elevate luxury lifestyle brands like Kate Spade Home, Alessi, and Sub-Zero to his own baby: Farmacy. They even have a killer strapline: "Farmer cultivated, scientist activated for fresh, radiant skin."
How's this for a brand origin story? Veeder, a lifelong plant enthusiast, was in the garden at his weekend home in upstate Sullivan County, New York when he noticed a plant that looked like echinacea, but had extremely unusual, green flowers. Veeder sent it to several horticultural labs for analysis. The scientists informed him he'd found a new genus of echinacea. Tests also showed the plant Veeder discovered had set a new record for high levels of cichoric acid, a plant chemical renowned for its antioxidant effects. It boasts a 300 percent higher concentration of cichoric acid than any other echinacea purpurea on the market.
Veeder named this flora Echinacea GreenEnvy and partnered with farming expert Robert Beyfuss to start growing the plant at scale. Since 2014, they've been producing skincare products with a lab in New Jersey, maximizing the benefits of the natural ingredients by pairing them with key man-made components. The brand sits in a sweet spot where nature and science overlap, and for that, Veeder makes no apologies. "We feel it's the combination of both natural and man-made that makes our products effective. Any ingredients that are man-made are very low on the toxicity scale," he told the Observer.
It's a refreshingly honest approach in a market crowded with brands who are happy to sell the lie that "all-natural" is better. The fact is that many natural ingredients are extremely irritating and can do real harm to skin. Meanwhile, too many DIY-born upstarts are selling the myth that you can make high-quality skincare at home with farmers' market ingredients and a $4 budget. "Natural is such a vague and misunderstood category," Veeder says. "There are the 'small batch' products that are 'homemade' with a lot of natural ingredients but are not effective or particularly luxurious to use. Others say they're 'natural' but are filled with synthetics that are not particularly good for you."
Once you've bought into the brand story and ethos, there's another hurdle to clear: This stuff has to work. Farmacy has a tightly edited but robust collection that's won raves from the kind of skincare nerds who often favor more clinical brands than crunchy granola ones. Best-selling products like the Sleep Tight Firming Night Balm ($48), Green Clean Makeup Meltaway Cleansing Balm ($34), and Rise 'N Shine Daily Moisture Lock Moisturizer ($40) are delivering results to a consumer population that increasingly wants to know who makes their skincare and how.
The brand's Honey Potion Renewing Antioxidant Hydration Mask ($56) and Honey Savior All-in-One Skin Repair Salve ($34) have achieved cult status in part due to another of Farmacy's exclusive ingredients: GreenEnvy honey that is made only by bees that pollinate the Echinacea GreenEnvy flowers on Farmacy's farm. Meanwhile, Veeder and his lab partners are diving deeper into the science of ingredient extraction. "We recently discovered a new active from the GreenEnvy roots that will play a starring role in an upcoming new product launch later this year," he says. Pressed for more details, all he'll give up is that the ingredient excels at plumping the skin and making lines less visible.
In the meantime, getting to know individual customers is providing ample motivation to keep developing winning formulas. "I was recently doing an in-store event at Sephora, and a woman came up to me and started to cry," Veeder says. "She said, 'Thank you, your product is the only thing that has helped my rosacea—my skin is now so much less irritated, red and painful!' Those are the moments that inspire me and affirm that we are on the right path."
Jackie Danicki created one of the first and most popular beauty blogs in 2004, and has consulted some of the world's most iconic brands on digital content strategy and innovation. Jackie blogs at http://burnedoutbeauty.com, and you can find her on Twitter, Instagram, and Snapchat as @burnedoutbeauty.