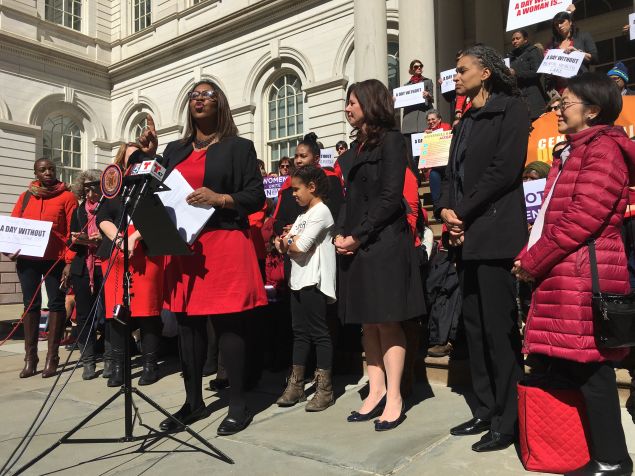 The City Council Women's Caucus and feminist advocates rallied in front of City Hall in honor of International Women's Day and this year's "Day Without a Woman" protest—and to rip President Donald Trump for his comments and actions on women's issues.
The "A Day Without a Woman" strike, put together by the organizers of the Women's March on Washington, seeks to demonstrate women's economic clout and importance in the American and global economies and simultaneously shed light on economic injustices women and gender nonconforming people face. Today, women participants—sporting red as a symbol of revolutionary love and sacrifice—boycotted paid and unpaid work and shopping in stores or online.
Councilwoman Helen Rosenthal, co-chairwoman of the Women's Caucus, said that part of the reason why there is gender inequity stems from women "not being part of the debate," and called on more females to run for local office.
"A day without women—and maybe you can raise your signs as we say this—a day without women means a day without healthcare," Rosenthal said. "It means a day without education. It means a day without childcare, without libraries, without elder care, without care for the homeless, without mental health care, without foster care, without sexual violence advocacy, without reproductive care, without activism—and that ain't right."
She also praised Mayor Bill de Blasio for appointing women to half of all top position in his administration. The mayor also recently signed an executive order banning city agencies from inquiring about job applicants' salary history, which the councilwoman said was especially important to administration.
"You know, that small simple act, by doing that, you have women in the room who know what it's like to have a day without women and so you can advocate with him on a day-to-day basis, to make sure that the policies that the city enacts are mindful of the women who keep doing this work, day in, day out," Rosenthal continued. "Caring for those who are most vulnerable and to appreciate that work and make sure that it's funded properly and treated with the respect that it deserves."
But Rosenthal also noted that the city employs roughly 90,000 human services workers, 80 percent of them are women, and complained they are severely underpaid.
But the bulk of today's outrage focused on the man in the Oval Office.
Trump provoked controversy on the campaign trail when an 2005 video emerged in which he described how his fame enabled him to sexually assault women, and even to "grab them by the pussy." Numerous women also came forward alleging the Queens-born businessman had touched them without consent.
The Trump administration is also reportedly planning to cut funding for programs established under the Violence Against Women Act, which was passed in 1994 to assist female victims of abuse.
Public Advocate Letitia James spoke to the challenges that African-Americans and people of color in general have faced in the United States, and praised women and other groups for protesting and standing up to Trump. She vowed they will march and "continue to take over the steps from the White House to the statehouse to City Hall."
"Now more than ever in the face of an administration which unfortunately does not recognize the Constitution, that does not recognize the law," James said. "But all of us, all of us are here to say to the president of these United States, that the law applies to you, too."
And she said that they will not give up their fight until women are treated equally.
"Today, we strong women—women of all colors, all races, all denominations, women—we rise up and we resist and we repeat and we do it over and over and over again until victory is won and until women are recognized and until we get our fair share of resources in the city and in this nation," James continued.
Gloria Malone, the philanthropic liaison for the Young Women's Advisory Council for Girls for Gender Equity, said they have been working with the mayor's office, the City Council and their philanthropic partners around the city. She also pointed to the need to address the challenges that transgender women of color face.
"I wanna start off by saying that trans women are women and that seven black trans women have been killed in the first two months of this year and that we all need to do better to make sure that we are protecting, supporting and uplifting trans women here in New York City and around the world," Malone said.