Welcome to our TV Fashion column, where TV Ate My Wardrobe's Emma Fraser discusses the trends in television apparel. This week: Feud: Bette and Joan and The Good Fight make their boldest statements around the neck. 
Legal battles in present day Chicago and Hollywood in the 1960s don't sound all that similar from a style point of view, but on Feud and The Good Fight statement neckwear and bold patterns reveal similar power play parallels. There is no room for subtle when it comes to the personalities on display on either show and costume design plays an important part in highlighting character strength as well as giving sartorial inspiration using current trends.
Both come from pre-existing worlds; Feud is based on the real lives and rivalry between Joan Crawford and Bette Davis, whereas The Good Fight is a spinoff and features several established characters from The Good Wife. What this means in terms of costume is there is already material to work off and for Feud, there are the photos, footage and films of the main players readily available. With The Good Fight characters like Diane Lockhart, Lucca Quinn and Elsbeth Tascioni already have a look the audience is familiar with and it isn't like they're going to suddenly start dressing differently now their show says 'Fight' in place of 'Wife.'
This doesn't mean there isn't room for growth and interpretation and even with it isn't a simple case of seeing a photo of Joan Crawford or Bette Davis from 1961 – the year Joan approached Bette about Whatever Happened to Baby Jane? – and simply copying everything about it. The same can be said for The Good Fight in that we're not going to see Diane wear the exact same outfits as she did at her former law firm and there is, of course, a whole roster of new characters among the familiar faces. Costume designers Lou Eyrich (Feud) and Daniel Lawson (The Good Fight) are working within certain parameters – Eyrich with archival footage, Lawson with the world he has already created – and they are both bringing something new and exciting to the table.
Fashion is cyclical and as I have discussed on several occasions trends have a habit of repeating; neck adornments from statement necklaces to pussy-bow blouses are repeated throughout Feud and The Good Fight and this is one way of demonstrating power through accessories. What a bold neckline does is draw attention and a "statement necklace" is called just that because it is saying something loud and clear. Diane Lockhart has always had strong jewelry game from the link chains which double down on her unbreakable strength to the pearls she often favors in multiple strands.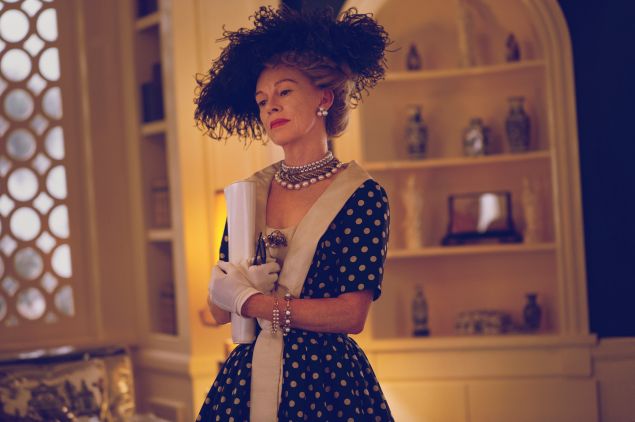 No one quite does layers of necklaces quite like Feud's Hedda Hopper, who wears pearls on top of pearls on top of jewels around her neck. Why wear one when you can wear three?! There is nothing shrinking about Hopper's style. She very much leans into the theatrical elements of the business she works in; from the art gallery worthy hats that sit on top of her head to the colorful patterned dresses which work with the theme of her accessories. Even when she is wearing all black there is an aspect of high drama and she is just as extravagant, if not more so than the subjects she writes about.
Hedda Hopper is not the only one to go bold when it comes to accessories and her neckline; both Joan and Bette have their go to fur style and this is Hollywood in the early '60s after all. For Bette, her large mink is just as integral to her overall look as the cigarette in her hand and the oversized glasses on her face. The latter makes way more sense in the Californian sun than her choice of coat, but when you've crafted a look that is selling a story you've got to stick with it. Joan does both the full fur and accents around her collar; it isn't just jewels which have a way of announcing wealth and celebrity.
At the end of episode 3 as Joan and Bette leave the Baby Jane set for the last time they look worlds apart; Bette's simple solo string of pearls, signature sunglasses and tan ensemble are very much at odds with Joan's bold blue outfit with matching red earrings and necklace. The only thing linking them in how they look is the cigarettes they are smoking and that's not exactly a rarity in this particular point in time. In fact, not smoking would probably be less common even if both women are trying to keep their daughters from picking up this habit. While I'm on this subject and as an aside, it is incredible how much Kiernan Shipka looks liker her former onscreen mother, January Jones as Betty Draper in the opening scene of "Mommie Dearest" as she tries to get Joan's twins to smoke with her.
Accessories help individualize an outfit; a brooch turns a plain jacket or top into something decadent and no one knows this better than Joan Crawford or Diane Lockhart. Brooches are not just for Joan, Bette and Hedda and Alison Wright's assistant to the director Pauline is also partial to a brooch and an interesting collar. Pauline sees and hears everything, and she's an invaluable asset to Baby Jane director Robert Aldrich and these flourishes signal that she is far more than just a secretary.  
Jewelry is used on The Good Fight as a link to the past; these are the repeat pieces and this shows continuation through costume. The vintage marcasite dragonfly brooch is a signature piece of Diane's that she wore in season 5 of The Good Wife and recently on The Good Fight. There's a lot of pattern in Diane's wardrobe and between the houndstooth and florals, there are some simple pieces. To add flair and draw attention the brooch or pin route is a winning one that Diane has turned to on numerous occasions.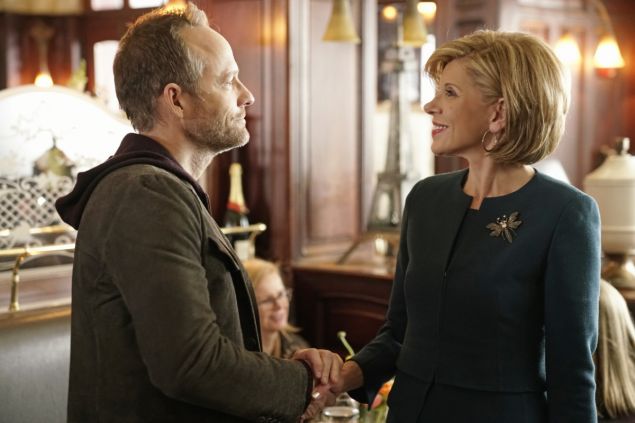 In fact, the only time Diane has worn something muted this season was on her first day at her new firm when she opted for a black Armani jacket with a flash of red underneath. This reveals a sense of uncertainty about this new chapter and also not wanting to clash with her new boss Barbara; Barbara is also a big fan of prints and textures in the office and her partner Adrian Boseman definitely leans into the performance aspect of being a lawyer in his three-piece suits. Adrian's choice of tie and pocket square stands out just as much as the prints his co-workers wear and peacocking elements to reveal dominance in the courtroom and office are at play here.
Theatrical dressing isn't reserved for those in Hollywood and in the most recent Good Fight there was a whole cavalcade of prints and pussy bow-blouses on display. John Cameron Mitchell guest stars as an alt-right provocateur by the name of Felix Staples and with each meeting at the firm his ensembles up their attention seeking levels; when he finally rocks up in a floral Burberry jacket, bright sweater and tie they've had enough of his BS and instead of indulging in his antics they walk away. The pussy-bow blouses have come out in force and this game of fashion tit for tat only has time for one winning side.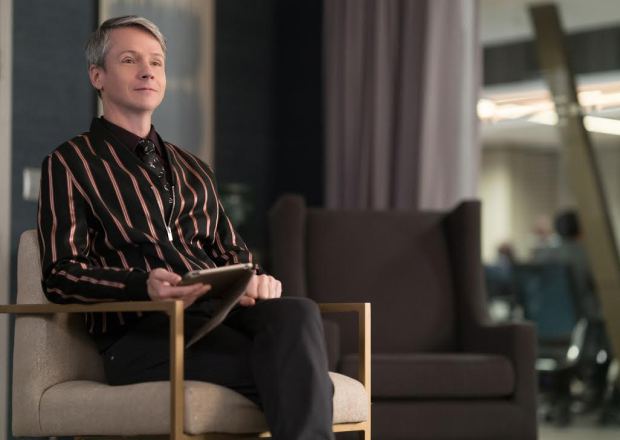 Only one character from the main cast who works at this firm is muted in their style choices and it makes sense for Maia to dress in neutrals as she has an ongoing family scandal to deal with. If there is anyone who doesn't want any unnecessary attention then it is her.  
Feminine twists on menswear is a big TV style trend right now from present day procedurals such as Joan Watson's many spins on neckwear on Elementary to costume designer Daniel Lawson's work on the very fun and Washington D.C. set BrainDead with a Saint Laurent pussy-bow blouse – that I'm coveting hard – being worn by both Lucy Liu and Mary Elizabeth Winstead. More relaxed silk blouse neckties, which are often undone, can be seen as part of Keri Russell's travel agent work wear in 1984 on The Americans and Masters of Sex had a whole host of collar and tie detail in its final season as they entered the 1970s.
Which brings us back to Feud with bows of smaller sizes featuring among the pearls, jewels and furs. Accessories can do a lot to an outfit and in the case of the women (and some men) on Feud and The Good Fight, they are using fashion trends to draw attention and wield power in an ultra-competitive landscape of fame and legal battles.  
Emma Fraser is the creator of TV Ate My Wardrobe and spends most of her time writing about TV, fashion and costuming; Abbi and Ilana's Broad City style, the wigs on The Americans and Mindy Lahiri's pajamas are just as vital as talking about '90s, '00s teen shows. Emma has a MA in film and television, and she probably holds Angela Chase responsible for this path. You can find her on Twitter @frazbelina.