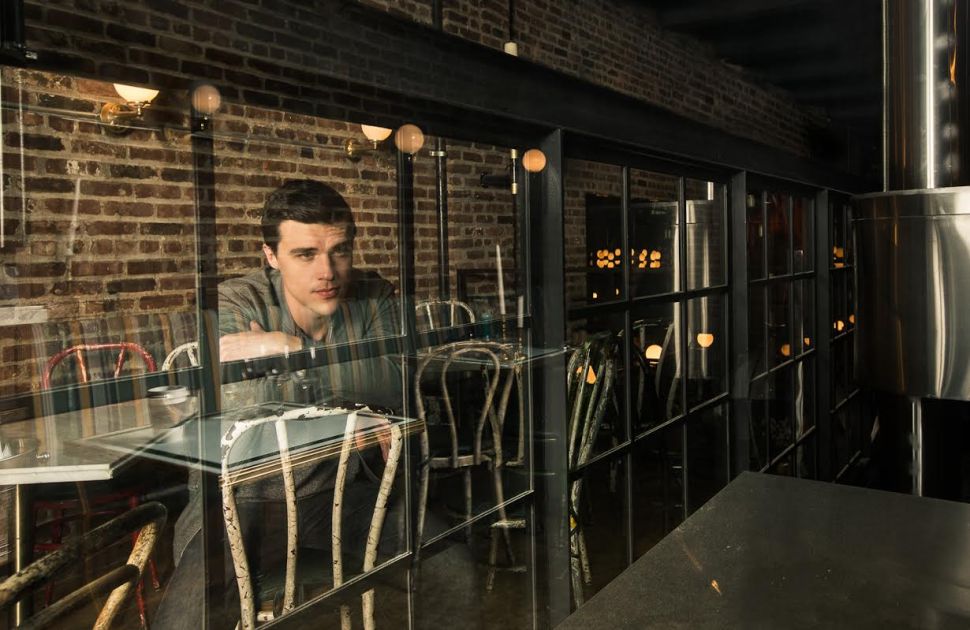 The first time I saw Finn Wittrock, he scared the shit out of me. As Dandy Mott in the fourth season of American Horror Story (that would be the "Freak Show" one, for those not keeping up), Wittrock, 32, was a rich mommy's boy-turned-serial killing clown (because in a Ryan Murphy production, one naturally follows the other) who turned matricidal when he didn't get his way. Wittrock, with his cleft chin and movie star good looks, has a polish that tends to cast him in a darker light: as mere mortals, it's hard for us to imagine anyone that attractive hasn't just been over-compensated for some defection of the soul. Which is why he's made such a good foil in the last three seasons of Murphy's seasonal anthology, playing everyone from Dandy to Rudolph Valentino to a vampire/male model named Tristan (and that was in the same season!) to, most recently, a backwoods inbred cannibal in American Horror Story: Roanoke …a role that required the actor to transform himself with so many prosthetics that he was barely recognizable.
But outside of AHS, Wittrock has enjoyed a killer career trajectory, beginning with an off-Broadway stint in 2011 for Tony Kushner's The Illusion and a year later, on Broadway in Michael Nichols' production of Death of a Salesman, a rendition made famous by its applauded reviews and Philip Seymour Hoffman's performance (Wittrock and future Spider-Man Andrew Garfield played Hoffman's prodigies). Wittrock, like his AHS co-star Evan Peters, seems at home playing smaller parts in larger ensemble films, like his turn in Adam McKay's The Big Short (where he played a young garage investor, Jamie Shipley) and most recently, as Emma Stone's clueless, pre-Gosling boyfriend in La La Land. 
Luckily, Wittrock didn't manage to be part of the coterie on-stage during the epic #OscarFail of 2017, as he was in rehearsals for his return to Broadway in Sam Gold's The Glass Menagerie. (Prior to that, he'd been working with Gold for New York Theatre Workshop's production of Othello.) As he splits his time between Los Angeles–where he lives with his wife–and New York, where he performs alongside the likes of David Oyelowo, Daniel Craig and Sally Field. Wittrock sat down with us on his day off to talk about Tennesse Williams, Ryan Murphy, and while he'll always be brushing up his Shakespeare.
What do you think will surprise people most about this production of The Glass Menagerie?
I think people are surprised by how many laughs there are in the show. I was surprised when I first read it.
I don't know how Sally Field managed to embody both my mother and my grandmother at the same time.
I heard she did some research on that, talked to them about it. 
The play struck so close to home, the last third act I was just muttering into my hands "Shut up shut up shut up, you're making it worse!" Both to your character and Field's.
A lot of people have felt that it's close to home, and maybe not in a totally comfortable way. 
My first experience watching you was originally on American Horror Story, when you showed up in season 4 as the rich brat-turned-clown-serial-killer. But I had always wished that I had been able to see that performance of Death of a Salesman that you starred in with Philip Seymour Hoffman.
That was a life-changer. 
Was that your first big introduction to theatre?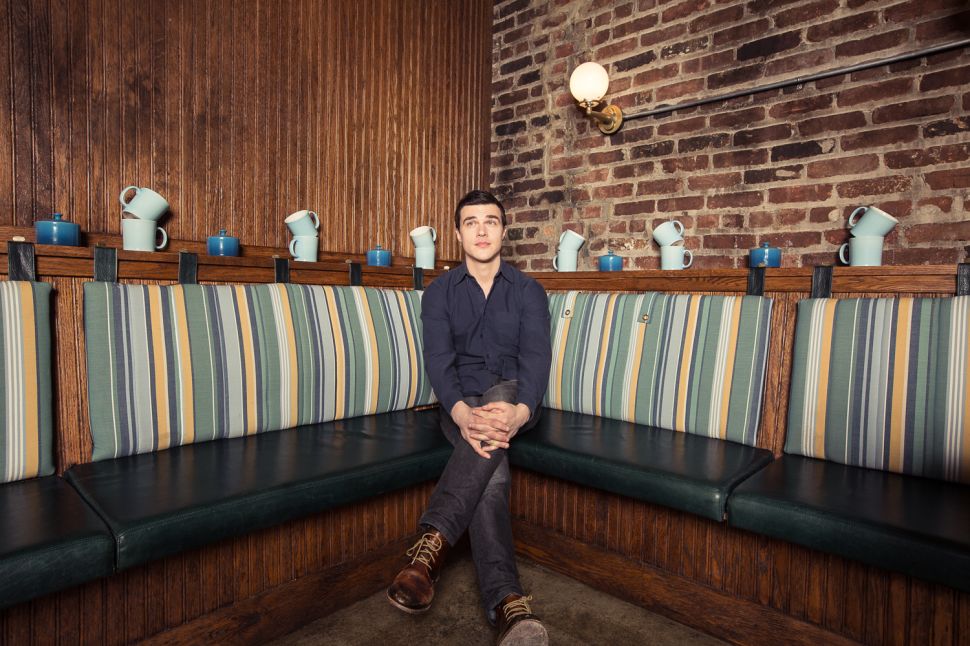 Not with theater as an art. I've been doing theater since I was a kid. But it was definitely like, in terms of my career, a big break for me. And just artistically too, working with those people opened me up, I would say, in a big way. So it's kind of cool, looking back at what I think is five years ago, now. 
You were what, in your early twenties?
I turned 27 during the production. It's fun and beautiful to come back to Broadway, to see how I'm different, how my confidence is different.
As the Gentleman Caller, Jim O'Connor, you're VERY confident.
Well…I'm acting that way. But I still feel like a kid when I'm onstage.
I was reading The New York Times' profile of Sam Gold putting on this production, and they gave you guys a glowing review. And I guess I hadn't known that Madison Ferris, who plays Laura, has muscular dystrophy. That wheelchair she sits in through much of the play isn't a prop. I just thought she was making a very specific character choice for a part that only requires a slight limp.
I think Sam is very sincere in trying to expand the pool of what we're used to seeing onstage, and trying to crack that open; trying to crack open the norms: the normal shapes and sizes and colors of what we see onstage.
I imagine that makes the production extremely hard to block around. The scene where you are trying to get her to dance, and you knock over a figurine…the entire time, all I could think was "They must have rehearsed that scene endlessly."
The blocking was very specific and very intricate. Though it seems very simple, there's a lot of work that goes into making it seem that natural. The analogy is perfect for the whole production because the set looks completely bare-bones, but if you read that Times piece, you see there were, however, many thousands of pounds of concrete poured onto the stage. All the sprinklers. This contraption to make the table move back at one point, that's an incredibly elaborate contraption of shifts and levers and things. Which, basically, no one notices. Because it's all to make a table move back, seemingly on its own, when the spotlight is elsewhere. All the work that goes into making something seem effortless. But that's the kind of magic of it.
I haven't done theater since high school, but even then, I remembered just how exhausting it was. The everyday grind of it all. Rehearsal, rehearsal, rehearsal, opening night, all these performances…and that's just like, a high school production of Guys and Dolls. I can't imagine what that must be like on Broadway, especially coming off doing television and film.
It is, it's very different. The fundamentals of acting are still the same, but the kind of athleticism of doing a play is just more demanding.
I imagine everyone has to be in just really good shape.
Internally, too. Also, I think the biggest difference to me, is, say, I have a tough emotional scene to complete in a movie or a show. That will be like, a really tough day at work. It will be like 8-12 hours that are really rough, having to go there. And then it's over; it's done, and I never have to touch it ever again for the rest of my life. It's in a can, it's in a computer program somewhere and someone edits it, and it's gone. But if I have an intense scene in a play that goes well one night, I have to go back the next day and do it again. There's no finale, you know?
Your character, Jim, reminded me so much of most of my ex-boyfriends. One of these guys who means well, but is always trying to–for lack of a better word–"mansplain" everything. He's a little bit of a blowhard.
I think he's a guy who lives by self-help books. He's a guy who lives by an idealistic, gung-ho America kind of thing. But I think he believes in it genuinely. And I think the trap is having him fall into a lecture-y egotist. I think he is selfish, but completely unconsciously. I think he is trying to help her, and the scene does play deeper.
The way he's just hitting that beat over and over, that her problem is a lack of confidence. 
I think he's like a lot of people. A believer in hard and fast solutions. I started reading this book, How to Win Friends and Influence People, by Dale Carnegie. It's one of the first kind of real self-help books. It may actually have been….Tennessee Williams might have taken some inspiration [for this character] from it. The way Jim speaks is very, very similar. So I read that every night before I go on stage. 
At its core, the book actually has a nice message. It's like "Make it about the other person, don't make it about you." 
And explain their personalities to them.
That's the trap, yes.
In general, I'm not the hugest Tennessee Williams fan. Melodrama is its own certain thing, and where we're at right now as a country, it feels like watching a show that's so claustrophobic in its view of family it's maybe a bit…melodramatic. But the way Gold did the show felt very modern: there was a lot of physicality, the way the characters are constantly touching each other, that I'm pretty positive Williams didn't write into those bare-bones stage directions. 
I think Sam is always looking to how to be faithful to the play as written, but also be very affecting for people in 2017 walking into a theater. How to do both things at once, but always leaning to the side of what will affect people the most, rather than playing homage to another dead playwright. 
At the very opening of the play, after Tom's speech, someone right behind me yelled out "Sounds like Trump!"
Oh yes. I remember that. The line was about "the huge middle class of America was matriculating in a school for the blind."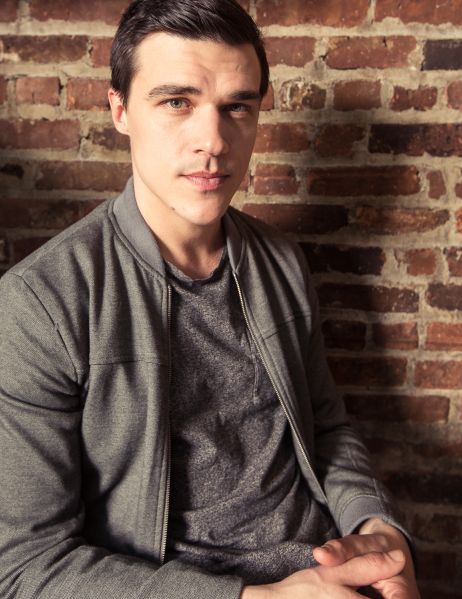 That's a great line.
I know, Tom has all the best lines. You think of these plays as sort of dated, but it does become amazingly pertinent when you strip it down. And the stuff Jim says about America…it still hasn't aged. We haven't aged out of that mentality. 
I think the play is really harkening back to a time that is simpler. Because the play is written just at the cusp of World War II, but is set in the 30s. Tom is looking back at a time just before the world blew up with a kind of nostalgia, but also, things weren't so great then, you know?
No, it seems almost…uncomfortably tight.
Tight, exactly. Claustrophobic. The family as the microcosm for the national blow-up that was about to happen. And I feel like there's a sense of that now. People are, even from a few months ago, nostalgic about the past. 
Oh my god, do you remember a couple months ago? Things were great!
I know right? The world was so simple! 
The play is about memory, and that never gets old. You don't think about memory in a vacuum. Every memory you have is connected. You feel something about that memory. Anything you harken back to, you feel a certain way. Your stomach is connected to your head. I think that's what the play was after: really stripping memories down and making them about bare-bone human essentials. 
Let's go back a little bit. You said you did theater in high school?
Even before that. I was born in Massachusetts, in Lenox, and my dad worked at this theater company called "Shakespeare and Company." Mostly summer, but they do some stuff year round with Shakespeare. I kind of grew up running around the hills of the Berkshires, listening to actors do Shakespeare and being like the pageboy for whatever play was happening at the time. So that's where I caught the bug. I was young.
Were you a big Shakespeare fan?
Yes. I would say so. It was nice, I got to do Othello right before this with Sam, which was great. So that's where I began, and then I moved to LA when I was 12 and went to this arts high school, called LA High School for the Arts. 
Then you came here, did Death of a Salesman…so how does this lead you back to Los Angeles and getting hooked up with the Ryan Murphy crew for American Horror Story?
Ha, it's funny how life becomes like a domino effect, right? You can track back like "How did I meet that, from that, from that?" I was in a movie called The Normal Heart, which Ryan directed, which Mark Ruffalo was in…and actually, so was Joe Mantello (from Menagerie). He was in it on Broadway, but plays a different part. It's a beautiful movie. I just got that from an audition. Salesman had exposed me to a lot more casting directors at the time, so I started going out a lot when that was over, and I went out for The Normal Heart and found out three months later that I got it. And then shot the scene…I mean, it's a nice part, but it's a smallish part. Really intense and cool, though. 
I met all those guys, and then Ryan one day on the set was like, "I have this crazy idea for a character in my show. Do you want to do it?"
What he doesn't tell you is that the following season, you have to play two characters. 
Or I'll have to wear so many prosthetics that no one recognizes me.
American Horror Story: Roanoke will live forever in my memory as "the season we barely saw Evan Peters or Finn Wittrock." 
Yeah, it's the season where everyone showed up and immediately died.
Well, to be fair, that's often how AHS plots develop. 
But that's the thing about the show! Being dead doesn't mean you're not going to work! Kathy Bates I think, talked more AFTER she was dead. 
Are you a dancer as well?
(laughs) Who told you that?
In the Hotel season of American Horror Story, you have a great tango with Lady Gaga. I thought "This guy has some moves!" And then watching the heartbreaking way you "dance" with Laura in the Menagerie… 
Oh, that's sweet. I'm married to a dancer, actually, so maybe she's rubbed off on me through osmosis. They do make me dance on that show, that's right. They don't make me sing, luckily…for everyone's sake.
I have to say, for a lot of my friends, Dandy from American Horror Story: Freak Show is their fan favorite character. 
That's cool. That's pretty wild. He creeps me out, personally.
Ryan Murphy is heading up approximately a million projects right now: AHS, American Crime Story: Katrina, Feud….are you going to be involved with any of these projects?
You know, Ryan is a very loyal guy. I'm sure I'll get an email from him one of these days with something to do, and I'll inevitably say yes.
So, let's talk La La Land. You had a small role in the film as Mia's boyfriend. Were you there at the Oscars?
No, I wasn't. The nice thing about doing a play is it makes for a perfect excuse not to have to go to those things. Or anything else. I guess I might have been there, if I had been in LA. 
Did you watch the now-historic moment when La La Land handed the Best Picture Oscar to Moonlight?
Yes, I watched the whole thing. It was…tense. I would say the word "tense" could be used. 
But it also made for some great live television. 
It did, it did. I have to say, I felt bad because the Oscars had done really well, up to that moment. The show was going really well, it was a relatively diverse year, the jokes were pretty funny, people had nice speeches…and the ONLY thing people are only going to remember is this fiasco. The last few seconds. 
But yes, it did make for a great moment on live TV. I just don't know you're supposed to compare La La Land to Moonlight; it's like comparing two totally different art forms.