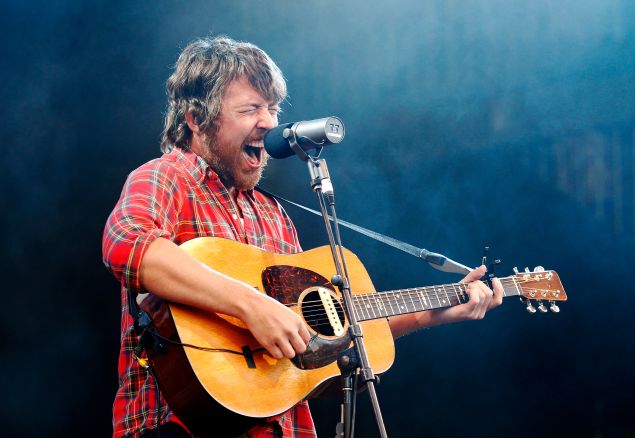 It's surprising to realize that for all the cultural cachet Fleet Foxes have gained, they were really only active for five years before they took a six-year hiatus.
In that time frontman Robin Pecknold has written musical theater, released some solo songs, and got an education, and of course ex-drummer Josh Tillman has carved out a successful career for himself, while the other members have shied away from the spotlight.
Now, over half a decade since their Grammy-nominated Helplessness Blues, Fleet Foxes are back in full force with an epic new single, a new album and tour announcements.
Clocking in at almost nine minutes, new single "Third of May" is the longest Fleet Foxes song to date. It's impressive then, but not surprising, how dynamic and engaging the track is. There are some truly haunting and beautiful sections in just this one song.
Despite the heavy instrumental layering, it still sounds like a Fleet Foxes song, so fans can rejoice that they finally have a song they don't know all the words to.
The song, alternatively titled "Ōdaigahara," is the first single off Fleet Foxes upcoming new record Crack-Up, timed for release on June 16. Peckinold responded to a fan asking about the content of the album by calling it, "Beautiful / not pastiche / not overwrought / surprising."
The album will purportedly pack 11 songs into 55 minutes of soulful folk-rock melodies. The band has also switched labels, ditching SubPop in favor of similar-sized indie Nonesuch Records.
This May, Fleet Foxes will play their first shows since 2012 during a four-night stint at the Sydney Opera House Concert Hall, as part of VIVID Live. They have also announced a string of European and North American tour dates as well, beginning on July 1. The dates are listed below:
July 1—Vida Festival—Vilanova i la Geltrú, Spain
July 3—Bands Apart—Ferrara, Italy
July 7—Bilbao BBK Live—Bilbao, Spain
July 13-July 14—The Iveagh Gardens—Dublin, Ireland
July 16—Latitude Festival—Southwold, United Kingdom
July 27—Thompson's Point—Portland, ME
July 28—Newport Folk Festival—Newport, RI
July 29—Merriweather Post Pavilion—Columbia, MD (w/ Animal Collective)
July 31—Mann Center for the Performing Arts—Philadelphia, PA (w/ Animal Collective)
August 1—BRIC Celebrate Brooklyn! Festival at the Prospect Park Bandshell—Brooklyn, NY
August 4—Massey Hall—Toronto, ON
August 6—The Masonic—Detroit, MI
September 23—Hollywood Bowl—Los Angeles, CA (w/ Beach House)
September 27—Red Rocks Amphitheater—Morrison, CO (w/ Beach House)