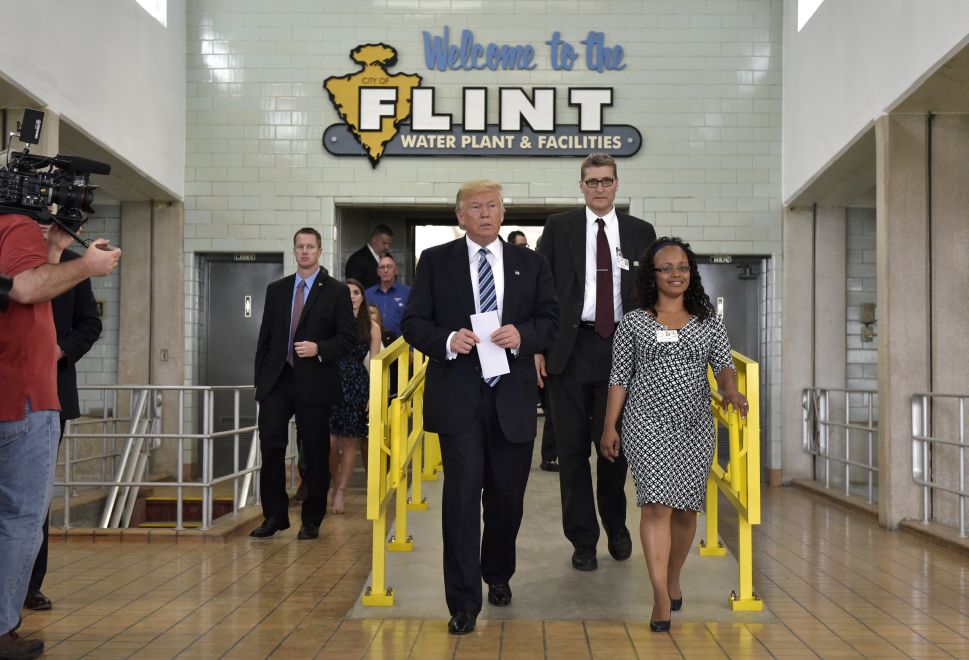 Flint, Mich. has not had clean drinking water since April 25, 2014, when the city switched its drinking water supply to the Flint River. The estimate to fix Flint's water infrastructure system was placed around $55 million. Since news broke of Flint's water crisis, celebrities and politicians have exploited the crisis to elevate their images, cast blame on their opponents, and boost fundraising for their own endeavors—all while Flint's water remains polluted.
Flint is located in Genesee County, a typical stronghold for the Democratic Party. From the 2012 presidential election to 2016 election, voter turnout decreased by over 5,000 voters. Saginaw County, which borders Genesee County to the north, saw a a decrease of over 6,000 voters and flipped from supporting former President Barack Obama in 2012 to President Donald Trump in 2016. Clinton won Genesee County by a margin of 52.4 to 42.9 percent, while Obama received 64 percent of the vote in 2012.
Though Clinton seemed to pay attention to the Flint water crisis in the primaries, she ignored it during the general election, which contributed to her narrowly losing the state by just over 10,000 votes—even though the Republican governor's approval rating is an abysmal 33 percent. The Detroit News published an editorial in April 2016 entitled, "Clinton is gone, and Flint forgotten." It noted that Clinton exploited Flint's mayor to portray herself as the savior of Flint and ignored the issue once the Michigan Democratic primary ended. The Huffington Post reported in November 2016 that the Clinton campaign's strategy ignored Michigan during the general election "in part, because of psychological games they were playing with the Trump campaign. They recognized that Michigan, for example, was a vulnerable state and felt that if they could keep Trump away―by acting overly confident about their chances―they would win it by a small margin and with a marginal resource allocation." Clinton never visited Flint after the primaries. Trump visited in September 2016 to capitalize on the anti-government sentiments resulting from the water crisis and the government's inability to fix it.
In early 2016, several celebrities and organizations raised a substantial amount of money for Flint. Beyonce donated over $80,000 raised through her ticket sales. Mark Wahlberg and Sean "Puff Daddy" Combs donated 1 million bottles of water, and the Detroit Lions and Pearl Jam added 100,000 bottles each. Thousands of dollars were raised on GoFundMe to help Flint. Walmart, Pepsi, Coca-Cola and Nestle donated over 6.5 million bottles of water. Flint native Michael Moore, whose net worth is estimated at $50 million (which he earned from for-profit activism), implored people not to send bottles of water, but to sign his petition and circulate his posts demanding that Republican Gov. Rick Snyder resign. Moore has remained relatively silent on the issue since the Democratic primaries.
This energy toward philanthropy and activism only lasted as long as it benefited those leading the calls. Flint still doesn't have clean drinking water, but people stopped caring because this activism was short-lived and focused on producing public relations benefits over meaningful action and results. Between Clinton's vast network of wealthy donors, celebrities, and the Democratic Party leadership—who have all claimed to be champions of the Flint water crisis—the resources to fix Flint's water is within reach. Instead, social justice movements, like the Flint water crisis, are hijacked and exploited by the people purporting to care, only to abandon them once the fundraising and marketing opportunities run dry—regardless of whether the problem has been fixed or not.