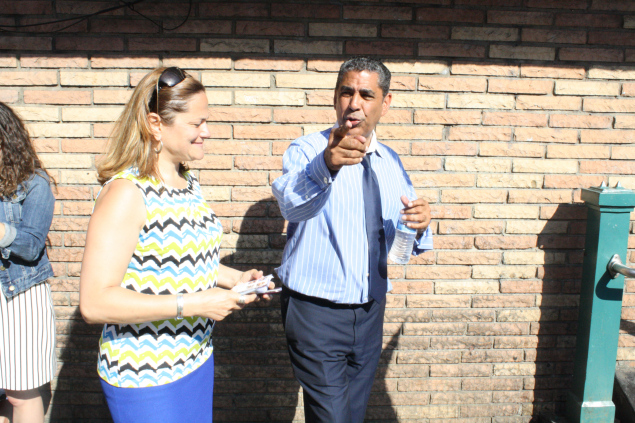 Congressman Adriano Espaillat used a meeting with Gen. John Kelly, Secretary of the Department of Homeland Security—which oversees Immigration and Customs Enforcement—to describe the atmosphere of fear that has enveloped his district and immigrant communities nationwide.
Espaillat joined colleagues in the Democratic and the Congressional Hispanic Caucuses for a sitdown with Kelly, who has presided over the implementation of President Donald Trump's aggressive enforcement agenda—under which any foreign national accused of any crime is vulnerable to arrest and expulsion. The freshman lawmaker's turf covers communities in Upper Manhattan and the Bronx home to a large number recent arrivals from Latin American nations, many like himself natives of the Dominican Republic.
The congressman reported ICE officers making arrests at hospitals, at schools, at churches and at courthouses, and recounted tales of people afraid to seek medical care.
"Mr. Secretary, my constituents are terrified," Espaillat said. "Both undocumented immigrants and green card holders are terrified to leave their homes."
"Where is the oversight? Where is the accountability? Where is our humanity as Americans?" he continued.
Espaillat also recalled his own experience as a child, when his family came to New York City and overstayed their visas. The clan ultimately had return to the Dominican Republic and await citizenship approval.
"Having been formerly undocumented myself, I know what it's like to live with that fear. And believe me, I don't wish that upon anyone," Espaillat told Kelly.
The congressman also alleged that ICE agents had used "coercive methods" on those in custody, and even falsified their testimony.
The solution, he argued, is to obligate ICE and Customs and Border Protection officers to wear video recording devices at all times on the job. To that end, Espaillat pointed to the "ICE and CBP Body Camera Accountability Act" he introduced just this morning—and demanded that Kelly use some of the $2.8 billion Trump allocated to his agency in his preliminary budget yesterday to implement the proposed policy.
Brooklyn Congresswoman Yvette Clarke also recently outlined legislation that would require ICE officers to wear body cameras. Espaillat's office said the two Democrats had been in communication about their bills, and noted Espaillat's would apply to border patrol officers as well as enforcement agents, and would establish regulations on the ability of the personnel to turn the devices off.
A spokesperson for Clarke's office, however, seemed unfamiliar with Espaillat's bill. DHS did not respond to requests for comment.