I imagine James Keziah Delaney landing in America (or wherever he ends up) and being asked by customs officials how he managed to elude border patrol on his way out of England. He'd probably grumble a Patrick Bateman-like excuse along the lines of "I had to kill a lot of people" at them. Now, just because we've reached the end of our story doesn't mean we've learned much more about its murdering, diamond-stealing, sister-screwing and dead-communing protagonist. "The things I did in Africa make your transactions look paltry," he tells Strange during their highly anticipated one-on-one negotiation in the Tower. "I witnessed and participated in darkness that you cannot conceive." It looks as thought this is all we'll get from Delaney in the end. And that's OK with me. Considering that in this post-Lost age of television it's become standard practice to overwhelm audiences with flashbacks and convoluted side stories, Taboo's "less is more" style of storytelling feels refined and effectively mysterious. If I knew all of the horrific things Delaney did in Africa, I'd probably be less likely to swoon over him each week as he stomps and mumbles about. For the time being I'm even inclined to forgive him for being a serial killer because I know he has serious baggage—but we'll never talk about it because I respect his privacy. For now—because I haven't given up hope that we'll see our hero again on TV—Delaney remains an enigma, and Taboo has seduced me like a Victorian zoetrope filled with scandalizing images unearthed from the not so recent past.
As our tale of revenge and justice comes to a wrap the list of the dead is quite long—as expected. A final tally of the deceased includes Zilpha (sad!), Helga (even sadder!), Dumbarton (who turned out to be a bad hombre), the East India's Tweedle Dee and Tweedle Dum companymen (both useless) and Sir Stuart Strange (swamp drained!). This week's big hurrah begins with a devastating yet beautiful image: Zilpha's suicide. Set to a voiceover of Oona Chaplin reading a final letter aloud to Delaney in which she details her plans to leave London for a destination unknown where she hopes one day they might both find each other again in happiness. Against a sunrise ripped from the canvases of J.M.W. Turner, she tumbles slowly into the Thames, and our final view of Zilpha Geary is a familiar one: sinking and bobbing in the water like we've seen each week in the show's opening credits.
Meanwhile, Delaney remains locked up in the Tower. When we catch up with him, he's in the throws of his tête-à-tête with Strange. Delaney's proposition is this: he'll withhold his account of the sinking of the Influence—which would include details about how he was ordered by the EIC to hide the ship's Union Jack and fly an American flag in its place—if Strange gives him a ship and drops all charges of treason against him. A reluctant Strange plays along, but only to avoid ending up in the Tower himself, and the final countdown to Delaney's escape from England by sea begins. Strange skitters back to the EIC headquarters where he anxiously fiddles with his watch over the next few hours moaning aloud to his minions about how insane his day is shaping up to be. And at the Tower, Delaney convincingly plays like he's "fallen off the tightrope," to use Coop's words, and cleverly delays his sentence hearing giving his miscreant allies time to tie up loose ends and prepare for their imminent departure from London.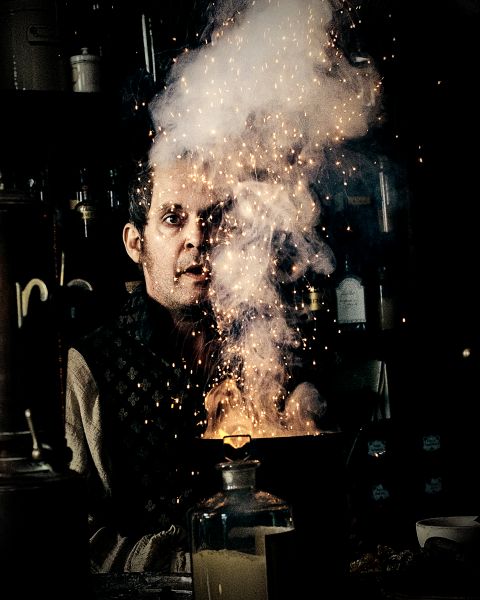 It's all action this week. While much of this season has unfolded in slow, quiet scenes, with sparse dialogue and striking visuals, the finale is a flash bang of gunfire and running from Red Coats. Atticus orchestrates a pre-arranged kidnapping of Helga and her companion from the EIC safe house, all part of the deal with Strange. Amid the chaos, there's still time for Lorna to reveal that it was the EIC and not Delaney who killed Winter, although it's of little consolation to Helga. Robert runs about town delivering orders from his imprisoned father to his known associates, ordering them to ready themselves for a final battle and enact his last secret plans. Lorna visits the Countess Musgrave under the guise of selling cosmetics to procure the group's safe passage to America. And in a neat little two lines between the women, Lorna's place in the game is revealed. "Who are you to him? His wife?" Musgrave asks. Lorna answers, proudly, "No, his mother!"And all the while Cholmondeley cooks up some extra fire power for the gang's battle with the Crown, who have no plans of letting Delaney off easily or alive, but we'll get to that in a moment.
Back at the Tower, Delaney finally put before the commission and Coop. But much to Coop's chagrin, he won't be handing over the names the American spies any time soon. In a superb Fuck You performance, Delaney puts on a spectacle for the panel, chanting and rocking back and forth while Coop threatens to turn his testicles into an edible paste. "You promised to give me those names," Coop says. "Did I? I must have lied," Delaney quips, staring wide-eyed at no one in particular and declaring that the ravens have told him that all charges against him will be dropped before noon.
So you can only imagine then that Mark Gatiss is none too pleased when Delaney is finally released. Coop sprints to tell the Prince Regent the news to the tune of "shit, shit, SHIT, SHITTT," all the way to Gatiss' gilded sanctum. "How is your religion?" the Prince asks Coop, learning of Delaney's freedom. "After many years in your service, it is in rags and tatters your highness," Coop answers. And with a long stream of "fucks " the Prince orders that Delaney is to be killed.
Delaney arrives home to find Zilpha's suicide note. We saw an inkling of his methods for coping with grief last week following Winter's death, but his sadness for Zilpha brings what little emotion he has fully to the surface. When Lorna finds him, all he can do is sit and stare in denial. "If she was in the river, she would sing to me," he says to Lorna, ruminating on the intimate connection he shared with his sister and the one he shares in his visions with the dead. Delaney buries his head in his hands, collapsing in on himself, only roused back into action by Lorna's reminder that no amount of singing will bring Zilpha back. "If anything it's a fine day to die at sea," she says, and with that it's back to the business of escape.
Before heading to the ship, Delaney stops in on the good doctor Dumbarton, who isn't so good after all. "A sheep can be meat but it can also be wool," Delaney reminds Dumbarton, repeating his own words back to him when Dumbarton presents him with a deed of transfer to sign from the East India which would hand over land rights to Nootka. "You're simply somebodies meat boy," Delaney tells him, "Pulling your wool over everbody's eyes." Dumbarton, like Thoyt, has fallen under the spell of the East India, and has been playing both sides. "No one in this city has only one master," Dumbarton says, just before our hero slams Michael Kelly's head into the table and proves that even the most violent men can have a conscience. "I do," Delaney declares, and he drowns Dumbarton in a bucket of dye before stringing him up.
At the docks, Delaney's motley crew awaits him and the Red Coats. Atticus, clad in his leather street battle gear, and accompanied by the excellent Scroobius Pip as his leftenant, clears and barricades the streets. Just before all hell breaks loose, Delaney serves up his own "kindness" to his murdering servant Brace, telling him that he won't be joining the expedition to the New World. "You've always been my father's man in his father's world. Now we're going to my mother's," he says, leaving the house and his father's property to him. "You weren't born for freedom, you wouldn't know what to do with it."
Let the battle begin. Cholmondeley surprises the arriving Red Coats with an explosion at the gate, giving the gang an opening to make a run for the boat. Gunfire pops back and forth and in a matter of minutes the scene dissolves into war. In the shuffle, Helga is killed, Lorna is shot and Cholmondeley becomes collateral damage when one of his explosions is accidentally set off. But if everyone died, where would the justice be in that? Delaney, Robert, Atticus and the injured escape the gunfire and shove off to sea. But are we really sailing to America?, Atticus wonders. No, Delaney has his own plans, as always. It's off to Ponta Delgada first "to see about a man named Colonnade." "I thought the powder was for the Americans?" says Atticus. And as the crew raises the stars and stripes, Delaney declares: "We are Americans."
One Last History Lesson: Taboo's appropriation of real life historical events—the Nootka Sound Treaty and the East India Company's 19th century trade monopolies—mixed together with fictional battles and heroes, have made for a riveting crash course in the uncomfortable pasts of two nations, both America and Britain. But the finale's most explosive moment, when Delaney makes the EIC HQ go boom and sails off to sea, was just a flashy prelude to its real, satisfying conclusion. No, the real moment of satisfaction came when Chichester, holding Delaney and Godfrey's testimonies against Strange, lets out a deep sigh with a smile and relishes the East India's fate aloud with one word: Justice.