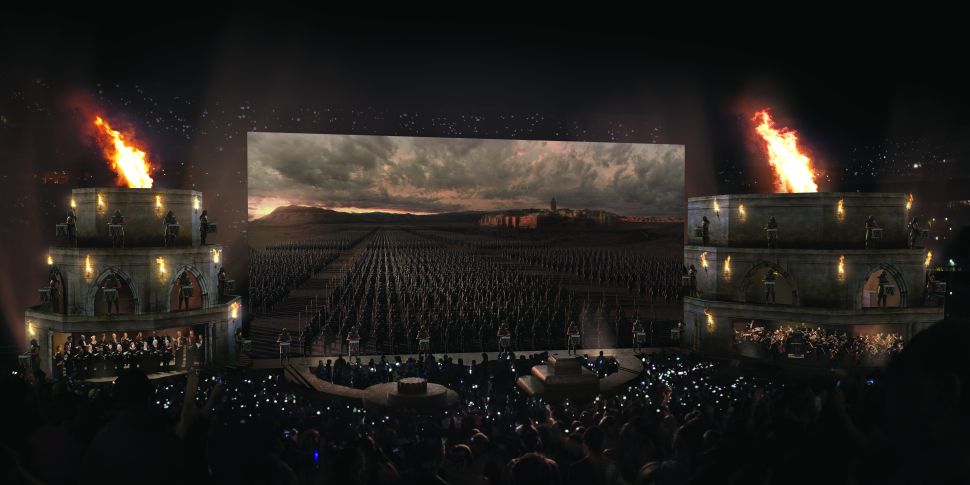 For Game of Thrones fans chomping at the bit for Season 7, the Game of Thrones Live Concert Experience could be the biggest, most spectacular TV show teaser ever.
This massive stage show featuring an 80-piece orchestra, a choir, and 807 linear feet of video walls launched in Minneapolis in February, and will hit 24 cities including a performance at Madison Square Garden on March 7.
Headlining this spectacular spree is composer Ramin Djawadi, who scored the Game of Thrones incidental music and its title theme—a piece of music that is arguably now as recognizable as "Beethoven's Fifth" and "Stairway to Heaven." Well, to Game of Thrones fans, at least.
The German-born 42-year-old grew up listening to classical music and music from Iran, courtesy of his Iranian father. In the '80s, he discovered the guitar and the delights of prime era Metallica. (He remains a big fan.) While studying at Boston's Berklee School of Music, Djawadi got into jazz. This passion for diversity is part of what's made his compositions so distinctive: first working with soundtrack composer maestro Hans Zimmer, and then on Prison Break, Pacific Rim, Iron Man, HBO's Westworld, and the new Matt Damon-starring movie, The Great Wall.
The Observer recently spoke with the Los Angeles-based Djawadi on the day he arrived in Minneapolis for the first Game of Thrones Live Concert. He talked enthusiastically about taking the Seven Kingdoms on tour, and how he created the music for one of the bloodiest scenes ever screened: The Red Wedding.
[youtube https://www.youtube.com/watch?v=0RdsNsul-JM&w=560&h=315]
Have you ever done anything like this tour before?
Definitely not! I have performed live quite a bit with bands. I've performed with orchestras, but just single concerts. I've never toured with so many musicians and on this scale. The idea was always to do something unique and create something on an epic scale and that is what we have achieved. No, I have definitely never done anything like this.
Whose idea was it?
It came up as a little idea when I was with David Benioff and D.B. Weiss, the show's creators, in my studio reviewing some music for the show. One of them said, "You know what, Ramin, why don't you do a concert? This should be played live."
I ran with that idea of doing one concert in an orchestral setting and said, "I want to do something more contemporary and make it epic, and create something more immersive that has clips from the show." Something that makes you feel like you are there. I think it will be so exciting for the fans to have the music and visual stuff as well.
How different is creating this to writing music for the show?
Mostly, I was able to leave the visuals behind and just look at the pieces of music and say, O.K., do I want to feature the solo violin more? Do I want to give this player a longer section to play? Or how about making the choir sing a different arrangement? I have created different pieces and rearranged some of them. There will be some music we don't know from the show's soundtrack.
Was it interesting to revisit the music?
It was great to go back to Season 1 and look at some of the old footage and recreate it. During rehearsals people came up to me and said, "This is like the best summary of the show—I want to go back and watch all of the seasons now." That was always the plan: get people excited to go back and watch all of the seasons and get them really pumped for Season 7.
[youtube https://www.youtube.com/watch?v=Fagy-SDVbHc&w=560&h=315]
Are there any glimpses into Season 7?
Unfortunately none of that was ready. Just because of the shooting schedule; it got pushed back and I don't think it comes out till later in the summer. I haven't seen anything from Season 7 yet and I am equally excited as anybody else to see what's coming up next.
Once Season 7 is done, might you do another tour that includes the new music?
That's what's so cool about this: we're doing a concert that, just like the show, doesn't have an end yet. Once Season 7 comes out I can update the show and reshuffle things and bring it to the next level, just like the show does, and have a great set-up for Season 8.
Oh, good, there is a Season 8. How did you come to work with the Game of Thrones people originally?
They reached out to me. I think they thought I was a good match. They sent me the first two episodes to watch and, of course, my jaw dropped. I was like, oh my God, I have to work on this! Then we talked about concepts and hit it off. From day one they had a great vision for what they wanted the music to be and how it ties all this together.
Are there any creative moments that stick in your memory?
Oh, yes, many. One thing I remember is, I started working on the first two episodes and then they suddenly said, "Oh, by the way, we forgot to mention, there's also a main title you have to write." They showed me the footage of the main title and I thought, wow, this is such a feast for a composer. I jumped right on it.
How do you compose for a scene where someone has their throat cut; how do you score those bloodier moments, of which there are many?
Yeah, I know, some are hard to write. One of the hardest to write was the scene where Stannis burns his child, Shireen. Writing that scene, I had to step away from the desk a couple of times, I just couldn't face it. Usually I get so emotionally involved; I transport myself into the show. That scene just killed me; I just couldn't do it. I had to come back the next day and try again.
Harder than the Red Wedding?
Yeah, but that was tough, too. The way I work is, I create a map of the music on the piano and then I arrange it. So I rewind the scene over and over, not just once or twice. I watch it a lot.
Be honest, are you a fan?
Oh, my God, absolutely: I absolutely love the show. When I gush about the show, I always say I'm not just saying it because I work on it. Even if you are not into fantasy and dragons the writing is just timeless. The politics could be anywhere, anytime.
The Game of Thrones Live Concert Experience is at Madison Square Garden at 8 p.m. on March 7.