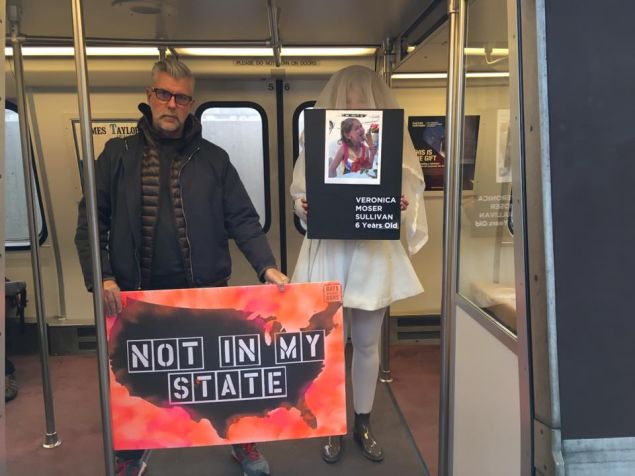 Gays Against Guns, an LGBTQ group dedicated to stricter firearm regulations, has launched its first major advertising campaign—an effort that will combine with protests around New York City against National Rifle Association-endorsed legislation in Washington that would mandate "reciprocity" in concealed weapon permits nationwide.
The Concealed Carry Reciprocity Act of 2017 and its counterpart in the Senate would require any state that gives out permits for concealed weapons to recognize such permits issued by other states, even if they do not have the same eligibility and training prerequisites or restrictions on gun ownership. Gays Against Guns describes "reciprocity" as a "long-held goal of the gun lobby and its continuous effort to use fear to sell guns."
In a release announcing the new effort, Gays Against Guns recalled its foundation in the aftermath of the bloody massacre at LGBT Orlando hotspot Pulse Nightclub just nine months ago.
"Since then I have been advocating for common sense gun laws that would stop shooters who have hate in their hearts," GAG member Kevin Gotkin said in a statement. "H.R. 38 and S. 446 are the opposite of common sense. They undermine the safety established in places like New York City, where legislators have worked hard to protect us from gun deaths."
The print, virtual and video campaigns consist of a series of 20 visually-oriented ads portraying a GAG activist and a veiled figure representing a gun violence victim. The activists in the ads hold placards declaring "Not In My______"—a message GAG hopes those concerned will customize during the 10 protests scheduled across the five boroughs.
In the coming days, GAG will also host small, secret "zaps" at each of the locations to shed light on the dangers of concealed carry reciprocity throughout the country.
The House bill, sponsored by North Carolina Congressman Richard Hudson, would also allow qualified individuals to carry a handgun in a school zone and on federally-owned lands open to the public. As of March 10, the bill had 176 sponsors.
The Senate bill, for its part, is similar to the House legislation except that it states that reciprocity only applies outside of a carrier's home state and eliminates the right of a state to limit eligibility of visitors to carry and possess guns. It also includes a clause that would make states with several classes of licenses treat out-of-state licenses as the most unrestricted type.
That bill currently has 36 sponsors.
The act also mandates that national parks, federal wildlife refuges and other federal lands allow concealed guns.
It is uncertain what chance the bill act has of becoming law, as it appears unlikely it could muster the 60 votes necessary to overcome a filibuster by Senate Minority Leader Charles Schumer's 48-member Democratic conference.
In September, the group—along with Public Advocate Letitia James and the National Action Network's Kirsten John Foy—rallied against Smith & Wesson, a member of the NRA's Golden Ring of Freedom. The Second Amendment organization bestows that honor on companies that have given it at least $1 million.
The group also recently sponsored and participated in a solidarity rally in front of the Stonewall National Monument against President Donald Trump's executive orders impacting Muslims, undocumented immigrants and his selection of anti-LGBT nominees.