For the last several years, a phone call has taken place every Friday morning at 8 am that includes some of the biggest names in New Jersey politics. Senate President Stephen Sweeney (D-Gloucester), Assembly Budget Committee Chairman Lou Greenwald (D-Camden), South Jersey Democratic power player George Norcross and a few other political leaders gather on a conference call to discuss the issues of the day. Until eight months ago, an additional voice was on the line.
Sometime in early Fall of 2016, Bill Castner, who is in charge of all politics and government affairs at Horizon Blue Cross, was banished from the call by Sen. Sweeney. The repercussions from the fallout among formerly close friends are being felt to this day.
In a stunning development that involves three of New Jersey's top political players, South Jersey Democratic power player George E. Norcross III, and his ally, Senate President Stephen M. Sweeney, have declared war on Bill Castner, the Horizon Blue Cross Blue Shield executive who was once so close to both men that some considered him Mr. Norcross' protégé.
PolitickerNJ can now report that the private feud is about to break onto the public's radar. The stakes are so high here that Mr. Norcross, the perennial PowerList player who seldom speaks on the record about anything controversial, actually spoke to PolitickerNJ about this sensitive matter, as did Sen. Sweeney and Mr. Castner, whose title at Horizon is Senior Vice President of Corporate and Regulatory Affairs. PolitickerNJ spoke to over a dozen others for this story, which threatens to upset the balance of power between the two south Jersey titans and the politically active non-profit that provides healthcare to a stunning 3.2 million New Jerseyans.
The grievances here go both ways and like all spats between former friends, this one is as much about character traits like loyalty as it is about policy disagreements.
The bad blood has been simmering ever since Castner left his position at Gibbons, one of the state's most influential law firms. But let's take it back to formula.
Years ago, Castner worked as staff attorney for the Fair Share Housing Center, the Cherry Hill- based advocacy center that was the original plaintiff in the controversial Mount Laurel Housing Decision.
His efforts there attracted the attention of Joe Roberts, who was then the Majority Leader in the General Assembly. When Roberts became the speaker, he hired Castner as the Executive Director of the New Jersey General Assembly. Roberts and Castner formed a powerful bond and that's how Castner got on the radar of George Norcross. One observer close to Norcross described with surprise that Castner had penetrated the tight Norcross inner circle. "Bill is a very good lawyer, and a very, very bright guy, but an ultra ultra-liberal, left of left." The source contrasted that to Norcross, who occupies a more pragmatic space on the Democratic spectrum.
When Joe Roberts left as Speaker, Castner became chief counsel to Gov. Jon Corzine in 2009, where he served for less than year. When Corzine failed to win re-election, Norcross and Sweeney helped Castner, who was only in his mid-30s, land a very lucrative partnership at Gibbons, the politically connected Newark law firm.
Castner, as former chief counsel to the governor, and a skilled political operator, was hardly a charity case. A respected source in the legal community told PolitickerNJ that Castner "is probably the most talented Democratic lawyer in the state." So Gibbons may well have taken him on as a partner even without the nudge from Norcross and Sweeney. Another Castner mentor, James R. Zazzali, is a Gibbons partner, and Castner had clerked for the former Chief Justice.
Meanwhile, Gibbons Chairman Patrick C. Dunican Jr. was eager to develop a relationship with Norcross and Sweeney, which helped ease their ally Castner into the firm. Dunican himself is politically connected (he served on the Host Committee for Christie's 2016 run for president). In fact, Castner had already been recruited to the firm once before – Gibbons had put out a "Gibbons Welcomes Bill Castner" press release a year earlier but the Corzine job was offered and Castner took it, despite the press release. The fact that he was welcomed back a year later, when Norcross weighed in, speaks either to Castner's high desirability as a lawyer or to the influence his patron wields, depending on which side one asks. Or maybe it's both.
At the same time, there's a North-South thing going on here that no one not steeped in the witch's brew of Jersey politics could possibly comprehend. The fact that South Jersey titans Norcross and Sweeney would even consider sponsoring their mentee at a North Jersey firm was a stretch. According to a source who spoke to PolitickerNJ and declined to be quoted, Norcross was not warm to the idea of Bill joining Gibbons initially. He wanted to steer him to Parker McKay, where his brother Philip A. Norcross is CEO. He is said to have come around eventually because he was interested in expanding the influence of his South Jersey base into North Jersey with someone who was groomed to spread his wings over a larger geographic area.
So, while how much assistance Castner received to land the Gibbons partnership is a matter of some debate, what's not disputed is that Sweeney and Norcross helped direct several millions of dollars annually worth of business to the Gibbons Law Firm through clients with which they had influence. One example of that is Rowan University.
Mr. Norcross has served as a Trustee of the Cooper Health System and Cooper University Hospital in Camden since 1990 and is now Chairman of the Board. He almost single-handedly established the Cooper Medical School of Rowan University, which was the state's first new medical school in 30 years. Castner, a Rowan graduate, was able to land his alma mater's legal work for Gibbons, which would not have been possible without the Norcross blessing.
One source who has done millions of dollars of business with Gibbons described the dynamic to PolitickerNJ: "Rowan University paid the Gibbons Law Firm a couple of million dollars. Now, you should understand that the Gibbons Law Firm is a very talented law firm. They are very good at what they do. [For Castner] it's not a no-show job, but Bill was not known as some corporate whiz-kid lawyer. His relationships helped some business come to the Gibbons Law Firm, and Patrick Dunican as chairman there really took Bill under his wing, and Bill became, as he had been with Joe Roberts and Steve Sweeney and George Norcross, somewhat of a confidante. … He worked very successfully with Patrick Dunican and Gibbons and financially did very well, but they didn't hire him because he was on the law review or something."
One of Gibbons' clients was Horizon. According to a source who does not currently work at Gibbons but has deep knowledge about the inner workings of the firm, Robert A. Marino, the current Chairman and CEO of Horizon and another Castner mentor, former Assembly Majority Leader Joe Roberts, who was on the board of Horizon, approached Castner about leaving Gibbons to work for Horizon. New Jersey's largest healthcare provider, Horizon had been slow to recognize the need for a more robust government affairs effort. Then a CEO pay scandal hit in 2010. The previous CEO, Bill Marino (no relation to Bob), was paid $8.7 million in salary and bonuses in 2009, amid the financial crisis and 200 Horizon layoffs, and made matters worse by complaining that in fact he had "only" made $4.8 million. The incident nearly led to Horizon being taken over or at least subjected to government oversight, with Chris Christie, Frank Lautenberg and Loretta Weinberg becoming unlikely allies in the fight against a "non-profit" paying such exorbitant salaries.
In November 2015, Castner joined Horizon. The fact that he accepted the Horizon position just four years after coming to Gibbons was the first strike against him as far as Norcross and Sweeney were concerned. According to a close confidante of the firm's chairman, Dunican felt "betrayed" that the talented young lawyer he'd taken under his wing left too soon after arriving. Norcross, who was described by this site as a "close political ally" of Castner's just nine months earlier, was embarrassed by the rung-climbing. (Dunican declined to respond to several attempts by PolitickerNJ to reach him; Chief Justice Zazzali asked for questions via email but had not replied by press time.)
It is unclear why it would be so upsetting to Norcross for Castner to leave Gibbons, even if it was relatively "soon" after arriving. It's not uncommon for a lawyer at a firm to go to work for a firm's client; plenty of firms smile upon that because they are likely to continue to receive the client's work with their man on the inside, as has happened with Horizon and Gibbons. Indeed, Dunican issued a very supportive congratulatory note that mentioned Castner's "Cooperstown-like capabilities."
PolitickerNJ asked the source close to Dunican, "Did they [meaning Dunican, Norcross and Sweeney] feel like [Castner] owed it to Gibbons to stay forever?"
The source said, emphatically, "No, no, no. You hire a guy at a law firm who doesn't deserve to get paid a half a million dollars a year. You hire him on a hunch or as an accommodation or otherwise and the guy does very well, and then he turns around at the first opportunity and walks away from the people that fed him and took care of him … They viewed it as betrayal and treason that he walked away from them. Both Sweeney and Norcross counseled Castner not to go to Horizon, to stay at Gibbons and he declined, and left the law firm in an act of complete treason."
That takes us to strike 2, as far as Norcross and Sweeney were concerned.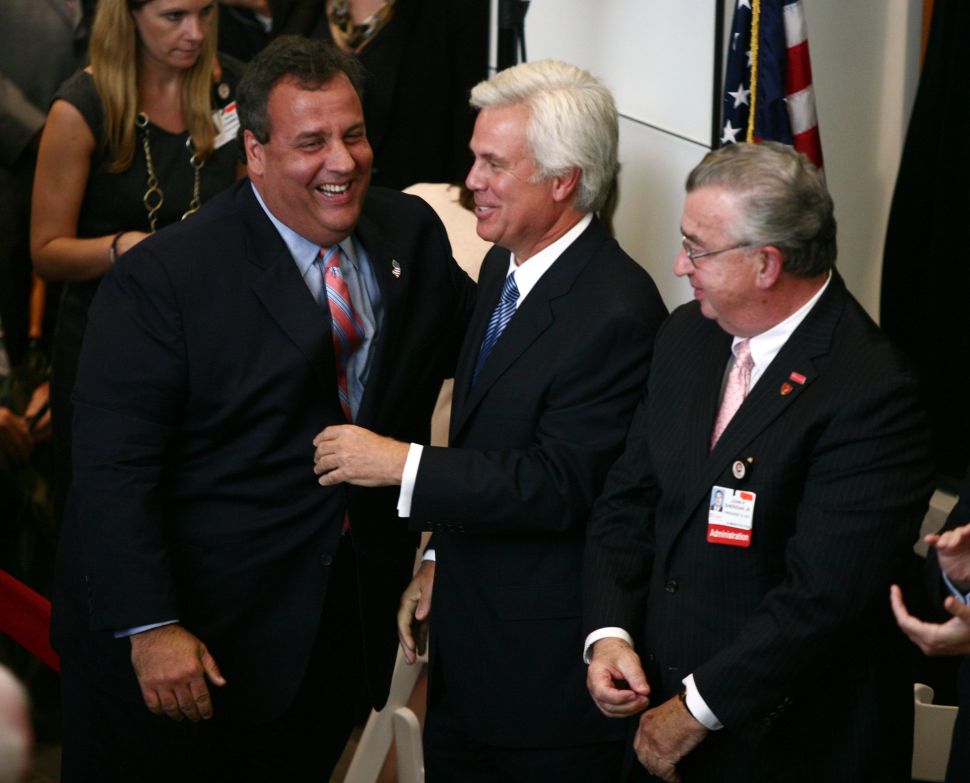 Once at Horizon, Castner began building an all-star team of political influencers—lobbyists and communications specialists. One of the first was Maggie Moran, the co-founder of Kivvit, the powerhouse Public Affairs and Issue Advocacy shop. An experienced Democratic operative, Moran managed Governor Corzine's unsuccessful re-election campaign in 2009 and U.S. Senator Frank Lautenberg's successful campaign in 2002 and a dozen others. But years in the trenches had landed her on the other side of the Norcross-Sweeney axis. Castner hiring her firm out of the box was viewed as yet another betrayal.
At the same time, Horizon was working on a key initiative, which required deft political skill. The company was rolling out Omnia, its plan to form an alliance of seven Jersey-based health insurers, hospital systems and healthcare systems. According to someone familiar with Norcross' thinking, Norcross took special pleasure in seeing the Omnia rollout stumble a bit.
"Castner brought in Maggie Moran and he started hiring a whole bunch of lobbyists that at the time were contrary to Sweeney's interest. Bill was one of the people that screwed up the Omnia rollout, and he panicked and started hiring a whole bunch of other lobbyists, and then started calling upon Steve Sweeney and others to help support Horizon. People like Nia Gill and Loretta Weinberg and others were attacking Horizon for the Omnia program and excluding hospitals. There was a lot of attacks on Horizon, and Steve Sweeney came to Horizon's defense at the time."
Not anymore.
The bad blood has now taken on an Antigone quality. According to the source familiar with Norcross' thinking, "[Eventually], Sweeney really got angered with [Castner] and cut him out of our orbit. I mean in our world, Bill's known as two things, 'Benedict Arnold' and 'the Little Lobbyist.' Those are his names. He is no longer welcome in the South Jersey Democratic political apparatus, and is viewed as [having] no loyalty, as a traitor, Benedict Arnold. We call him the Little Lobbyist, and he's decided for whatever his reasons are to act accordingly, so he's out. Now, he loves portraying to people that he's still part of South Jersey Democratic leadership, and he's a key person because he knows if people find out that he's really been ostracized, and he's somebody who betrayed Steve Sweeney in particular, what he did to Patrick Dunican and Gibbons is something people don't respect. You know you're not disloyal to the people that help you. And that doesn't mean it's a lifetime commitment, but at the same time you don't swirl in and swirl out of a place and use that and forget the people who helped you. … Paying Maggie Moran a million dollars—she is one of Steve Sweeney's mortal enemies and was out trying to kill him—is unforgivable."
Norcross himself made the same point, issuing a quote sure to echo throughout the state's power structure: "Bill has forgotten where he's come from," Mr. Norcross told PolitickerNJ. "And his tragic choice, which won't soon be forgotten."
Sen. Sweeney echoed that thought. In a stinging rebuke to Castner, he told PolitickerNJ, "People make all kinds of mistakes. Some aren't a big deal. Others are. Bill's made a big deal mistake."
Unsurprisingly, Horizon has its own view of how and why the relationship deteriorated.
While Castner himself declined to be quoted for this story, Tom Wilson, Horizon Director of Public Affairs, fired back at any perception that this feud represented more than a personal rift.
"With sweeping changes to health care being considered in Washington, we're not hyper-focused on the latest state house gossip," Wilson told PolitickerNJ. "But anyone surprised that Bill Castner, widely respected as one of the state's most effective advocates and attorneys, would fight passionately for Horizon's members must not know Bill very well. Horizon values its bi-partisan relationships in both houses and will always look to partner first, but our 3.8 million policyholders will no longer be punching bags in Trenton."
The reluctance to be quoted for the record was so strong that one knowledgeable person reached by PolitickerNJ fretted over the way he or she was described even anonymously, lest Norcross and Sweeney deduce who it is and exact revenge. This source, who is very close to the action on the Horizon side, told PolitickerNJ that Norcross and Sweeney were aggrieved because their power is no longer what it once was and Castner, their former pupil, is a rising star. This source brought up two incidents that no one close to Norcross or Sweeney, or the two men themselves, mentioned to PolitickerNJ.
"It wasn't more than a year ago when [George Norcross] and Chris Christie teamed up to ram a bill through the legislature that literally took the contract to run the ambulance service in Camden County away from a competitor hospital and gave it to him. There was a time when the two of them could get anything they wanted done together. Now here they are trying to grab $300 million from an insurance company and you know it was badly botched."
The first charge refers to a skirmish that erupted when Cooper Health replaced longtime Camden EMS provider Virtua Health, which also runs hospitals in Voorhees, Marlton and Berlin, and ambulance service in nearby Burlington County and elsewhere. The bill (S2980) was written so that "a Level 1 trauma center shall be exclusively authorized" and since Cooper is the only one in Camden, it got the ambulance business de facto. Christie's cooperation with a bill favored by Sweeney and Norcross might seem unusual at first blush, but early in the governor's tenure, they cooperated quite regularly and collegially. And the administration of far more dosages of Narcan fits right into the governor's long-standing interest in drug treatment. (The alliance dates back farther than Christie's first term; this reporter first met George Norcross at an event honoring Chris Christie in early 2007, two years before Christie resigned as US Attorney to run for governor.)
The second charge refers to a proposal that Christie floated in his late-February budget speech. He suggested that Horizon devote $300 million from its surplus to fund health care for poor New Jerseyans. The proposal attracted instant and intense denunciation from a broad coalition on the left (Gov. candidate Phil Murphy, the NJEA, NAACP) and the right (Americans For Prosperity, National Federation of Independent Business, Steve Forbes).
(Katie Jennings, who covers health care for Politico New Jersey, has been hammering the proposal; she quotes pollster Patrick Murray ribbing the governor —"maybe he was thinking of becoming a Democrat." Her story is among those included in a document Horizon circulated to cite opposition to the governor's proposal; those inside Horizon's murderers' row of comms people acknowledge that that document itself is a tactic straight out of the Norcross playbook – build a narrative, feed reporters, assemble quotes from their stories to pour gasoline on the narrative.)
The source says that this failure to plunder Horizon's reserves proves that Norcross' influence isn't what it was in, say, 2001, when he was secretly recorded by Palmyra councilman John Gural Jr., describing how he'd told a political rival "you're gonna get your fucking balls cut off." Sources currently working for Horizon tried to paint a picture of Norcross as an aging relic, someone whose fastball can't quite knock opponents off the plate like it once did. Two additional sources pointed to the failure to raid Horizon's surplus as proof. "Can you think of another time when George, the governor, and the Senate president all wanted something and couldn't get it done?" asked the source, rhetorically.
The problem with that theory, however, is apparent in the reporting of this very story. PolitickerNJ spoke to several people who are friendly with Castner, in search of sources who would go on the record taking his side of the story. This includes several people whose names and numbers were provided by Castner himself, but even they wouldn't speak for attribution. As word of this story started trickling out, two different political powerhouses (one D and one R) even reached out to PolitickerNJ, unsolicited, to say what a great guy Castner is—and that's believable, Norcross and Sweeney both describe a very talented, likable fellow, and this reporter's own lengthy talk with him revealed the same. But even the friends who were pitched as references wouldn't speak on the record. With only two exceptions, no Castner partisans would speak to PolitickerNJ for the record, for fear of offending Norcross.
See the problem? One can't credibly say that Norcross has faded but also quiver in terror of offending the guy one says has faded.
To be sure, Castner has plenty of admirers, throughout the state.
"I've worked with [Bill Castner] for the last couple decades," former Assembly Majority Leader Joe Roberts told PolitickerNJ. He is a widely respected professional with great people skills. Immensely talented. I'm aware of his background and he's been successful at everything he's done. His counsel is esteemed and his work is outstanding. When I became the Majority Leader he came aboard to run the office – four years when I was speaker he was Executive Director. Every issue during that time, he helped shape."
When it came to the feud with Norcross and Sweeney, Roberts said he had no idea how it started. "I can't imagine there's any issue other than a personal grudge, which ought to be worked out. … He's got broad relationships with policy makers in South Jersey and all over the state."
Others echoed the kind words about Castner. "I have always found him a man of passion and great beliefs," Sen. Loretta Weinberg told PolitickerNJ. "One time we were working on some gun safety thing and he was the staffer I was assigned to work with. On the day the bill came up for a vote, I saw Bill and noticed he was wearing a hospital bracelet. Of course I asked and he said his wife had just given birth to their son. I gave him a mother-wife-grandmother lecture, 'Why are you here?' He said 'I just could not not be here to help you.' Footnote: that was his first wife! He's a great guy. Look, Bill's got an employer, to whom he owes allegiance and loyalty and I'm assuming he's carrying out his duties appropriately."
Indeed, the idea that Bill Castner, who remains well-liked and respected, is persona non grata in South Jersey doesn't square with the reality that PolitickerNJ encountered. In fact, some Castner partisans have tried to paint the rift as exclusively between Norcross and Castner, with Sweeney not taking sides. That impression is so important to Castner's people that one thing Horizon's phalanx of spokespeople and lawyers would say for the record is "Horizon will confirm that the Senate President personally invited Bill to his campaign kick-off," referring to Sweeney's re-election rally Saturday.
Another source with feet in both camps reported a conversation from Monday morning with a well-known South Jersey operative who speaks to Sweeney no fewer than five times a day. The operative supposedly said, "This is fucking horseshit. Everyone knows this is a George thing." (PolitickerNJ could not independently confirm this account and apologizes for the salty language.)
The idea that this is only a Norcross-Castner spat that hasn't sucked Sen. Sweeney into its gravitational field is belied by at least a couple of pieces of evidence. First is the 8 am call—it was Sweeney who evicted Castner from that circle. But then there's this. When asked whether he too was disappointed in Castner, Sen. Sweeney lowered the boom. "To be clear," Sweeney told PolitickerNJ, "Mr. Castner has become a very highly paid lobbyist who is no longer a part of our political orbit."
That's about as clear as it gets.
Several people reached by PolitickerNJ expressed dismay that the former allies had parted and hoped that the differences could be ironed out. Unfortunately, Norcross himself doesn't seem to believe the relationship is worth repairing. He told PolitickerNJ, "It's always odd when people confuse the perception of their importance with reality. That might be the case here."