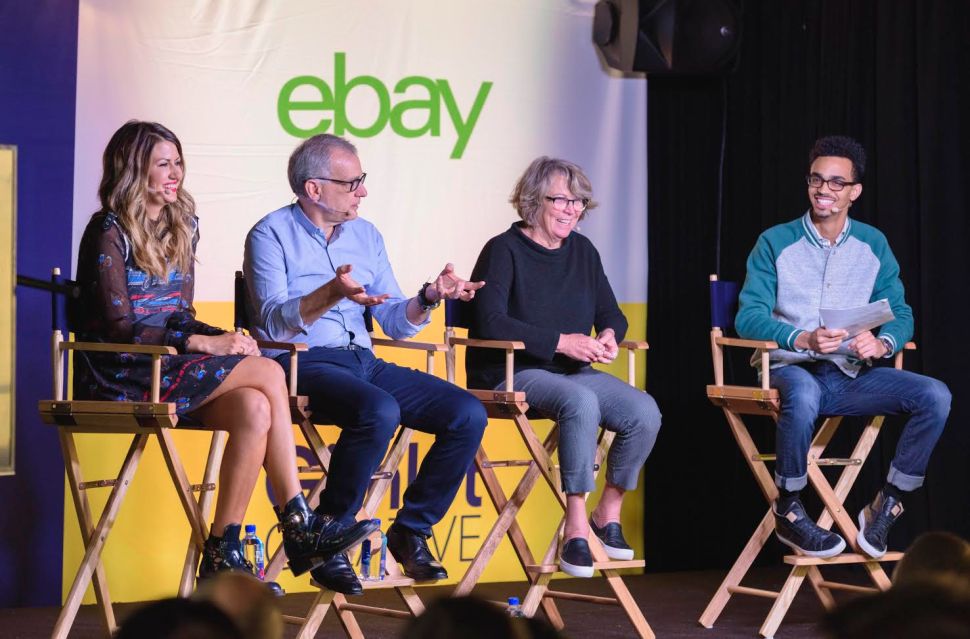 AUSTIN—About a year ago we asked whether or not podcasting can finally make money. That's settled: It is. Today, the money is enough to make a few people rich but not enough yet to register in the global economy. Still, every year, the medium grows, largely driven by shows that get people talking, and podcasts aren't even easy to play in cars yet.
Podcasting earned $167 million last year, according to Bridge Ratings, with a projected market size closer to $300 million this year. Marketers have been working to gather ever more data about the money they spent over the last 25 years in order to measure their return on investment for everything they sponsor, according to Matt Lieber, the Gimlet Media co-founder, who focuses on the company's business operations.
"They are not like, 'Oh this is cool and novel, let's do more,'" he said. They know how far each $100,000 dollars they spend goes with scientific precision. Stamps.com keeps buying those ads and offering listeners a free scale because it's working.
Lieber spoke on a panel about the future of podcast advertising at SXSW last week. He and his colleagues in the industry tried to foresee how an ad on a piece of on demand audio could change over the next years and what kind might be the most profitable. The day before we got to witness the making of one kind of sponsorship that's doing well today: branded shows.
Panoply's Matt Turck agreed that the traditional podcast ad has been working well so far. He pointed, specifically, to all the advertisers who offer little discounts and deals to customers if listeners enter some kind of code from a show as they checkout. That code lets those marketers track success, and they like what they see.
Those ads work best when listeners don't hate listening to them. Pre-Gimlet, that meant host read ads, such as Marc Maron going off about the powerful effect that Just Coffee has on his bowels. Gimlet leveled podcast advertising up, turning ad creation into their own little mini reporting projects. "One of the founding ideas of the company was: What if advertising on Gimlet Shows, on Gimlet podcasts, didn't suck?" Lieber said.
He pointed to one of his favorite spots, where they interviewed the guy at Ford who worries about the way your backside feels when you sit down in one of their car seats.
That level of advertising maxes out beyond a certain scale, though. Podcasters leave money on they table when they record one ad for each show and leave that ad in the recording whether you download it the day it comes out or years from now. Many podcasts have started to shift to dynamic ad insertion, where different ads get put in different spots in a show depending on when and where it gets downloaded.
Bryan Moffett at NPR said that public radio podcasts experimented with dynamic ad insertion a decade ago, but the market wasn't ready for it yet. Now it does a little of both. "I think we're going to shift right now where we are kind of going to a hybrid model," Moffett said. "When you can produce it into the show it often sounds a little bit better."
Marketers like having options. Casper will probably be happy to have its discount codes out there as long as the company exists, but other ads have a shorter shelf life, and those advertisers actually want them to disappear.
The question is, what comes next. What about whole shows that are themselves kind of an ad? Lieber pointed to the show the company did with eBay called Open For Business. Just the day before, the Observer attended a live taping of a bonus episode for that season, and it gave a basic idea of the formula for the show.
The host led a discussion with three experts on a question that small business owners care a lot about: personnel. The host, John Henry, an entrepreneur himself, posed questions to the woman who ran Netflix's HR in the early years, a top leadership coach and a successful eBay seller, specializing in designer consignment. They talked about hiring, firing and employee fit. They spoke directly to tough questions. It was easy to see how someone in small business could find it helpful to listen to, and how that might, in turn, help eBay, as it worked to position itself as a company that enables small businesses to thrive.
We spoke to eBay's Annie Lupardus, who explained that the podcast really is an effort to move the needle on eBay's reputation. While everyone knows about eBay, they may think it's mostly still an auction site for used stuff. The company is in hard push right now to help the public understand better what they can find on the site, and one way to do that is by telling the story of successful sellers.
Gimlet hadn't even announced its intention to do branded content when eBay started considering making a podcast. "We wanted something that was a little more long form, a little more intimate, allowed you to kind of get pulled in to the seller's stories and really provide inspiration to people looking to start a small business," Lupardus told us.
Gimlet Creative produced Open For Business and neither the podcasters nor their client new what to expect. The company set modest goals for total downloads and attempted to measure impact on perception of the company before and after the show. Lupardus said the show doubled its download goals and pre and post measurements on perception of the company showed a strong enough difference that it made sense to greenlight a second season.
The second season dropped its first episode on March 16, in an episode about making pivots.
Branded content is something that only the big guns of the medium, such as Panoply and Gimlet, can do. Most shows aren't big enough to even bother trying to monetize yet, but the necessary size will go down as automated ad sales gets better. Also, as attitudes about podcasting listens evolves.
The ever-vexing question for podcasters has been this: how many people who download a podcast actually listen to it?
To a digital buyer, who has a pretty clear idea of how many banner ads and video ads actually get seen, this disconnect between downloading and listening is a problem.
"I don't think the data is as bad as people say," Moffett said. Apple dominates the podcast distribution space, with its Podcast app on the iPhone, with 60 percent of NPR's downloads one way or another passing through Apple, and it's not telling podcasters when and if its users listen. Considering Apple's commitment to user privacy, that's probably not going to change. 
But podcasters are able to glean more data from many of the other places that people listen. They can extrapolate from that sample. They also know that some listeners enter those offer codes or visit those promotional websites. As the medium matures, numbers crunchers should be able to put all these data points together into a clear enough picture that marketers can become more comfortable with.
Regular listeners will listen to the 60 or 90 second ads without doing a lot of skipping forward, he said. Superfans using NPR's podcasting app will listen to even longer ads, and now the organization is seeing a whole new sector of listening develop as consumers adopt the Amazon Alexa and Google Home.
"There's a broad spectrum of what you can do to get your story out in audio," he said.